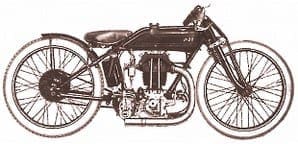 AIthough it is widely believed that the first speedway meeting to be held in this country took place at High Beech, in Epping Forest, on February 19, 1928, this is not strictly correct. Whilst it was undoubtedly the first such event to attract a massive attendance and maximum publicity, an earlier meeting had been held at Dodds Farm, Droylsden, Manchester, on June 25, 1927. There had been a still earlier event held on Camberley Heath on May 27 that year, to confuse the issue even more. This can be discounted, however, because races there were run in a clockwise direction on a rough undulating course of sand. So, although the Droylsden meeting takes precedence, it was the High Beech meeting that brought speedway racing (then known as dirt track racing) to the attention of the general public in this country.
As luck would have it the weather was in their favour. It turned out to be a bright, sunny day and by the time the meeting had started something like 15,000 were already alongside the bed of cinders on which the racing was to take place. Thousands more were still on their way, blocking the roads for a 10 mile radius and giving the police a real headache with traffic control. By the time the meeting was well under way, an estimated 30,000 had turned up, lining both the inside and the outside of the quarter mile track.
Not in his wildest dreams could the Club Secretary, Jack Hill-Bailey, have envisaged such a massive turnout.
The new sport had arrived from Australia in a big way, to make the front page of the national dailies the following morning.
The two Australian riders who took part in this memorable meeting both rode Douglas's, which had been lent them by the Bristol-based manufacturers. The Douglas had already made its presence felt in Australia, where the long wheelbase and low centre of gravity made it ideal for broadsiding round corners. Most of the other competitors rode whatever make of machine they considered most suitable or happened to have available, stripped of all but the bare necessities. Such was the success of the High Beech meeting that tracks began to spring up almost overnight in the various major towns and cities throughout Britain.
It didn't take AJS long to come up with specially adapted versions of their 349cc and 498cc Special Sports KR6 and KR8 models. Using what appeared to be an identical frame, engine, and gearbox shell, the main differences lay in a strengthened front fork, a gearbox containing a single gear to give an 8 to 1 ratio, an oil tank of 3 pint capacity, a Brooks B185 racing saddle, and brakeless wheels, the tyres of which were retained by security bolts. No silencer, of course, a Lucas magneto fitted with a cut-out, and the inevitable knee hook mounted high up on the upper tube that passed over the fuel tank holding just under two gallons.
Interestingly, both AJS models had a conventional clutch, an advantage though not strictly necessary as early races were run on a rolling start basis. They sold at £65 and £76.15s respectively, the larger capacity model being priced at only three shillings more than its road-going counterpart and the smaller one having no price differential at all. If past experience was anything to go by, the 350 was probably as fast as the 500 in short track racing, bearing in mind that Howard Davies had won the 1921 Senior TT on a 349cc AJS! Both engines were, of course, specially tuned, and set up to run on standard pump fuel.
Quite a mouthful
Catalogued as the AJS Special DTR model KR6 or KR8, this designation is quite a mouthful and not easy to remember, so perhaps it comes as no surprise that the use of the rather horrid word `dracer' seems to have been substituted in the hope it might come into more general use. Whether or not it was first coined by AJS is anything but clear, but it is certainly described as 'a recently introduced and abbreviated term' in the second edition of Haycraft's The Book of the AJS published in 1929. Not an appealing word by any means and fortuitously one that never caught on.
No record appears to exist of the number of AJS DTR models sold, although the inference is that it is likely to be only a comparatively small number. Ironically, a few of the leading riders of the day who favoured an AJS, such as 'Cyclone' Billy Lamont and Frank Arthur, opted instead for the larger capacity overhead camshaft model, which was alleged to be much faster. Yet for some it proved to be good business; Douglas sold 1,300 dirt track models in 1929 and must have been highly delighted with their initial success.
Even if AJS had persevered with their 'dracers', they would certainly have come to an end in 1931, by which time Rudge were the ascending force in dirt track racing and the early speedway JAP engines were beginning to make their presence felt. It was, of course, in late 1931 that AJS went into voluntary liquidation, subsequently to be taken over by the Collier Brothers and assembly transferred to their works in Plumstead where they were building their own motorcycles under the Matchless name. AJS were unlucky enough to have expanded their operations at just the wrong time. They fell victim to the Wall Street crash like many other respectable businesses when its ripples reached Britain, causing wholesale unemployment and all the other miseries of a depression.
Even with the current trend towards the restoration of old speedway bikes and their use in races for old machines at various tracks, very few genuine AJS DTR models appear to have survived. One of them has made occasional appearances at Exeter, owned and ridden by its original purchaser who at one time raced it at the County Ground.
Perhaps this explains why AJS, like many other famous names, never made much headway when speedway racing came to Britain in 1928.
Even the few that did manage to gain a foothold in this new sport were only able to hang on for a relatively few years. When the speedway JAP engine made its debut in 1931, the whole scene altered dramatically and before long the only way to be sure of success was to ride a bike fitted with one of these engines.
A pity in some respects because when the machinery became more or less standardised the interest level then related directly to the riders, with no accounting for the make of machine they rode.
See also When was it that? contents