Neil Cairns' article in the September edition, The Autumn of a 1946 BSA C11, brought back some happy memories because my first bike was also a C11 and had an interesting tale attached to its purchase.
It was back in 1956 and the bike was a 1950 model with tele forks and solid rear end. It cost all of £30, which was a lot for a 16-year-old apprentice on £2-12s-6d a week. It makes Neil's purchase at £6 sound like a real bargain.
The guy who was selling the bike had recently acquired a very smart, if rather dated, Norton and hence the sale of the C11. He worked for a film company which had used the bike in the making of the film Bhowani Junction which was based on the book by John Masters about the separation of India in 1946 and the resulting plight of the Anglo-Indian community.
The film came out in 1956 and starred Ava Gardner, Stewart Granger and Bill Travers and the Norton was the transport used by Bill Travers with Ava Gardner perched very prettily, side saddle on the pillion. I can recommend the film to anyone unfamiliar with it and you can imagine how my buddy and I spent long moments gazing at, and even daring to touch, that pillion seat.
When filming was over, the bike was of little value and had been sold off cheap along with the other props to anyone interested. I have mentioned that it looked rather dated and this was because it had been especially made for the film by Norton to its 1946 specification, which differed in many ways from the up-to-date models especially as it was the last year that Norton used girder forks.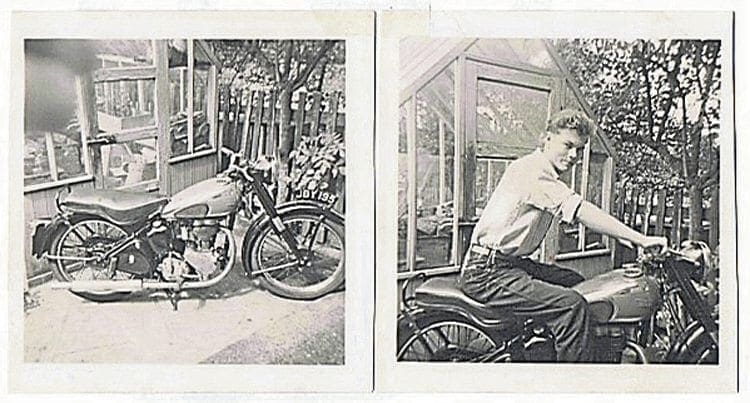 The film company obviously took great pains with authenticity back in those days – what a contrast with Steve McQueen's Triumph/BMW in The Great Escape.
I had good service out of my C11 and sold it on a couple of years later in part exchange for a Speed Twin. I have often wondered if the Norton is still around – it could be quite valuable today, especially if it still has that original pillion seat.
I've sent a couple of pictures of me and the C11 back in 1956, I believe the Mortons Archive may have some of the Norton with Ava on the back.
Peter Jackson, West Sussex.
Unfortunately I can't seem to locate any pics of the delectable Ms Gardner and the Norton in question within the archives. Ed.
Read more Letters, Opinion, News and Features at www.oldbikemart.co.uk and in the October 2020 issue of Old Bike Mart – on sale now!