This year's premier classic off-road event, the Classic Dirt Bike Show sponsored by Hagon Shocks, drew a record number of visitors to Telford International Centre on February 18/19.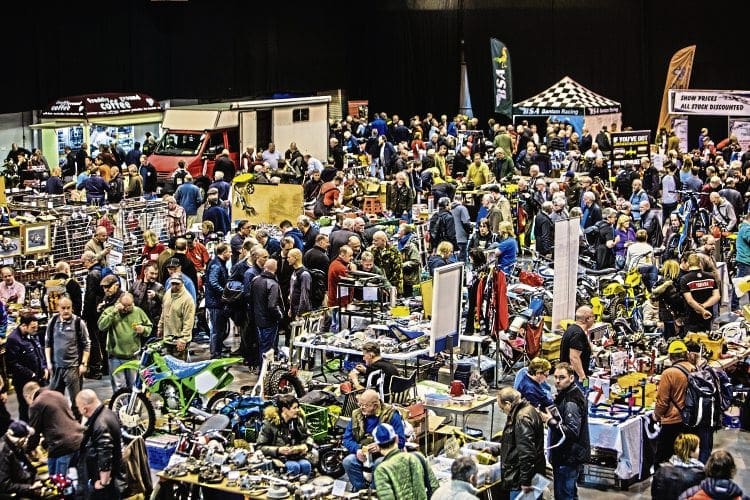 With numbers 13% up year on year, a highlight of the event was the first-ever full line-up of Greeves motorcycles – one for every year the company existed – on the Greeves Club stand.
The machines ranged from 21 scramblers from the first production run back in 1954 to the very last QUB Mk.2 380cc Griffon in 1976, and the display was so well received that the club was awarded best club stand.
The Telford show has always been a place where enthusiasts get the chance to rub shoulders with famous faces from the past and present off-road world, and this year was no exception.
The two guests of honour – 1983 British 125 champion and current Honda MXGP boss Roger Harvey and motorcycle commentator and off-road fanatic Jack Burnicle – regaled the crowds at both the show and traditional Saturday dinner with tales from their careers.
Additional notable appearances throughout the weekend included Sammy Miller, Arthur Browning, Yrjo Vesterinen and Sid Lampkin.
A vast range of trade stands, both indoor and outdoor, offered parts, services, accessories, advice and much more, with most visitors walking away with their pockets a little lighter, laden with off-road goodies for their latest projects.
Event planner Andrew Catton said: "The show saw a fantastic turnout with the halls and auto jumble packed, thanks to surprisingly good weather. I'd like to thank everyone who attended and helped make the show such a success, and I hope to see you all back for the 2018 event."
Read more News in the March issue of OBM – out now!