Most riders will be familiar with Jawa's 350 two-stroke twin that is very often seen with one of the Velorex range of sidecars attached. Mick Payne knows the breed, and takes a closer look at the latest offspring.
Jawa two strokes and sidecars have been around since I were a lad, and I've been riding bikes (legally) on the road for more than 50 years! For the past four-and-a-half years I've owned one myself, and regular readers will remember our adventures with the outfit on a five-month trip around Britain in aid of the Alzheimer's Society.
These, not so smoky, strokers are still imported by David Angel of F2 Motorcycles and are still a great way of getting into sidecars.
There's a new kid on the block however, Jawa's 350 OHC. It's been around for some time and has dragged the company into the modern era; ish!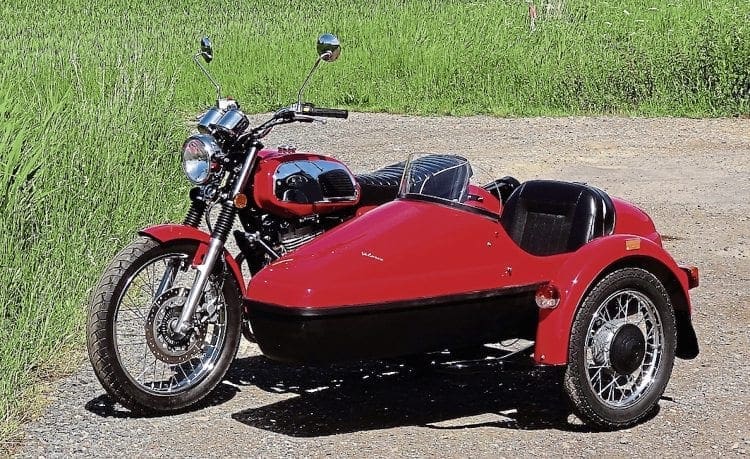 Once again imported by David, the traditionally styled bike is powered by a 397cc single cylinder four-valve air-cooled engine.
Sporting all the usual modern features such as EFI and electronic ignition, it keeps both wheels planted in the past (or is it retro?) with 18-inch rear and 19-inch front wheels and, for that extra bit of tradition, still sports a kick-start along with the push button.
Power is quoted at 20.4 kW, that's 27bhp in real terms and max torque is 30NM at 6000rpm. Compared to the two-stroke, which puts out 23bhp but has 32NM of torque at just 4750rpm, it's a more modern output.
The newcomer has also gained ABS for the front disc; the rear brake remains a drum, but has lost the lovely enclosed chain of its sibling. Swings and horses?
It has, in roadster guise at least, reverted to the marque's traditional styling with chrome panelled fuel tank and black knee grips.
There's also a sporty looking OHC Special that mimics one of Jawa's successful race machines, a bit too much fairing to fit a chair though.
Read more and view more images in the July 2019 issue of OBM – on sale now!