Encompassing the years 1963 to 1982, Isle of Man TT, The Golden Years, brings those exciting years back to life with 108 unforgettable images.How this reviewer remembers the crisp, smooth sound of Max Deubel's fabulous 500cc BMW outfit that recorded the first 90mph sidecar lap during the 1965 sidecar race – and a great colour shot of him speeding past embankments crowded with spectators brings it all back home again.
A contemplative Mike Hailwood is seen at the start of a 1967 practice session on the 500cc Honda four
that he was lucky to win at 108.77mph – a record that stood for eight years – after former MV Agusta team-mate Giacomo Agostini suffered a broken chain on his wailing three-cylinder mount.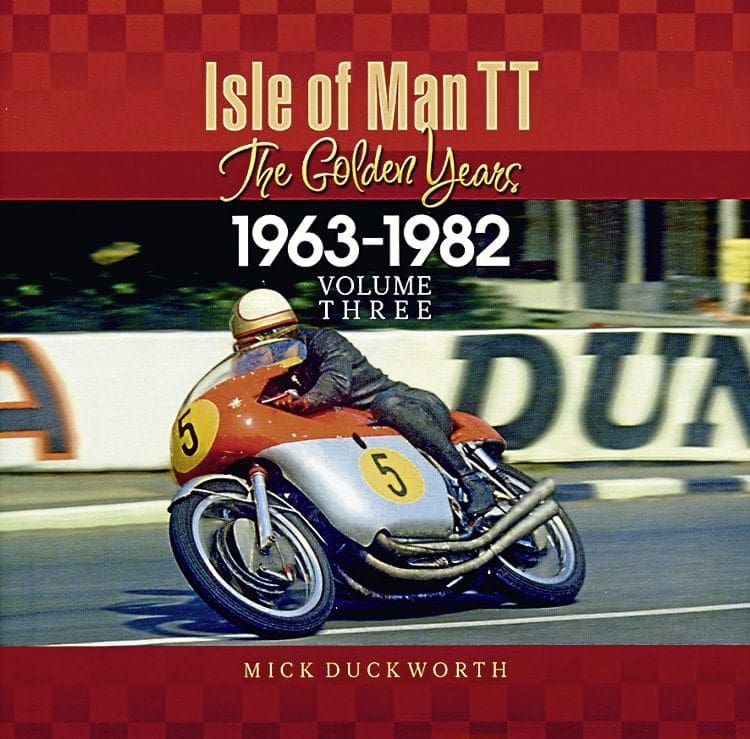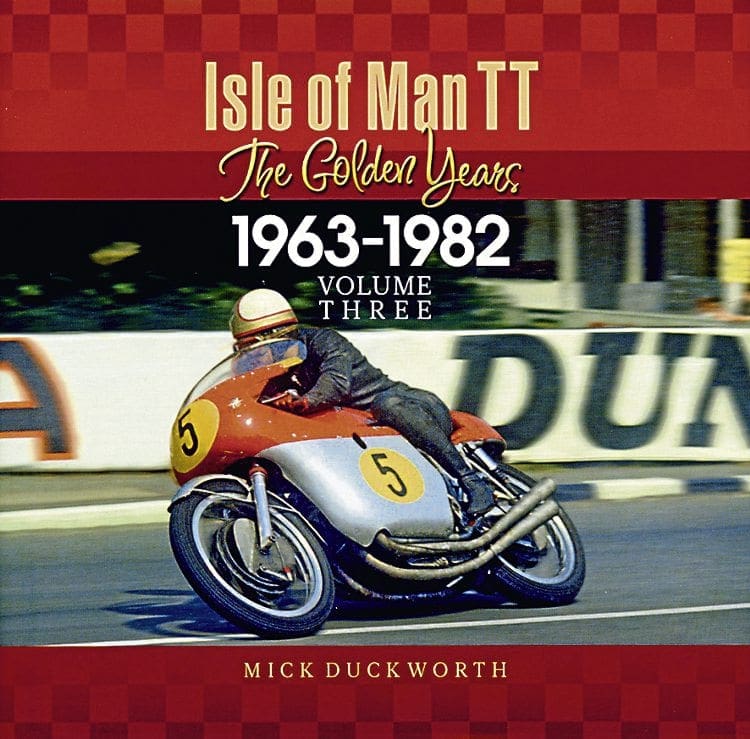 A sensation of the 1963 TT, which also brought the long-awaited clash between MV and Gilera fours after Scuderia Duke brought the Gillies out of mothballs, was the performance of Yamaha's amazing 250cc RD56 two-stroke twins, and Fumio Ito is seen in full flight on one of them. He finished second to Jim Redman after spending 55 seconds in his pit, whereas Redman's fuel stop was 25 seconds shorter.
Luigi Taveri is seen leaping Ballaugh Bridge on the 125cc Honda four that took him to a record lap at 95.5mph, and Phil Read's water-cooled Yamaha twin was so fast that a 254cc version took him to second place in a junior race behind Redman's Honda but ahead of Agostini's MV, both full 350s – and it was Phil who recorded the first 100mph lap on a 250 at 100.01mph before it seized on the Mountain.
Nor is little Bill Ivy forgotten. The fearless and determined Maidstone rider, who took his first TT win on a 125cc water-cooled Yamaha RA95 twin with a record lap at 98.55mph, is seen in glorious full colour.
As we move into the 1970s and early 80s, the great selection of pictures includes Londoner Ray Pickrell on a BSA Rocket 3 in the 1971 Formula 750 race, eight-times TT winner Chas Mortimer on a Yamaha TZ350, the late-lamented Tom Herron on the 350cc Castrol Yamaha that he rode to second place in a senior race, and Carl Fogarty's dad George on a Sports Motor Cycles 950cc Ducati that caught fire and was badly damaged when he crashed on the rise following Bray Hill in a Formula 1 race, miraculously suffering only bruising.
If you're a TT fan, this great little book is a must. PK
Isle of Man TT, The Golden Years, 1963-1982, Volume Three, by Mick Duckworth with photos from the Keig Collection. Published by Lily Publications Ltd, PO Box 33,
Ramsey, Isle of Man IM99 4LP (01624 898446, info@lilypublications.co.uk, www.lilypublications.co.uk). 96-page 240x 240mm hardback with 24 black and white and 84 colour illustrations. ISBN 978-1-911177-25-8, £16 plus p&p.
Read more Reviews, News, Features and Opinion in the September issue of OBM – on sale now!
Enjoy more Old Bike Mart reading in the monthly paper.
Click here
to subscribe.
Comments
comments