The mention of Durness (at the top left-hand corner of Scotland) in a page 16 photo caption of the April OBM edition reminded me of the journey we made to the top right-hand side of Scotland 56 years ago in 1964 from Birmingham. The story may be of interest to readers.
We got as far as Kirkwall on the Orkney Islands via the Scrabster (close to John O'Groats) to Stromness ferry. We did not have the comfort of a Jawa/Velorex outfit, but did have a Vincent Rapide (OHA 315) with a large one-off bespoke pannier frame that supported two suitcases (including two dresses!) and everything else for a two-week camping holiday.
In addition to the two cases there was a tent (an Andre Jamet PCA12) with an integral groundsheet and separate flysheet.
There were inflatable mattresses, cooking pots and pans, plates, cutlery and a Primus stove for cooking that used paraffin for fuel and methylated spirit to get it going. T
here was quite a knack to getting the stove going, particularly in the wind, as the paraffin container below the burner had to be pressurised with its pump.
When the nozzle had become sufficiently hot (by the burning meths surrounding the nozzle) it enabled the paraffin to vaporise and ignite… this was in the pre-Campingaz canister era.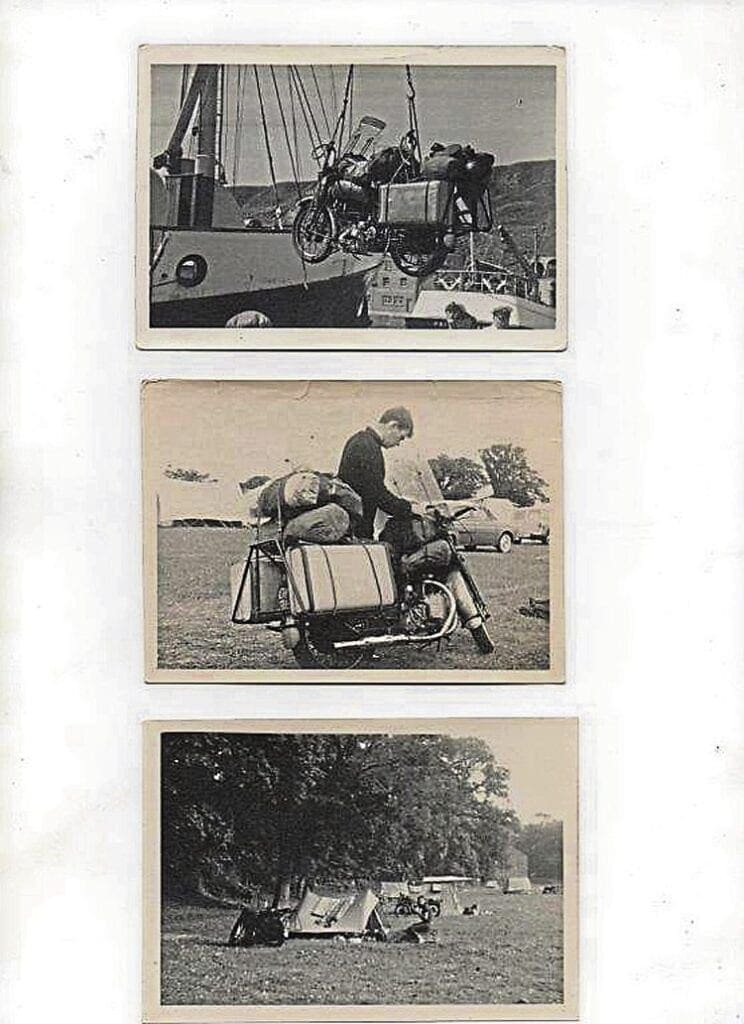 The bespoke pannier frame was made in "spare time" in the experimental workshop of the Morris Commercial Ltd factory where I was an engineering apprentice (manufacturing Ford Transit-sized vans and direct injection diesel engines (3.4 and 5.2 litre) for BMC trucks – one was four and the other six cylinders); it performed perfectly, despite the high total vehicle weight and abnormal weight distribution.
However, the holiday was without incident until the engine started to lose power on the M6 on our last day as we returned to Birmingham.
We limped into the Charnock Richard service station, where the one of the cylinders was so hot that petrol was vaporising in one of the carburettors.
After the final few miles by British Rail back to Birmingham, and then removing the cylinder head on the pavement outside my digs in Small Heath (yes, imagine doing that now!), the cause of the overheating was shown to be the failure of a gudgeon pin circlip (wire type) that had come out of position and milled a severe groove in the bore… and thus overheated the engine!
As an afterthought, I wonder where OHA 315 is now? I sold it in 1967-1968.
Also, regarding the technical illustrators' piece in OBM, I wonder what material they used, sectioned assemblies, component drawings? Their work was impressive, could any OBM reader shed some light on their work practices?
Tim Briston, Basingstoke
Read more Letters, Opinion, News and Features at www.oldbikemart.co.uk and in the June 2020 issue of Old Bike Mart – on sale now!
Enjoy more Old Bike Mart reading in the monthly paper.
Click here
to subscribe.
Comments
comments