For many of us, a holiday abroad is not a true holiday if it doesn't involve motorcycles in one form or another, and Dave Manning interrupts a trip stateside to indulge himself in classic bikes and classic racing.
Recognised as being the world's largest motorcycle collection, the Barber Motorsports Museum has more than 1600 motorcycles spanning over 100 years of production, representing 200 different manufacturers from 20 countries.
And for that reason, it's a place that I've wanted to visit for some time.
Once a year, in early October, the museum also organises the Vintage Festival and, with a race track on the expansive Leeds, Alabama site (close to Birmingham), they run a round of the AHRMA (American Historical Racing Motorcycle Association) series alongside parade laps and also have an area set aside for trials too (although that was one of the things that I didn't manage to get to in the three days), so for someone travelling over from Blighty, it made sense to get to Barber on the weekend on which they hold the festival.
The expansive museum and sprawling Motorsports Park have just about everything that any motorcycle fan could want, from on-track action to club displays, via the incredible museum, two large 'swapmeet' (read autojumble) areas, trade stands and 'Ace Corner', the area sponsored by the Orlando branch of the Ace Café!

The classic racing aspect of the festival is somewhat different to classic racing on this side of the Atlantic, with there being a huge dependency on classic twin cylinder Honda four-strokes, rather than the British singles and twins that dominate the UK scene, but the variety of race classes and machinery is equally as fascinating, with the bikes in the Hand Shift Shoot Out proving of particular interest, to me at least.
Several hours walking the race paddock in baking temperatures on the Friday morning resulted in hundreds of photographs, and a feeling of empathy for those sat in race leathers waiting for their time on track.
Elsewhere, an impressive line-up of machinery in front of the Vintage Japanese MC saw lots more Honda twins alongside a variety of Seventies trail bikes and a glut of early inline fours, while the Antique Motorcycle Club of America had an impressive display of mainly home-market material, plus the occasional Brit classic and a fascinating array of classic flat-trackers, and even a handful of classic choppers too!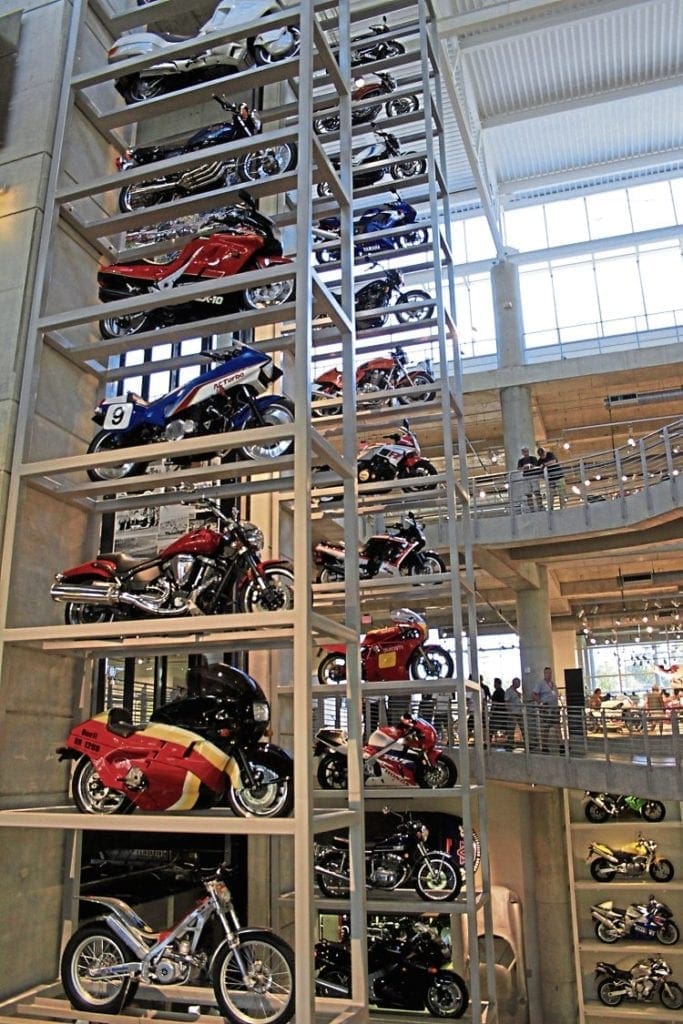 Inside the AMCA marquee was a stunning example of an Excelsior single, parked beside a V-twin from the same manufacturer, an immaculate Model F Harley, and an inline four Patria of 1263cc capacity.
Some real rarities were on show there, many of which had been used in the infamous Motorcycle Cannonball run for veteran machinery that has been running, coast-to-coast across America, every other year since 2010.
But the rare machinery wasn't just on show, as a surprisingly large number of them were being used for transport around the site.
As the Motorsports Park encompasses no less than 880 acres, it was something of a task to cover the grounds on foot, and while golf carts were available for hire, most folk used their bikes.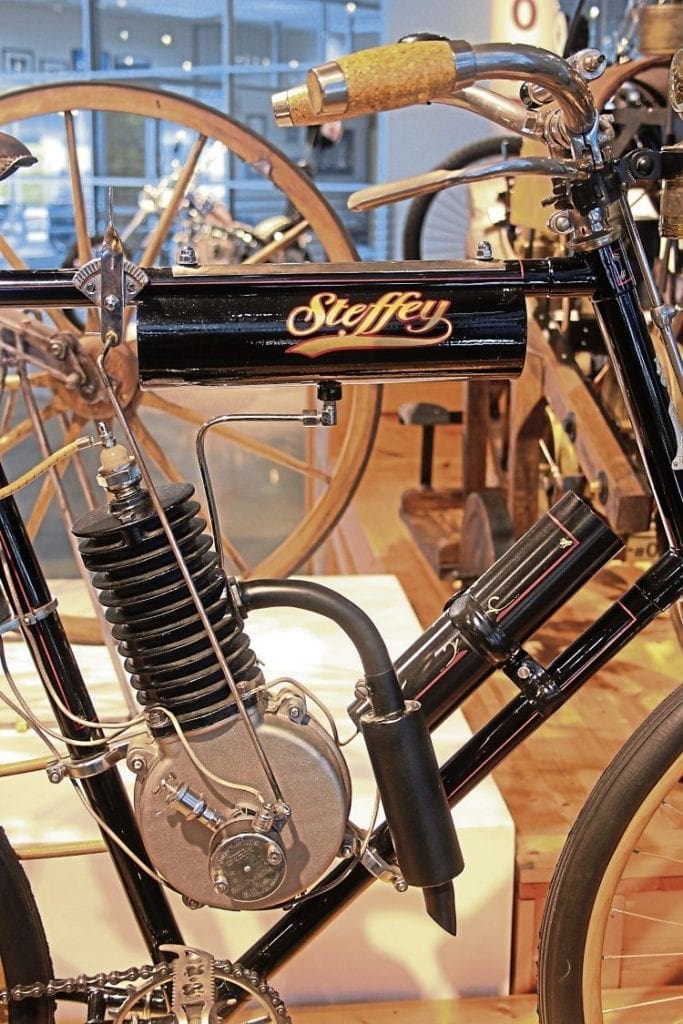 Apart from the obvious choices such as classic Honda Monkey bikes and Cushman scooters, there were some real rarities being used – Nimbus fours, hub-centre-steered Ner-a-cars, round case Ducati twins, Guzzis, Laverdas and Benellis, the list goes on.
Essentially, if you can think of a type of classic bike, there was one there somewhere.
And that all-encompassing variety of machinery was exemplified within the walls of the 230,000 square feet of the museum.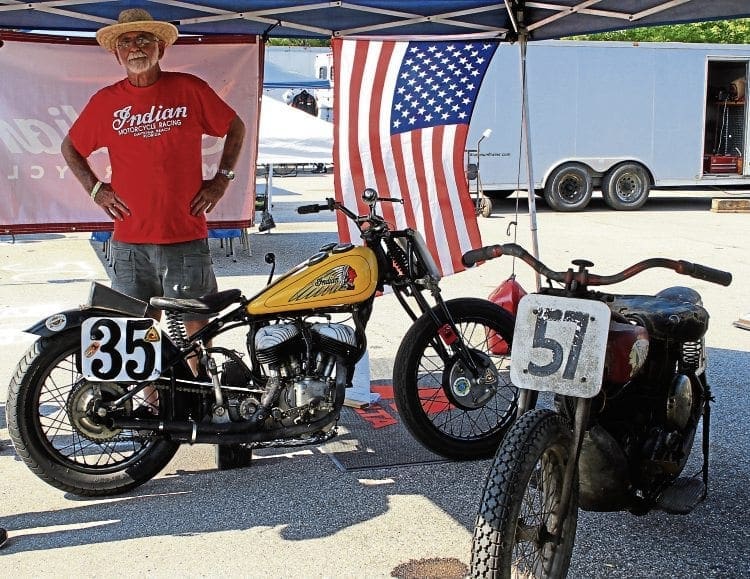 The pictures here really do not do it justice, as it is truly mind-blowing – not just in the number and variety of bikes on view, but in the way that they are displayed.
The ceiling-high racks that line the walls and the lift shaft (14 bikes high!); the 'Christmas tree' stacked bike displays; the mopeds hanging from cables; the wooden board racing display; the Daytona 200 race banking; and the off-road bridge/jump.
All with information boards detailing each machine and its history. I spent a (very) full day just in the museum, and didn't see it all…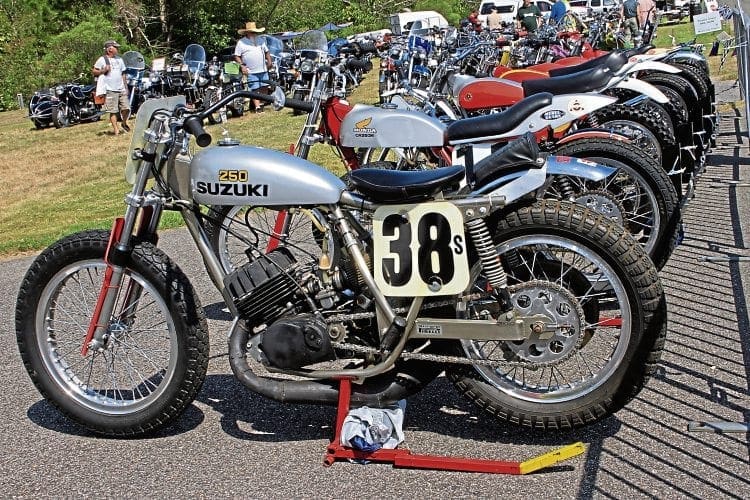 So, even if you head over to Alabama outside of the first weekend in October, and you're not there for the Vintage Festival, plan on having at least two days at the museum, there really is that much to see!
View more images and read more News and Features in the January 2020 issue of Old Bike Mart – on sale now!