In the last of his features about Japanese trail bikes, Steve Cooper takes a close look at Honda's XL250 that was first revealed 46 years ago in 1972.
By the end of the 1960s, Honda's drive to be all-powerful on both two and four wheels had created some significant market sector gaps. As we've previously seen, The Big Aitch had sought to fill one of the spaces caused by its rivals via the SL350 twin, but as journalists suspected and Honda already knew, the trail twin was only a stop-gap measure.
A new breed of machine was in the offing, and in 1972 the XL250 was revealed. Finally, Honda had a purpose-made trail bike with which to take on Yamaha's DT250, Kawasaki's F11 and Suzuki's T250.
The all-new XL owed little if anything to the machines that had gone before it, and was not a derivation of any existing Honda road bike. Key to the overhead-camshaft, four-stroke single was a four-valve cylinder head that was a first for a production Honda. Utilising a flywheel magneto ignition system, Keihin slide carburettor and five-speed gearbox, the power unit was utterly different from any other machine out there.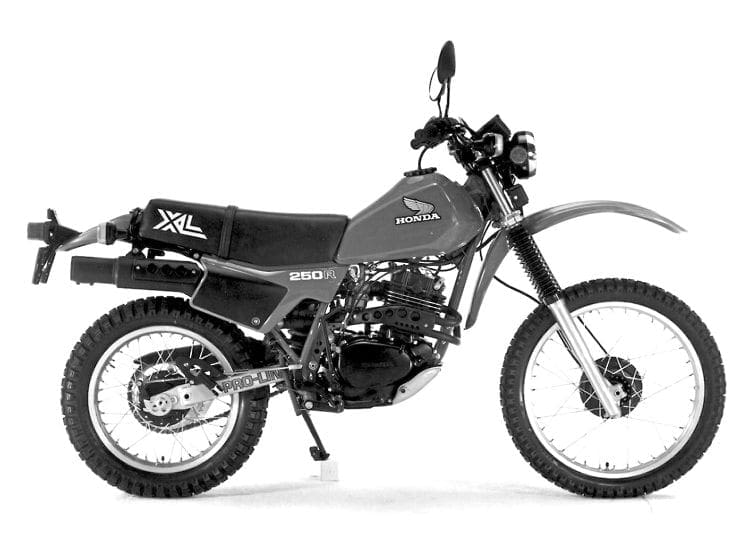 Although Honda hadn't quite bet the farm on the XL they'd certainly gone out on a limb to develop a bike that was unique to the company yet, crucially, retained that inimitable brand identity.
Finally, Honda had a machine that could compete on roughly similar grounds to established rivals, even if it wasn't necessarily on a par with them. The engine had been tuned as much for usability as for outright power, and the company had done remarkably well to extract a quoted 22bhp from it at 8000rpm.
Perhaps even more impressive was the fact that the machine weighed only 127kg – still some 15kg heavier than the DT250 of the same year, but almost 20kg lighter than the outgoing SL350. With a keen eye on mass, Honda had even equipped the engine with magnesium alloy outer engine covers to keep the weight down. These lightweight castings were finished in a unique gold/green paint designed especially to reduce corrosion of this easily corroded material.
Even if the XL250 wasn't intended to be a true dirt bike, the sales figures justified the research and development, and its popularity effectively negated the need or justification for the long-running CL series. Such was the success of the XL250 that it swiftly prompted the launch of 100, 125, 175, 185 and, later, 200cc versions. These machines didn't run the four-valve heads of the 250, and some utilised various facets of existing single-cylinder machines, but collectively they all helped establish the reputation of Honda's new XL trail bike range.
Read more in the May 2018 issue of OBM – on sale now!
Enjoy more Old Bike Mart reading in the monthly paper.
Click here
to subscribe.
Comments
comments