Modern motorcycle clothing has made riding a bike through the depths of winter – or even the cooler days of autumn and spring – far more comfortable than it ever used to be.
And, with clothing now protective as well as waterproof, there are further advancements being made with regards to warmth, as these Keis heated gloves show.
The Keis G601 are leather and synthetic, with a heating panel across the back of the hands and over the top of the fingers.
They also feature a thicker layer of 3M Thinsulate to offer improved warmth distribution throughout the glove, especially across the back of the hand and the fingers, together with hardened knuckle protection, a scaphoid guard for palm protection, and a waterproof membrane to ensure dry, as well as warm, hands.
They can be powered either directly from the motorcycle's electrical system, providing it is a 12 volt arrangement or – perhaps more suited to classic machinery that is either running on 6 volts or has a somewhat marginal charging system – from an optional battery pack or specially-designed batteries that fit into the pocket in the cuff of each glove.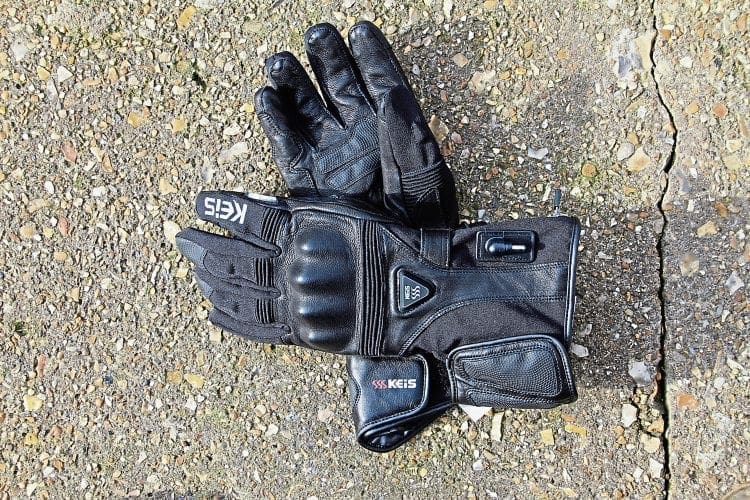 They're operated by pressing the button on the back of the glove, which then lights up, with three colours to show which heating level it is on (red, amber or green, for hottest, hot and warm).
They conform to European PPE requirements, as you'd expect for any clothing sold for motorcycling use nowadays, and retail at £199 inclusive of the chancellor's cut, and while you may consider that to be expensive for a pair of gloves, I can guarantee that when you're riding around in the cold, and your pinkies are toasty warm, you'll have no regrets whatsoever!
More details are available from the website at www.keisapparel.com
Read more News and Features at www.oldbikemart.co.uk and in the November 2020 issue of Old Bike Mart – on sale now!