The recent correspondence about Wildmans – Lincolnshire's oldest motorcycle shop – prompts me to add my own recollections for the record.
While in Daytona in 2004 I had a call to say that Wildmans was for sale due to the owner's retirement.
I couldn't wait to get home to Spilsby to follow this up, so immediately arranged to see John Wildman on my return.
It turned out John was on the point of closing the business, and a local funeral director wanted to turn the premises into his parlour.
John didn't really want this to happen, so was pleased to accept my lower offer on the understanding that the business would continue as before.
By selling my soul to Lloyds Bank, I like to think I saved Wildmans from this fate.
At this time the firm was still anchored in the great days of British bikes and John's late father's influence was very much in evidence, even though he had been dead for many years.
Many of the customers had been inspired in their youth by Ted Wildman's exploits in local scrambles and some had been bringing their bikes in for 40-odd years, the workshop almost becoming a clubroom for old bikers.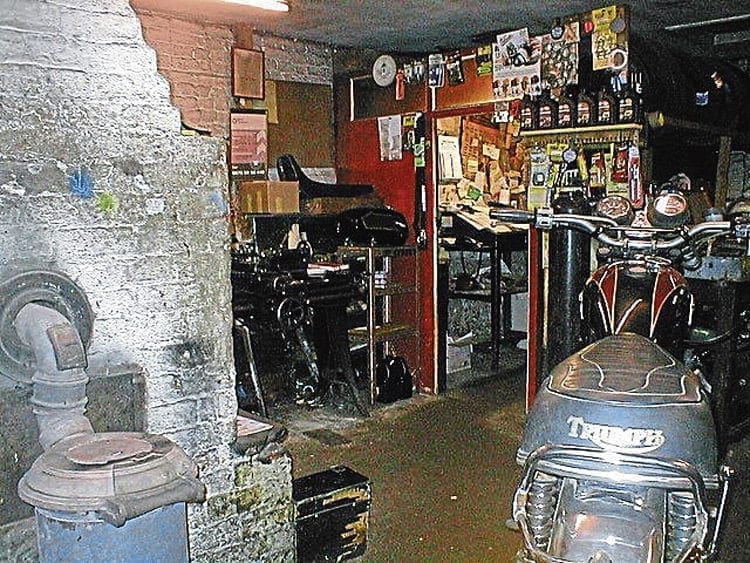 The premises had the appearance of an industrial museum with the pot-bellied stove, massive lathe, hitherto belt driven, and the office featured a high desk and stool over which Wildmans business had been conducted since formation in 1926.
Some of the 'members' are still around and still riding the bikes they bought at Wildmans when teenagers – Spilsby resident Dave Hill is one and he's still got some of those AJS bikes.
I still have agreements appointing Wildmans as distributors for many British manufacturers including AJS/Matchless, Norton, Scott and others, after which they became among the first Suzuki dealers in the UK.
In the early days of Honda's expansion into the UK, Ted became main dealer for Honda, and there is a story that he subsequently gave the mighty Honda their marching orders due to their insistence on higher standards of workshop and showroom equipment!
I have the sales records for some of this period, and the sheer volume and variety of machinery that the firm traded in is amazing.
Son John had worked in the company since leaving school, as had mechanic Graham, between them having unparalleled experience in Brit and Japanese machinery.
I was glad that John still came in on a casual basis if required and to have Graham stay on, who really ran the business with little practical help from me.
At the time I was managing the advertising for Real Classic magazine (a fellow Mortons publication which, like Old Bike Mart, is subscription only), which dovetailed nicely with the classic bike shop activity, and allowed me to finance the purchase of all the new computer-based MoT equipment.
(Wildmans was still brake testing for MoTs on a ramp etc., all of which was due for updating on a change of authorised examiner).
My ownership of the company was a very satisfying period of my existence and I shall always value experiencing the flavour of the early days of a company involved in the industry in its heyday.
However, after a few years my circumstances had changed and over a Christmas pint in the nearby Red Lion, local enthusiast Pete McDowell made me a hard-to-refuse offer and shortly took over.
Affectionately known to some as 'Auntie Wainwright', Pete understandably brought a more hard-nosed approach to the business, investing heavily in the premises and with new agencies etc., which inevitably alienated some of the old established clientele who drifted, or in some cases passed, away.
So AE Wildman & Son, as many knew it, is no more but all good wishes to the new owners who hopefully do value the heritage of the old firm and will keep it alive through the centenary in 2026 and beyond.
Mike Powell
Read more Letters, Opinion, News and Features in the November 2019 issue of Old Bike Mart – on sale now!