It was great to see the piece about Fred Launchbury and his racing Bantam in the last issue.
I bought the bike from Fred on January 15, 1970 for £175 – a record price at the time!
I still have the bill of sale on his Raynes Park Motorcycles-headed paper, with a signed-over fourpenny stamp.
The Bantam was fast for its day, and the only difference when I bought it was that it had a full fairing and double-sided Bantam front brake.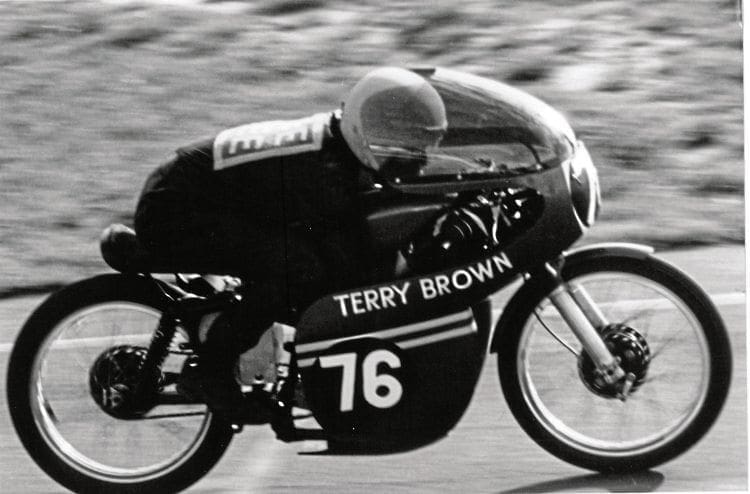 I know the gentleman who owns it now, so I still get the chance to sit on it and dream from time to time.
Many thanks for the article, and Old Bike Mart is a great read.
Terry Brown, West Winch, King's Lynn, Norfolk
■ Undoubtedly you will have been deluged with anecdotes about the late Fred Launchbury following Mr Thorpe's letter in OBM (June), but here are my recollections.
Many readers will be aware that Fred, riding a Bultaco, finished third in the 1969 125cc
TT, but was excluded from the results because his engine's capacity was slightly oversize
(a teardrop, one reporter wrote at the time). The explanation was that the barrel had been honed out after seizures.
I seem to recall Gary Dickinson being moved up to third position, and Gary was so small in stature that I believe his Honda had to carry ballast to make up the TT's minimum weight rules.
In 1973/4 I rode in several races at Llandow, South Wales, in which Fred also competed, because the 125cc class ran concurrently with the vintage class in which I was involved.
While we shared only a few words in the paddock, Fred seemed a very amiable bloke to me.
John Carter, email
■ Yes, I well remember Fred Launchbury, who rode a 350cc Norton as well as his very
fast Bantam.
He was quite a small chap, who had a tall wife as well as a very big, very thin greyhound.
Like the rest of us, Fred loved to natter, and once, when he failed to respond to repeated requests
to go for his dinner, she marched over and laughingly carried him off!
Happy days down memory lane!
Harry Rayner, email
■ I well remember Fred Launchbury because I marshalled at some Bantam Racing Club meetings at
Snetterton in the mid-1960s – and Cadwell Park too if my memory serves me right.
At every meeting, there was Fred, and what I remember in particular was how superior his Bantam was to those of the other starters.
While he whizzed around the circuit, his motor screaming like a born and bred racer, most
of the field behind him paraded past my marshalling post making more typical Bantam phut-phut noises.
Some of his rivals' bikes were developed technically during my period as a marshal and began
to sound more like Fred's, but I don't think any of them seriously rivalled him.
Like many others in the early 1960s, I started my racing career on Bantams, although by the time I was watching Fred I'd moved on a bit to big (but usually rather elderly) twins.
I kept a strong affection for Bantams, though, and owned several. My last one was a D7, bought and used to attend the Dragon Rally because my big Ajay had just died on the way home from the Elephant.
Those are other stories of my foolish youth, though.
The last D7 Bantam I quickly traded in for a Norton Commando, which is all a bit sad really, because I have no photo of it, no paper records, and can't even remember its registration number.
I wish sometimes that I still had one.
David Quainton, County Durham
Read more Letters, Opinion, News and Views in the July 2018 issue of OBM – on sale now!