The Royal Corps of Signals' White Helmets motorcycle display team, now based at Blandford, Dorset, can trace its origins back to 1927, when the first public displays of joint precision horsemanship and motorcycle riding were given by instructors and students from the Signal Training Centre in Yorkshire.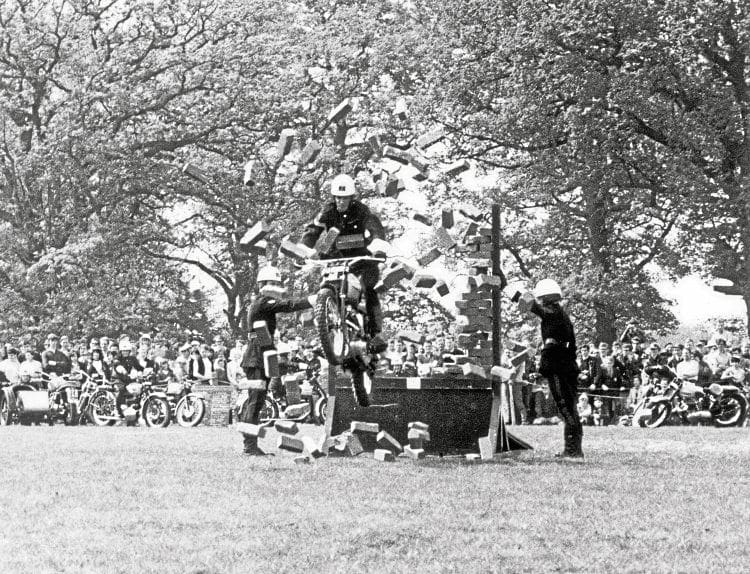 In this 90th anniversary year of 2017, the team remains a popular element of the British Army, keeping it in the public eye as it shows off the Corps and represents Britain at events throughout the world.
Its traditional disciplined arena displays, on 750cc British Millennium Triumph twins, include very close crossover rides and some outstanding motorcycle acrobatics, and a big turnout is expected for the 90th anniversary reunion in Blandford in August. Many former team members turned up at last year's reunion, notably Les Williams of 'Slippery Sam' fame.
Old Bike Mart was reminded of this year's important anniversary when John Dunstan, who was a member of The White Helmets team as a mechanic and rider
from December 1969 until December
1973, opened the cover of a recent issue of OBM to read 'Prattle' and thought: "I know that face…"
John was based at Catterick, north Yorkshire, when our editor was working for The Northern Echo in Darlington in 1971 and, being a keen motorcyclist, was invited to spend a full day's arena training with the team in order to write about it for both the Echo and Motor Cycle.
Before that, Pete had joined that year's new intake of recruits, some of whom had little if any experience of motorcycle riding, on 350cc BSA dispatch bikes as they learned how to tackle all kinds of cross-country terrain.
Article continues below...
Advert
Attaching a copy of the ensuing Motor Cycle cutting dated July 1971, which he's carefully kept in his scrapbook all these years, John wrote: "For your info, in the photographs with you are Corporal Tony Button, reverse-riding the bike you're hanging off the ladder from, and on the other bikes are 'Duke' Foster and Paul Engering. Have a good Christmas!"
To give some idea of the kind of training recruits to The White Helmets team still have to go through, and in recognition of this year's 90th anniversary, OBM will be republishing Pete's feature in the next issue.
Read more News in January's issue of OBM
Article continues below...
Advert

Enjoy more Old Bike Mart reading in the monthly paper.
Click here
to subscribe.