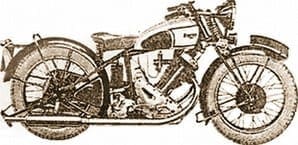 It's hard to imagine in today's money motivated age, that the manufacturers of anything so complicated as a motorcycle, with its many moving parts and precise machining requirements could be content with a profit of just 7/6d (37½p) per bike! But it did happen during the depression years of the 1930s, a time when many motorcycle makers were going to the wall. It was Phelan & Moore, the old established Yorkshire based manufacturer of Panther motorcycles who struck a deal which gave them 7/6d profit on each bike sold and glad they were of it.
It came about due to the fall in the market which followed the Wall Street crash of 1929, those early years of the 30s were hard times indeed and even a brand new design from Panther, with a 250cc OHV engine, well made and with a good turn of speed couldn't turn the tide on its introduction in 1932.
At the end of the year, the model 40, as the 250cc was named, was being discounted heav­ily by the big London dealers Pride & Clarke; instead of its retail £42.10.0 (£42.50). P & C knocked them out at a staggering £28.10.0 (£28.50) and they sold like ripe cherries!
Crafty cockneys
The crafty cockneys were soon banging on P & M's door asking for more and a deal was struck – Pride & Clarke would be the sole distributor for a real cut price bike; thus the model 20 Red Panther was born and it was to keep the doors open at Cleckheaton right through to 1939 and the Hitler war.
The first genuine Red Panthers were priced at £28.17.6d (£28.75), but a year later the figure jumped a full £1 and was then to remain unchanged until the end of production. The bikes were assembled by redundant Mill girls, working on the twilight shift from 5-10pm; cheap labour maybe, but most of the material that went into the Red Panther was far better than the price suggested. Only two areas were really weak, the Miller coil ignition and lighting set and the three speed Burman gearbox; both being built down to a price, rather than to an ideal. Indeed, the very first models featured Sturmey-Archer 'boxes, but the Nottingham gear makers would­n't lower their standards to meet the specification; Burman's had no such qualms, 18,000 were built altogether, taking their owners backwards and forwards to work, being abused and neglected, seldom garaged, derided by 'enthusiasts' who never bothered to find out the facts, but soldered on until they simply wore out.
Look around today, few survive and those that are found, are all well worn; evidence of hard use and faithful service.
To prove how good the bikes were, P & M submitted one to the rigours of the ACU's Maudes Trophy test of efficiency in October 1933; it came through with flying colours, return­ing 115.7 mpg at an average speed of 35.5 mph. Timed over the Flying Quarter-Mile, the bike returned 14.2 secs, with a speed of 63.38 mph.
The back wheel came out in 1 minute 15 seconds and, to prove that it could handle, the rider, E.F. Chidley, covered a full lap at Brooklands without touching the handlebars. All Sterling stuff.
Trials successes
There were to be several noteworthy trials successes on Red Panthers, particularly in the hands of Mancunian Ken Norris, who also won a Gold Medal in the 1937 ISDT (on a 350cc version; both capacities by then being offered). Not bad for £29.17.6!
The specification changed little through the years, apart from the redesign of the cylinder head and valve gear in '35 and again in '38. The Miller electrics could be upstaged in later years by paying an extra £2 and getting a Lucas Maglita and a 4 speed footchange Burman gearbox became another option. Braking throughout was by British Hub and the hands-off steering quality came courtesy of a pair of lightweight tubular Webb girders.
Finish details? tank and mudguards enamelled red – naturally!
See also When was it that? contents