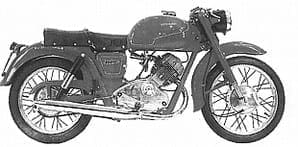 Although one of the 'newer' motorcycle manufacturers, Moto Guzzi always seemed able to come up with unusual, sophisticated and highly successful designs. Located on the shores of Lake Como, in Italy, the company came into being during 1921, formed by Carlo Guzzi and Giorgo Parodi, two former aviators who had survived the 1914-18 war. Their first machine was a 500cc single, its engine positioned horizontally and having a large diameter external flywheel, destined to become the marque's distinguishing features. The forward-facing cylinder, with its radial cooling fins gave not only the benefit of good cooling but also ensured the weight was carried as low in the frame as possible. It was marketed as the Falcone, a name perpetuated amongst future generations of models.
Right from the beginning the factory took a keen interest in racing, with such immediate success that they won the 500cc Class in the 1921 Targa Florio in their first year of business. They soon had the Isle of Man in their sights, and entered Pietro Ghersi in the 1926 Lightweight and Senor TT Races.
Ghersi should have won the Lightweight Race, having led it for the first six laps after a spirited battle to keep ahead of Paddy Johnston's Cotton–JAP. However, a last lap pit stop relegated him to second place, to finish 20 seconds behind Paddy. Worse was to follow, when he was disqualified on a technicality – his machine had been fitted with a different make of sparking plug to that specified on the entry form. Those at the prize giving ceremony showed their disapproval of the ACUs ruling in no small way, unaware Ghersi had earlier been warned about this. Sadly, he was out of luck on his 500cc model in the Senior Race when he was forced to retire. Fortunately, the disqualification did not deter Moto Guzzi from returning to the TT the following year. Ghersi's set-back was vindicated in that years Lightweight Race, when Arcangeli rode a 'works' Moto Guzzi into second place.
Racing successes
Moto Guzzi's racing successes built up to such an extent that it is not possible to record them all in a short feature such as this. Suffice it to say they soon became a force to be feared, not only in the Lightweight Class, but also in the Junior and Senior capacity classes. A fearsome 120° vee-twin was later used to spearhead their attack on the 500cc class. It was remarkably quick but also temperamental.
Although Moto Guzzi manufactured an imposing range of road-going models for their home market, few were seen in the UK until the mid 50s. Imports of motorcycles after the war were not permitted until 1952 whilst Britain struggled to pay off its wartime debts. But within three years of this restriction being lifted, the number of imports almost equalled the number of machines exported by British manufacturers. Most came from the Continent, some from Moto Guzzi.
Initially, Moto Guzzi appointed Bob Foster as their UK Concessionaire. A very popular dealer agent with a well-established business in Parkstone, Dorset, he had won the 1950 350cc World Championship on a Velocette. However, it is doubtful whether he managed to sell many road-going Moto Guzzis, even though he had ridden for Moto Guzzi in the 1949 Senior TT. Very appealing in their brilliant red finish the road-going models suffered the disadvantage of being more expensive than their British made counterparts. Their 350cc model cost £205, against the 172 of a 350cc AJS or Matchless, a decisive factor when the average worker's wages were low.
The differential between the prices of the respective 500cc models was even greater. By the end of 1954 Moto Guzzi acknowledged their sales prospects were unlikely to improve in the immediate future and withdrew from the UK market.
Pride and Clarke Limited
Anyone who rode a motorcycle in the early post-war years will be familiar with Pride and Clarke Limited. the South London dealers whose red painted premises dominated Stockwell Road. Famous for selling complete machines and accessories on easy terms, they also acted as importers of foreign-made motorcycles through a subsidiary company, Motor Imports Co. Ltd. Appointed UK Concessionaire by Moto Guzzi in 1957 they commenced by importing the 98cc Zigolo two-stroke, and a year later took on an even more promising new model, the 175cc Lodola.
The Lodola differed from the familiar Moto Guzzi concept by having the cylinder of its unit-construction ohc engine inclined forward at 45° from the vertical. It was housed in a duplex tube cradle frame, with a conventional telescopic front fork and pivoted fork rear suspension controlled by hydraulic suspension units. The front and rear wheels were of 18 and 17-inch diameter respectively, shod with 2.50 and 3.00-inch section tyres fitted to alloy rims. The rear wheel was of the quickly detachable type that left the brake and chain in position.
Primary transmission was by helical gears to the built in unit four speed gearbox. The long 'rocking pedal' gear change lever had an indicator that pointed to a marking on the crankcase to show which gear had been selected. Ignition was by coil, the battery and electrics housed within a neat compartment under the nose of the dual seat. The engine had an aluminium alloy cylinder head and what was described as a 'small stabilising flywheel fitted to the camshaft'. Chain driven, its long drive chain had an automatically-adjusting Weller type tensioner. It was alleged the engine had an output of 9bhp at 6,000rpm, to give a maximum speed of just over 60mph. However, a brief road test conducted by one of the two motorcycling weeklies of that era was not particularly complimentary about the 175cc Lodola's overall characteristics.
A year later a Lodola Sports model was introduced, of similar specification but having a higher compression ratio (9:1) that raised the power output to 11bhp. It also featured a full-width front brake, and a larger 3 gallon petrol tank with a quick filler cap.
August 1959 saw the first imports of an enlarged capacity Lodola, achieved by changing the original 'oversquare' 62 x 57.8mm bore and stroke dimensions to 64 x 68mm. Both brakes were of the full width type.
Despite these attempts to improve the Lodola and its performance, it remained a slow seller and by August 1959 the 175cc Lodola'and Lodola Sports models were discontinued. The 235cc model continued in production during the early 60s until outclassed by the early Japanese imports.
See also When was it that? contents