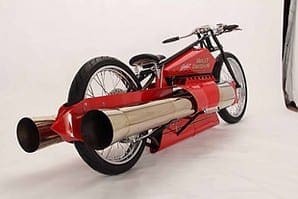 Maybe you didn't know that Humber had made motorcycles at all? Car firm Humber, a one time part of the badge engineered Rootes Group. Well, if so, you're quite wrong, as Humber were one of the earliest constructors of motorcycles in Great Britain; a natural progression from the reputation and skills they had acquired, as makers of quality bicycles.
Almost 100 years ago, the Coventry company was experimenting with powered tricycles and bicycles, under licence from Harry Lawson's syndicate; which cornered the UK master patents on all sorts of self propelled vehicles.
They built machines to the design of the American fraudster, E.J. Pennington, before his hype bubble burst, and then, at the turn of the century, they took on the Joah Phelon sloping engine design (later Phelan & Moore and of course, Panther).
From factories in Beeston, Notts and Coventry, these all chain drive Humbers were extreme­ly successful in pioneering the motorcycle, as a practical form of everyday transport.
They then dropped out of the trade for some years, re-appearing around 1910 with a new range of fairly conventional side valve 4 strokes that, amongst other things, were to be pitted against the TT course in the Island. Not without some success either, because in 1911 Percy Evans on a Humber won the first ever Junior TT; it was the first year too for the full Mountain course and their six entries were all finishers, taking 1-4-8-9-13 and 18th places.
Humber's went Island racing right up to the Great War, but without repeating the 1911
Afterwards, they concen­trated on large capacity flat twins, for sidecar and sports use until 1924 when, with their motor car interests obviously beginning to demand more time and money, the motorcycle range was pared down to a sole 349cc side valver, hav­ing all chain drive and their own 3 speed gearbox.
Surprisingly though, this cut-back wasn't to signal the imminent end to pro­duction, for in 1927 they added an overhead valve version of the 350 and a year later, there was an even bigger surprise, in the shape of a twin port overhead cam engined bike; all three ver­sions then running on until 1930, when the blinds did eventually come down.
Nothing too way out about these late-vintage Humber's, the 349cc capac­ity coming from 75mm x 79mm bore and stroke dimensions, with total loss lubrication looked after by a Pilgrim pump.
Directly on the cambox
On the cammy model, the Pilgrim was mounted directly on the cambox. ML magnetos attended to the sparks and Brown & Barlow carbs were still being specified in 1930, although that maker had already amalgamated with AMAC and Binks. Humber's own 3 speed gear­box and clutch was standard to the end, with a choice of wide or close ratios.
The side and overhead models both steered courtesy of a diamond pattern frame and Brampton girders, whereas the cammy was treated to a full cradle layout and a pair of Webbs.
Interestingly, they spurned the accept­ed abbreviation of OHC, in describing the camshaft model, preferring OCS., Humber shorthand for Overhead Camshaft Sports.
Those new-fangled twistgrips found their way onto the handlebars of the OCS and OHV bikes, while the side valve owner had to persevere with a lever throttle.
Black enamel was the finish for all three types, down to the wheel rims and spokes, enlivened by 'red and gold embellishments' to the saddle tank.
Article continues below...
---
---
An honest, well made, solid range, for the discerning buyer, who didn't follow fashion too closely, but liked to be associated with quality products.
Sadly, the slump of 1930 saw to it that discerning customers were thin on the ground and buyers of any sort, at any price, were the order of the day.
It was a market that Humber couldn't, or wouldn't enter; so 1930 marked the end of their motorcycle involvement. Four wheelers bearing the name motored on until recent times, albeit badge engineered by the Rootes and later, Chrysler groups.
Even then, the Humber badge only graced the grilles of the upmarket models – made for the 'discerning' buyer!
See also When was it that? contents

Enjoy more Old Bike Mart reading in the monthly paper.
Click here
to subscribe.