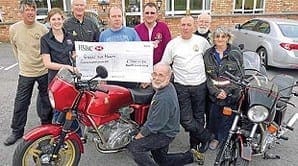 During Christmas 1977 Lord Hesketh decided to build an all-British Superbike. As former Patron to World Champion racing driver James Hunt, he had that year already installed facilities in the stable block of his country home at Easton Neston, in Northamptonshire, for testing rebuilt Formula One racing engines for the Grand Prix teams. Previously the headquarters of his own Fl racing team, considerable fabrication and machine work was still being undertaken for others. Furthermore, in setting up a research and development department to undertake projects for the automotive industry, such as prototype construction and development, he now had a highly advanced technological complex. It made good sense to capitalise on this and diversify still further, to be less dependent on the car racing side of the business.
It may seem surprising that Hesketh Automotive Products Ltd should have decided to build their own engine and gearbox, and not buy in an already tried and proven unit. However, the risk could not be overlooked that if their new design was a success, the manufacturer of the engine unit they were using might then mass produce their own version of the complete machine – and offer unwanted competition.
After a great deal of thought and a close study of other Superbikes, it was decided the engine should be a 90° vee twin. It would give the machine a lower centre of gravity than most other types of engine layout, would present a slim frontal area, and would be virtually free from vibration. Accordingly, Weslake & Company of Rye, East Sussex, were commissioned to undertake its design. The outcome resulted in an engine with bore and stroke dimensions of 95x70mm, to give capacity of 992.3cc, with an SG-iron cast crankshaft, roller main bearings, and polished steel connecting rods with split big-ends having Vandervell copper-lead shell bearings. The iron cylinder barrels were aluminium jacketed and fitted with aluminium cylinder heads, the latter having a four valve configuration, each pair actuated by bucket-type tappets from a chain-driven overhead camshaft. Two Dellorto carburettors with 36mm chokes supplied the mixture and ignition depended on the Lucas RITA electronic system.
Lubrication depended on a semi wet sump system, using a Hobourn Eaton motor pump to feed the engine, the single helical gear primary drive, and the gearbox. The clutch was of the wet multi-plate type, operated hydraulically. It drove via a five speed constant mesh gearbox, built in-unit with the engine. Final drive was by chain, the swinging arm rear suspension pivot being mounted coaxially with the gearbox final drive sprocket to maintain chain tension.
Reynolds 531 tubing
The duplex frame was built from Reynolds 531 tubing and Sifbronze welded at all joints. Front and rear suspension were by Marzocchi, the telescopic front fork having two-way hydraulic damping and the rear suspension units three-stage pre-load adjustment. Brembo hydraulically-operated disc brakes were fitted front and rear, with twin discs at the front. The wheels were of the Astralit type with light alloy spokes, a 19" diameter wheel at the front and one of 17" diameter at the rear. The 12 volt electrics comprised a Lucas RM24 15 amp generator, a Lucas 5M90 starter motor, a 27 amp/hour battery and a Bosch halogen headlamp. Other accessories included self-cancelling indicators, a tachometer and a speedometer, a quartz clock and warning lights. The steering head was fitted with a lock, as was the fuel tank and seat. Centre and side stands completed the ensemble, as well as twin mirrors, toolkit etc. The dry weight of the machine was 500 Ib. Maximum speed was quoted at 140mph with the rider lying prone, and an average fuel consumption of 50mpg.
At the time of the launch at Easton Neston on Wednesday, April 2, 1980, the Hesketh was the first new major British motorcycle to have been launched for 11 years. It had taken the remarkably short time of only two years and three months to develop.
Production was expected to commence during the forthcoming summer months, albeit in limited quantities, for Hesketh had not expected to produce what was obviously going to be an expensive machine for a limited market. They hoped to attract a British company, either in collaboration or partnership with them, to put it into reasonable volume production at a price that would prove competitive with that of the Japanese and European Superbikes currently available. In this sector of the market, sales had increased by an average of 60% over the previous couple of years (1978 and 1979), whilst more motorcycles were then being sold in Britain than at any time since 1959.
An initial setback occurred when, despite extensive pre-production testing, the first machines to be road tested by the press disclosed a number of faults that needed to be remedied, mostly relating to the gearbox and mechanical noise from the engine. When no one came forward to build the Hesketh under license, the company had no option other that to go into limited production themselves. Hesketh Motorcycles Limited were formed to operate from a new factory in Daventry, with a view to commencing production in September 1981, but it took longer than expected to eradicate the faults. In consequence it was not until February 1982 that the first modified production models came off the line, by which time the value of shares in the new Hesketh enterprise had fallen sharply. Even so, it did not deter the V1000 from making its debut at the April 1982 Motor Cycle Show, along with a full range of branded leisureware to help enhance its image. It was priced at £4,995, much higher than even the select few had expected to pay.
Bad news followed a couple of months later when in June trading in Hesketh shares was suspended and the company went bankrupt. The Daventry factory was closed after all outstanding work had been completed and its entire content put up for auction. It is alleged that by then 139 of the vee twins had been built. Not all was lost yet, however. After the Official Receiver had taken charge, a new company, Hesleydon Ltd, was formed during September, and after the jigs and tools had been acquired, limited production was re-started at Easton Neston. It was another bold step to take, as by then it was becoming evident that much of the already small market had gone because potential owners were tired of waiting and had bought other machines.
Updated version
When limited production of the V1000 model recommenced, it was of an updated version. Hesleydon also supplied a retro-fit kit, by which means the previous Daventry-made machines could also be updated to eliminate the earlier faults. Furthermore, as some owners had expressed a need for a fairing, one was designed and fitted to an alternative version of the V1000. The new model, the Hesketh Vampire, was launched during June 1983, carrying a price tag of £6,784. Contrary to expectations it was not well received and less than 20 were sold.
About 40 machines were made at Easton Neston, the number that should have been made each week at Daventry had the original production plans got into full swing. Now faced with the prospect of a shrinking market, limited production, and ever-increasing prices, production of the Hesketh finally ground to a halt during 1985.
Mick Broom, of Broom Development Engineering (one of the original Hesketh development team), tried valiantly to re-vitalise the project again in the early 1990s. By carrying out some dramatic styling changes to the cycle parts he produced the hand-built, avant-garde, Vortan. Yet for all that, his efforts too were in vain. The Hesketh concept just faded away, with a total of about 250 having been made. It became another promising design that had never quite made it.
See also When was it that? contents