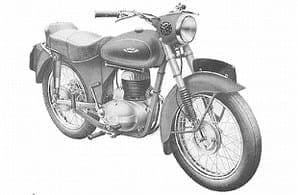 DMW started from a small shop in Wolverhampton known as Dawsons Motors. It was run by W.L. (Smokey) Dawson who, during 1942, designed a plunger-type rear suspension system for converting a rigid frame, followed a year later by his own design of telescopic front fork. Both were marketed locally in the form of a conversion kit, but if desired, the customer could have them fitted by Dawson himself.
When the war was over, Dawson branched out into making JAP-powered grass track bikes that bore the initials DMW (Dawsons Motor Works). To do so he needed to raise extra capital. It was provided by Harold Nock, who joined him. As well as being an accomplished engineer, Harold was also a very astute businessman, who earlier had been involved with a number of well-known motorcycle manufacturers. He already owned Metal Profiles Ltd., of Sedgley, and saw a better future in making a lightweight two-stroke than a very small number of grass track bikes. There was at that time an outstanding need for cheap, economic transport.
During September
The first machine to be announced during September 1947 was a 122cc two- stroke single powered by a Villiers 10D engine/gear unit, and it is here that the story takes a curious twist as press photographs showed it sporting a Calthorpe-DMW badge. Bruce Douglas, a member of the Bristol family whose name appeared on their motorcycles, had purchased Calthorpe in 1938. He had intended joining Harold Nock when the latter had decided to go into motorcycle manufacture, although for reasons no longer clear, he decided against taking up this option and the name reverted to plain DMW. Dawson was not happy about the prospect of making lightweight two-strokes either, and he left to make his own way in the USA.
In a sense, the departure of both proved quite fortuitous, because Harold Nock took on Mike Riley. Apart from being a very good trials rider, Mike also possessed that rare attribute of being a talented engineer. It was his appointment that provided this up and-coming company with the seal of success that was so necessary during its formative years. Production soon rose to 50 machines a week.
With two businesses to run, and the premises in Wolverhampton much too cramped, Harold Nock transferred DMW production to Sedgley, where Metal Profiles were already located. Apart from providing the much needed extra space, with room for further expansion, it also helped rationalise production. DMW used the same Metal Profiles front fork assembly that they supplied to a number of other lightweight two-stroke manufacturers.
It was not until 1952 that DMW took space at the annual Earls Court Motor Cycle Show. By then they had a range of six different models, three of them destined for competition use. Two more were added in 1953, one of them based on the new 224cc Villiers 1H engine that was making its debut at the same time. Until then, it had been the generally accepted norm that a road-going two-stroke required only a three-speed gearbox, its torque making a fourth ratio unnecessary. The 1H engine changed all that, as it was built on true unit-construction principles incorporating a four-speed box.
Apart from using the new 224cc Villiers engine, the Cortina, as the new model was named, incorporated a number of interesting features, foremost of which was a frame made of square section tubing. Already tried and proven on their competition models, the P-type frame had pressed steel panels with internal compartments for the battery and toolkit, and continued rearwards to form a deeply valanced mudguard for the rear wheel. At last, attention was being given to styling on this type of machine, which helped to dispel the utilitarian image from which it had suffered for so long.
Heavily valanced
The front mudguard was also heavily valanced, to further protect the rider from dirt and other debris that is thrown up from wet roads. As for the final drive chain, that had a guard over both its top and bottom runs, which would help materially to prolong chain life. Rear suspension was by a pivoting fork, its movement controlled by hydraulically damped rear suspension units. A particularly ingenious touch was the use of snail cams at the point where the swinging arm fork pivoted, so that when the chain needed adjustment to take up wear, the rear wheel would always remain in line.
The Metal Profiles front fork had the headlamp, speedometer, ammeter, lighting switch and horn all contained in a neat nacelle, which bolted to its upper shrouds and enclosed the centre of the handlebars. The control cables were routed through it, via a rubber grommet on each side. A shaped dualseat provided adequate comfort for both rider and pillion passenger. It could be raised to hinge back on its rear supports, to give access to the twin tool compartments, battery, rectifier and associated wiring.
The finish was in Paris grey, with the options of turquoise blue or black, the dualseat being covered in a complementary-coloured fabric. The wheel rims were bright chromium plated and the fuel tank dual lined in gold with the characteristic DMW transfer.
A road test conducted by The Motor Cycle in their issue of 17th February 1955 described the Cortina as having 'the handiness of a lightweight and sturdiness of construction normally associated with a heavier machine'. It was also considered to be a comfortable machine which not only steered and handled well but also possessed considerable accelerative powers. Praise indeed.
The Cortina's maximum speed was about 60mph and its fuel consumption around the 71 mpg mark at 50mph. If anything, it was a little on the heavy side at 252 lb, fully equipped, although some of this could be attributed to the overall weight of the new Villiers engine.
This seemed a little at variance with the magazine's comment about the engine's accelerative powers. It is, of course, unusual for a motorcycle and a car to have a similar model name. Often, this creates problems, as in the case of the Douglas Dragonfly, which originally was to have been called the Dart until Daimler raised objections. Fortunately, DMW used the Cortina name first, for it was not until the early 1960s that Ford's Cortina was launched. Its DMW namesake had not been made since August 1957 so there was no longer any fear of confliction.
See also When was it that? contents