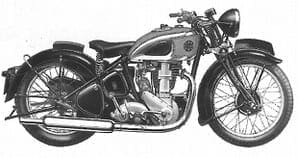 Destined to become the cornerstone of the British motorcycle industry, BSA were late in making their first motorcycle. Although they had been making bicycle parts since ) 1873, and had supplied frames, forks and other cycle parts for motorcycles, it was not until 1911 that they launched their first complete machine. Their new 3½hp (499cc) model was a conventional design, and like the extensive range of models that were to follow, it offered good value for money. It was on this basis that the company built its reputation. As a result, ever increasing numbers ofnewcomers to motorcycling first took to the road on a BSA.
A disastrous entry of a team of eight riders in the 1921 Senior TT resulted in the company's directors placing a ban on all future participation in road racing events. BSA went back to what they were able to do best – making good, reliable motorcycles for the masses. Fortunately, the ban did not apply to taking part in other forms of motorcycle competition. The development of new models had to continue and it was mainly through trials and long distance road events that BSA kept their name to the fore.
One of BSA's more memorable models was their 493cc ohv model S `Sloper' of 1926. Apart from having good performance, it established a new trend by having its engine inclined forward in its duplex tube frame. At the time of its launch, which coincided with the 1926 Motor Cycle Show, its trim lines were all too evident. Even The Motor Cycle suggested it could well have been planned as a TT racer.
It set a trend for a sloping engine that other manufacturers were keen to follow and for a few years the forward-inclined engine was very much in vogue.
The Star' models are born unwittingly BSAs `Sloper' evolved into a more sophisticated model, with a steel forged 'backbone' frame, a straight tube front fork, a chromium-plated saddle tank and a twin exhaust port cylinder head. For an extra £5, a customer could purchase a works-tuned version, fitted with a high compression piston and special cams. This, however, gave rise to an unexpected problem – outwardly it was indistinguishable from the standard production models! The works came up with a simple solution by stencilling a red star on the timing case. Unwittingly, the first of BSAs 'Star' models had arrived.
Blue Star models
In 1931 BSA launched their Blue Star models, even though they did not exhibit at that year's Motor Cycle Show. Designed by Harold Perkins, they too carried their distinctive painted emblem on the timing case.
Available in both 350cc and 500cc capacity sizes, they featured high compression engines fitted with special cams, double coil valve springs, high level exhaust pipes, and a positive stop gear change. Less obvious were changes in frame geometry, which gave better handling qualities.
These new models, also special versions of the standard production models, had benefited from the experience gained by Bert Perrigo, who had won a Gold Medal on a 500cc Blue Star prototype in the International Six Days Trial and had gained further trials successes on a 350cc version. Perrigo had joined BSA in 1926 and like his predecessor Harry Perrey, was an outstanding competition rider. Although no one could have known it at the time, not even Bert himself, he was to play a leading role in making BSA a formidable contestant in competition events.
The Empire Star range was introduced in 1935, to commemorate King George V's Silver Jubilee. Continuing the BSA 'Star' theme, the 'Star' now formed the centrepiece of the petrol tank transfer, a golden star with the BSA logo in its centre, against a pale green enamel background. A noticeable difference from their Blue Star predecessors was the mounting of the Lucas Magdyno behind the cylinder. At the same time, the large sump previously incorporated into the crankcase casting had also been removed, a separate side-mounted oil tank being substituted. The frame was now of the single front downtube type.
David Munro developed the 496cc Empire Star, not only redesigning the cylinder head but also changing the bore and stroke dimensions.
Extensive testing at Brooklands culminated in a highly successful ACU observed test when 500 miles at the track were covered at 77mph with full road equipment, and a further 1,000 miles on the road, involving the ascent of hills renowned for their steepness. At the end, fuel consumption had averaged somewhere between 50-55mpg, the original tyres were still in use, and no replacement parts had been needed.
In 1937 one of this country's most brilliant engineers – Val Page – joined BSA for a brief spell. Development of the Empire Star engine continued, with Val Page now involved. It showed so much promise that a 500cc model fitted with the prototype engine was entered for a meeting at Brooklands on June 30, 1937.
Wal Handley had been persuaded to come out of retirement to ride it, the entry being made in great secrecy for what portended to be one of the lesser mid-week handicap races. BSA had quietly returned to road-racing after a 16year absence!
Not only did Wal win the race at an average speed of 102.27mph, but also a coveted Gold Star awarded by the British Motor Cycle Racing Club for a lap at over 100mph during a race. His fastest lap had been at 107.57mph BSA had returned to racing with a vengeance; the soon to be aptly-named Gold Star model had arrived!
The 496cc M24 Gold Star made its debut at the 1937 Motor Cycle Show, with an all-alloy engine. The 348cc B25 competition model was now the only true trials model, despite the launch of two new Silver Stars, the 348cc B24 (which replaced the Empire Star model of similar capacity), and the 496cc M23.
The latter two were intended for road use, being fitted with valanced mudguards and standard size road tyres. They also had a two port cylinder head, and like the rest of the ohv range, fully-enclosed valve gear and a separate alloy tower enclosure for the push rod. There was the option of an upswept exhaust system.
Early in 1938 a stock 496cc Empire Star and a 591cc M21 side valve model won the Maudes Trophy for BSA after successfully completing a gruelling eight-day ACU observed test. The award was made for the most meritorious motorcycle performance of the year in a certified test.
It was the 1938 and 'M' series models that laid the foundations for their post-war counterparts. Sadly, further development had to be curtailed due to the outbreak of World War 2.
See also When was it that? contents