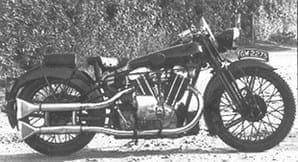 National heroes rarely have any associations with motorcycles, but this could not be said of Lawrence of Arabia. Exactly how he became associated with the Brough Superior marque is no longer very clear, but whatever the reason he had owned seven of them and had an eighth on order at the time of his death. It is sad that he should have ended his life on one of these splendid machines, although the way in which the fatal accident was portrayed by Peter O'Toole in the film about his life was very different from what actually happened in reality. Apart from any other deviations from the truth there had never been any question of his mount bursting into a ball of flame as it slid down the road, as so dramatically depicted on the silver screen.
GW 2275, a 1932 998cc SS100 model, was the seventh and last Brough Superior Lawrence was destined to own. By this time his involvement with the Middle East as Colonel T.E. Lawrence was over, as was his second enlistment in the Royal Air Force under his assumed name, A/C Shaw, T.E. Now aged 47, he was living in Clouds Hill, his tiny cottage not far from Bovington Camp, in Dorset. On the morning of May 13, 1935, he had set off on his Brough and was travelling along Tank Park Road, a narrow country lane close to his home, when he saw ahead of him a couple of 14 year old lads on bicycles riding in single file. As he overtook them, he somehow came into contact with the rearmost cyclist, bringing the young lad off and flinging them both into the road.
Rendered unconscious, they were taken to hospital where, six days later, Lawrence died without ever coming round.
Exactly how the accident occurred will never be known, as Albert Hargraves, a 14 year old butcher's errand boy, had the incident erased from his memory. Quite possibly he may unwittingly have swerved out when he became aware of the approaching motorcycle and turned round to look behind him. He could recall hearing it approaching them but the next thing he remembered was waking up in hospital surrounded by nurses and soldiers. It was some while before he became aware of the importance of the person who had been riding the motorcycle as he was subjected to questioning by the police.
It would seem their contact had been no more than a glancing blow, as Hargraves suffered only a shoulder injury and was soon discharged from hospital. This fact was also verified by the examination of Lawrence's machine at the subsequent inquest. The damage was negligible, amounting to the twisting of the nearside handlebar and the bending back of both inverted levers at the handlebar ends; both footrests bent back; a broken headlamp glass and a dented rim, and scrape marks on the front mudguard and number plate. It was also found the gearchange lever had been pressed against the petrol tank and was jammed in second gear, which suggested Lawrence had been travelling at a modest speed. Corporal Catchpole, a witness to the accident, claimed the machine had leapt into the air, but Ralph Neville-Jones, the Coroner, disputed this in view of the minimal amount of damage that had occurred.
He did not appear to have considered the crash itself might have forced the gearchange lever into the position in which it was found.
Returned to George Brough
After the inquest the machine was returned to George Brough, who subsequently sold it to King and Harper Ltd., of Cambridge. They were motorcycle dealers and had shown an interest in it. They sold it to a private owner, who later returned it to them with the result that it was sold on yet again. There after it seems to have vanished into obscurity, probably because none of its subsequent owners knew anything of its history or past ownership. Eventually, it was found rusting in a back garden by a fitter in Portsmouth, who bought it for £1 to use as a ride-to-work hack. He too had no idea of its past history until he happened quite by chance to come across a photograph of GW 2275 on the back of the coal lorry used to transport it to the inquest. He wrote to George Brough who confirmed the frame and engine numbers were those of the machine on which Lawrence had met his end.
In point of fact the Brough had several individual features of its own which also verify it is the machine which Lawrence referred to with affection as George the Seventh. He much preferred a chromium plated petrol tank and as he already had George the Eighth on order at the time of his death, he had sent the plated tank to Nottingham to have it fitted to the new model. An all-black tank, devoid of the manufacturer's name, had been fitted as a replacement.
Other deviations from standard amounted to a 19" diameter rear wheel, fitted at his request when the machine was ordered, a Lucas Altette horn, a hot air muff attached to the carburettor intake to draw warm air from the rear cylinder, and an engine shaft shock absorber. As may be imagined, Lawrence regarded George Brough as a good friend after their long association and as contemporary photographs show, they enjoyed each other's company whenever they met up. Despite all that had happened over the years, the Brough still bore witness to its original owner. The handlebars had been specially bent to suit him, as was customary when others decided a Brough Superior represented their ultimate ambition and visited the works in Haydn Road.
Furthermore, inside the detachable cylindrical gauze filter that fits within the petrol tank filler lay two half crown pieces. It is believed they were put there by Lawrence as an easy to get at means of paying when he stopped for petrol, without having to burrow under the heavy riding coat he wore, especially when his hands were cold.
In-line four
As time progressed, George never ran short of ideas, as the many of the different models he made bear testimony. They included a transverse vee four, an in-line four based on the Austin 7 engine, with twin rear wheels and shaft drive, and his final creation, the flat four Golden Dream that never saw the light of day due to the outbreak of World War 2. He even ventured into powerful cars, built to the same exacting standards, using engines of American origin such as the Lincoln vee twelve of 4,378cc capacity. Although the war brought all production at Haydn Road to an end, the machines he made continued to make their mark for many years to follow. Perhaps the most fitting epitaph to the marque was provided by Noel Pope's lap record of 124.51mph at Brooklands with a Brough Superior and sidecar during July 1939, which stands in perpetuity. Is it really any wonder that Lawrence of Arabia was captivated by the performance and perfection of his own SS100?
See also When was it that? contents