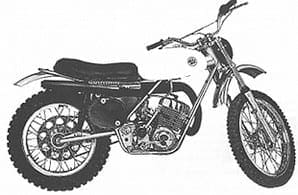 Ford once very successful company, AJS seems to have suffered more than its fair share of misfortunes. Founded by Joe Stevens senior and four of his five sons in 1909, A.J. Stevens & Co Ltd, occupied premises in Retreat Street, Wolverhampton. It was here they had made the engine for the Wearwell Stevens motorcycle made by the Wearwell Motor Carriage Company eight years earlier. Soon they were able to make and market a complete motorcycle under their own name, and within a very short period of time gain an enviable reputation for the quality of their product.
Committed riders, Jack and his brothers took a keen interest in the TT, and in 1914 achieved the near impossible when AJS took the first two places in that year's Junior TI' and set a record lap. It foreshadowed what was to follow a few years later. Not only were the first three places in the 1921 Junior TT taken by AJS riders but also first place in that year's Senior Race – on a 349cc model! First and second places in the 1922 Junior Tr confirmed it was no freak result either. Their successes led to the design of the immortal 'big port' overhead valve model in 1923. By 1924 it had an inlet valve larger in diameter than that of the exhaust valve and an exhaust pipe of larger than usual size.
A lap record of almost 65mph followed in that year's Junior Race, faster than the record lap made by Freddie Dixon in the Senior Race that followed! Although of only 349cc, it proved to be a giant killer like its predecessors. By 1929, AJS held 117 world records and had 350cc and 500cc overhead camshaft models.
Not unexpectedly, these successes caused the company's fortunes to improve quite considerably during this period. By the end of the 20s they had diversified into the manufacture of commercial vehicles, including coaches, saloon cars and even radios. It was then that fate took a hand and their luck ran out. They had expanded at the wrong time and were badly hit by the recession. It struck deeply, almost without warning, causing many well-known names to disappear almost overnight. MS took the honourable way out and went into voluntary liquidation.
Their motorcycle manufacturing assets, including the factory machinery, were taken over by the Collier brothers, who made Matchless motorcycles. Although they kept the AJS name alive, manufacture was transferred to their premises in Plumstead, south-east London, where they were made alongside the Matchless range. Although until World War 2 AJS had some models that still retained their own identity, such as the overhead camshaft and racing models, there eventually followed a lengthy period of badge engineering that reached its peak in the forties. By that time the company had been renamed Associated Motor Cycles Ltd. The AJS range had by now become virtually inseparable from its Matchless counterparts, differing only in minor respects. Yet surprisingly, each had its own followers, who remained intensely loyal to the marque they preferred!
Although AMC
Fate showed its hand again in 1966, when financial problems again came to the fore. Although AMC had by now acquired Francis Barnett, James and Norton, they were destined to become the first major casualty in the collapse of the British motorcycle industry. An Official Receiver was appointed and the assets were subsequently acquired by Manganese Bronze Holdings, to be used by that company's chairman, Dennis Poore, to form Norton Villiers Limited. Although it marked the end of the road at that time for Matchless, AJS continued, though now in a totally different guise. For the first time the name was to be associated solely with a two stroke and one intended for off-road use too.
Villiers Engineering, another Wolverhampton based company, had also been acquired to form part of the new Norton Villiers Group. Their greatest asset was the 250cc `Starmaker' engine that had been developed by Peter Inchley. Fitted into a Bultaco frame and coupled to a six speed gearbox, he entered it as the Villiers Starmaker Special in the 1966 Lightweight TT. Riding it himself, he finished third, at a race average speed of 91.43mph. It had been an impressive ride only riders of the calibre of Mike Hailwood and Stuart Graham had been in front of him. Dennis Poore saw its obvious possibilities and it was decided not only would the AJS name be revived applied to the two stroke engine, but also it would be used to power a new prototype motocross model. AJS was on the move again, this time to Andover, in Hampshire.
First appearance
The new 247cc AJS Y4 motocross model made its first appearance in late 1967, ridden by Andy Roberton. Soon he was joined by Malcolm Davis, the two of them really making their presence felt. By the time the 1968 season had ended, Davis had won the 250cc British Motocross Championship, despite fierce competition from the best of the Bultaco, CZ, Husqvarna and Greeves riders. Even higher hopes were raised for 1969, but sadly it was not to be. Fate took a hand again and a whole series of misfortunes put AJS right out of contention.
Sadly, Inchley met with no luck in the 1967 Lightweight 'TT when his engine seized whilst he was lying fifth. An error in the pits resulted in his AJS being refuelled with neat petrol.
An attempt to market a 250cc trials model, the 37 A-T, bore no fruit, but a new bigger capacity 370cc Y5 motocross model was listed in 1970 to supplement the 250 by increasing the bore size of the latter's engine from 68 to 83mm. For 1971, the name Stormer previously used for the engine only was substituted for the Y4 and Y5 model designations. This year, the capacity of the bigger model was increased yet again, to 4 lOcc, by adding an extra 6mm to the original 68mm stroke. Yet success still continued to elude MS.
Eventually it was decided to dispose of the AJS operation, which was subsequently acquired by Fluff Brown, who moved it a few miles down the road to his premises in Goodworth Clatford. Yet despite having this last minute reprieve, production of the AJS Stormer 250 and 410 models could be sustained for only a short while. The AJS motocrossers had been completely outclassed by a new generation of two stroke competition models originating from Japan. Few could hope to compete against factories having an unlimited research and development budget.
See also When was it that? contents