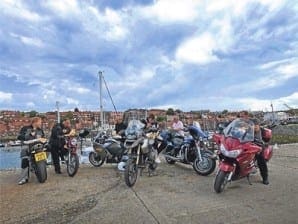 It seemed like a good idea to me as I've had a reasonably varied year where bikes are concerned. Way back in the mists of time my predecessors would be generally riding the bang up to the minute machines from the – mainly British – industry, though there were American, European and oriental motorcycles featured.
It's quite interesting to read through magazines of the time – here at OBM it's a vital part of my research, but even so, when wandering around an autojumble a pile of magazines will attract my attention – my colleagues are just the same – and we'll be lost as we flick through the pages.
Though the articles with the writer's opinions and views on the motorcycles are important, often the language they're written in is just as captivating. Knowing the writer's home area simply adds an extra level to the enjoyment of the tests as, despite the test being written in perfectly correct English, the mind inserts the relevant accent depending on byline name.
It's still the same in 2010 as, in the OBM office, there are journalists from a wide area including Cornwall, London, Midlands, East Midlands, Suffolk, Yorkshire and Newcastle. Though we all can and, occasionally do, use our local accents in speech, it's generally best to write in Queen's English.. coz w'divvent want t'confuse yuh like, y'knaa worra mean? …maybe I'll do April issue in Geordie though… hmmm.
It's been a varied year for me, motorcycle wise at least. As well as riding my own Triumph and BSA, both of which are frequently seen and mentioned in the pages of Old Bike Mart, I've had my hands on the bars of a variety of machines spanning a 90 year age range. As I also edit Classic Dirt Bike, many of the bikes I've ridden are off-road orientated… and I've enjoyed a blast on such things as a Comerfords Cub, an ex-Lampkin Bultaco and a Husqvarna WR250 enduro this year but, for the purposes of Old Bike Mart, I've enjoyed some interesting roadsters too.
A trip to Austria for the Grossglockner hill climb in June gave me a chance to ride one of the most interesting machines I've been on in 2010. Blasting Thomas Fritsch's 1937 International Norton up what is probably one of the most famous mountain passes in Europe was an incredible experience and not just because of the 'light summer snow'.
To say Thomas is a fan of the pre WWII Inters doesn't come close to describing the enthusiasm the Austrian has for the marque or the model but nor is he blind to the faults of the Inter either. Thomas has had plenty of experience with the 30s machines, having raced them in all sorts of events on mainland Europe for a good number of years. During this time he learned what went wrong, what didn't go wrong and what could be improved on to make the Inter a better machine – the bike I rode was the result of this.
Running on dope – Thomas prefers the consistency of this fuel even to Avgas – virtually all of the machine was made or commissioned by Thomas and because of this and his application of sound engineering principles, the bike was incredible to ride once it warmed up.
Most miles
By and large though, the most two-wheeled miles I've covered this year, around 6000 of them, have been on two Royal Enfields – the Trials and the Woodsman. The Trials version of the latest EFI engined machines was in the warehouse at Mortons after its photoshoot for Motorcycle Sport & Leisure and a casual mention that I wouldn't mind a few days with it, turned into three months of enjoyment. It only ended when it was time for the 3000 mile service and back to Watsonian Squire's HQ it went.
As I'd been quite happy with the Trials version I was expecting it to be returned after servicing but there was an option to try the Woodsman… an option I took. Where the Trials model is reminiscent of the 50s trials Enfields used to good effect by Johnny Brittain, the Woodsman is much more of a supermoto style – all high pipe and loud exhaust with sticky rubber on the rims. Initially it was to be a clear cut choice for me as to which one I preferred but, in the end it was less clear and, a couple of months on from my last ride on the Woodsman, I still can't decide which one I liked best.
Though Royal Enfields are the ultimate retro motorcycle, they have to operate in the modern world and as such all the models in the EFI range come with all mod cons like electronic fuel injection and electric start but still retain the 'classic' feel. Royal Enfield have managed to blend both sets of requirements into their bikes to produce a recognisably classic appearance with few foibles. Though both versions are equipped with a kick-start I've no idea if it works as the electric starter worked perfectly well hot or cold, nor did the engine need the choke even as the weather turned cooler with the unit 500cc engine warming up in only a few hundred yards. Specification wise both the Woodsman and the Trials model are variations based round a theme of a standard engine unit, frame and forks. Changes are wrought with wheel/tyre sizes, seating and exhaust styles which create several very different machines. Handling on the two I've used this year varied only in that a block pattern trials tyre is less good than a reasonably modern rounded street profile but with a disc up front and a decent drum at the rear, braking was reassuringly good.
Though the EFI range from Royal Enfield is a modern machine range, to compare it with the hyper bikes of the major manufacturers would be pretty pointless and they're always going to be at the lower end of the performance range. But, if your desires in motorcycling are for a reliable machine that's a bit different to the run of the mill one that can raise a smile from even 'civilian' passers-by then consider the EFI Royal Enfield but which one should you go for…? Based on my experiences this year I'd say go for the Trials model… or maybe the Woodsman.
Problems
OK, confession time, part of the deal with young Carter – editor of MSL was that I provide a 'warts and all' diary of my time with the two Enfields so he could run it in the pages of his publication. Part of this diary would involve some of the group ride-outs with the other long term test bikes arranged for MSL.
As the other machines were all hyper bikes of phenomenal performance I was prepared to be 'tail end Charlie' on such runs but, when a 'fuel challenge' was suggested, my ears pricked up. Perhaps here was something where the Enfield would be streets ahead of all the others. So it proved to be, with a tad over 13 litres of fuel needed for the 245 miles to Whitby and back. No, I didn't putter my way there at 23mph, determined to eke out the petrol but, as I don't know anyone who rides like this normally, the decision was made to, well, ride normally.
Anyway, pride cometh before a fall… some time after this economy challenge I ran out of petrol on the way to work. I'd been ignoring the fuel light for several days, buoyed up by the confidence of achieving over 80mpg at normal riding… right to the point of spluttering to a halt some distance away from a petrol station. In the great scheme of things this rider error, a popped light bulb and a puncture were the sole problems experienced with both bikes through the year.