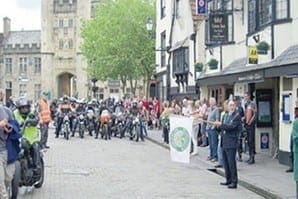 Groups of riders were flagged off on their various routes over the east Mendips and mid-Somerset by the mayor, assisted by the town crier, and after meeting up for coffee at Walton village hall, they took different routes back to Wells Football Club for lunch.
In the afternoon there were more scenic routes, the 'tortoises' going over the north Mendips and taking in Burrington Coombe and the Chew Valley before returning via Priddy and Deerleap, and the 'hares' taking in the Cheddar Gorge before venturing back into the Mendips via Westbury and Green Ore.
A well-attended 'snail' group followed a local route over fairly level ground.
Hopefully donations from the run will have equalled last year's £1500, and next year's run will take place on June 7.
• Calling all cafe racers
The Oxford branch of the Norton Owners' Club is organising a Cafe Racer Day at the Eight Bells, Eaton, near Cumnor, Oxon OX13 5PR, on Saturday, September 6.
Any make or age of cafe racer is invited, in any condition, of any nationality, ridden or trailered.
There is no entry fee, and there will be awards for the best in show and longest distance ridden machines.
The prizes will be presented by world sidecar champion Stan Dibben.
Registration can be made on the day at n[email protected] or by contacting the Oxford branch secretary [email protected] or by calling or texting 07775 631044.
There will be a charity collection for the Thames Valley & Chiltern Air Ambulance.
• Classic two-strokes on the village green
Organised by Bournemouth Bantams in conjunction with Lerryn River Store, a classic two-stroke bike meet will take place on the village green at Lerryn, near Lostwithiel, Cornwall, on September 28.
Approached over a picturesque Elizabethan bridge, the village that inspired the 'Wind in the Willows' stories is the perfect destination for a rideout, and classic four-strokes will also be welcome at the event.
Visitors will be able to sample pasties, cream teas, tea, coffee and cakes served from the hatch at Lerryn River Store, and go home with cider from the oldest maker in England, with 800 years of production from the same local farm.