Gold-plated Daimlers – but belt-driven lathes still tried to produce precision motorcycle engine parts
Former Umberslade employee John Cart adds to the revelations already published by OBM about this former BSA Group research facility as he tells what life was like there and remembers the best three years of his life
Over the past few months, I have been following the various articles in OBM concerning the BSA Umberslade research establishment with interest, particularly as I used to work there and appeared on page 33 of the December issue! I am the one wearing ear muffs and testing a Trident engine on a dynamometer (top right).
I started at Umberslade in 1968, having just completed a mechanical engineering apprenticeship with Heenan and Froude Ltd. The company was a large, well-known engineering concern at the time and was famous for automotive test equipment and dynamometers for engines, brakes etc.
When I joined, Umberslade was being established with lots of building work going on and several engine test cells being prepared, and so my experience from Heenans could be put to use straight away. One of my early jobs was to design a range of transmission couplings for connecting the engine crank to the high-spec Schenk dynamometers that were to be used.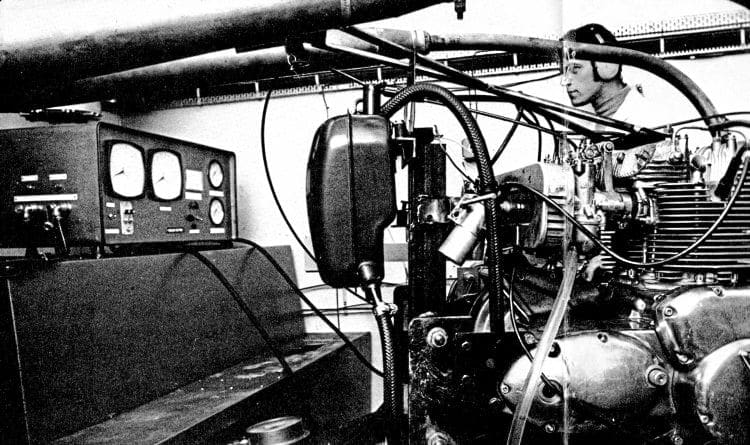 Once the test cells were completed, I became a test engineer, primarily carrying out engine testing in these cells. Much of the work involved performance comparisons of prototype exhaust and intake systems as we strived to meet increasingly stringent noise regulations.
I was involved in the testing of the full range of production-based BSA and Triumph engines from B25 to Trident/Rocket 3, but occasionally something special came along, such as when the BSA Comp shop sent over some B50 works motocross engines for test with open megaphone exhausts – noisy!
I also remember working with Clive Bennett (ex Ariel) and Jack Williams (ex AMC, father of Peter) who provided some special exhausts for B25/B50 singles. After one particularly unsuccessful test, with the motor coughing and spluttering, Jack puffed on his pipe and declared: "I think it's trying to tell us something!"
Later on there was a reorganisation, and some project teams were formed. I joined the team that was responsible for producing a couple of new models powered by the Triumph T100 500cc twin engine under the leadership of Michael Martin. The 'off-road' version used the BSA single-cylinder frame which ultimately went into production as the Triumph Adventurer, while the road version used the BSA Bandit frame. Prototypes of each were built and tested, and I thought they
were excellent.
It was during this time that I experienced one of the best working days of my life…
Read more in the April 2018 issue of OBM – on sale now!