I am asking the knowledgeable readers of OBM if anybody has any info on a motorcycle shop in Leighton Buzzard, Bedfordshire owned by Chic Parr? My Google searches have resulted in zero!
As a youth in the mid-Sixties I am as guilty as the rest for the demise of the British bike industry as choosing my first proper bike from Pride & Clark in Stockwell Road, London, among the rows of ancient-looking Bantams and leaking Tiger Cubs stood out a gorgeous two-tone Yamaha with clip- on handlebars – I just had to have it! Anyway my nearest Yamaha agent was Chic Parr in Leighton Buzzard.
For some reason he was Velocette and Yamaha agent! What a combination.
He knew the local lads worked in the day (apprenticeships) so he said come round when you like, I am in my workshop most nights so I did make lots of visits if only just to talk bikes and drool over his stock.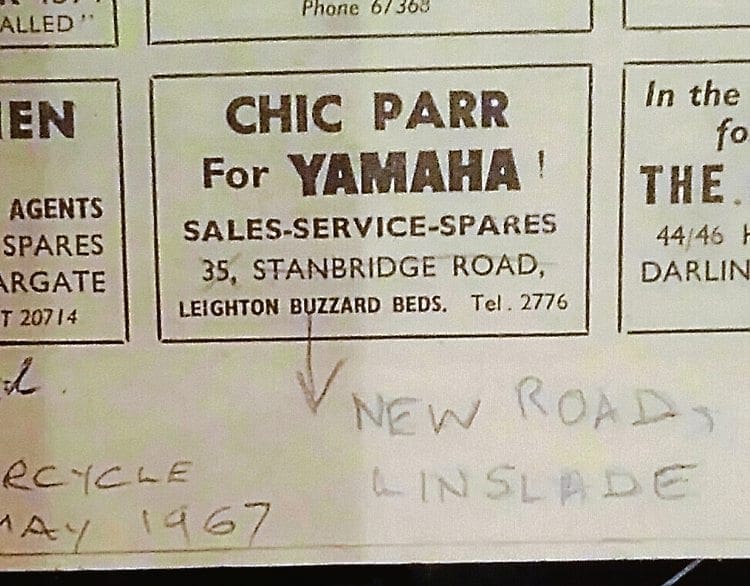 But he did get me any parts I needed. My most remembered night was as I approached I heard the lovely howl of some open pipes.
I got inside and he was tuning a race Honda CB160 with open megaphones, he said for the Isle of Man. 
Does anyone know if he raced or just tuned bikes? It nearly turned me over to four-strokes! Any info would be good – I just wonder.
I know he existed as I have his advert from The Motorcycle, May 1967.
Jamie Allium, Hinckley
Read more Letters, Opinion, News and Features at www.oldbikemart.co.uk and in the May 2020 issue of Old Bike Mart – on sale now!
Enjoy more Old Bike Mart reading in the monthly paper.
Click here
to subscribe.
Comments
comments