Simon Warner's recent article about the Bar-None Club was most interesting, and brought to mind memories of my father George Dudley.
Born in 1921, he was a motorcycle-mad youngster and eventually raced Big-Port AJS and Excelsior-JAP machines on the grass at Layham's Farm, Brands Hatch and others. He was a member of the OWLS (Oxted Westerham and Limpsfield) Motor Cycle Club, and by the time of the war he was serving in the desert and later in Italy, and became a member of the Bar-None Club.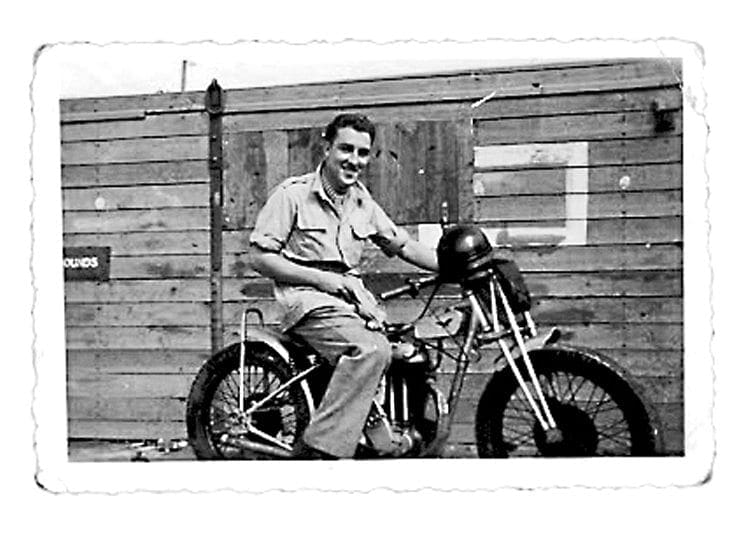 As an RAF aircraft mechanic, his task was to follow the advancing forces through North Africa and Italy repairing, rebuilding or, if necessary, destroying any disabled aircraft that came his way.
While still in Egypt, the combined forces thought it would be a jolly wheeze to let the chaps blow off a bit of steam by forming inter-services speedway leagues and other motorcycling events, and this is dealt with admirably in Trevor Davies' recommended book Warzone Speedway.
There was no shortage of workshops, mechanical skills or materials, so to the likes of dad, this was nirvana. By the time they got to Brindisi, things were properly organised, with cinder tracks being laid down and specialist motorcycles in full production.
Of course everything was make do and mend, and with engineering ingenuity knowing no bounds, from robbing ex-Wermacht bikes for their prized overhead-valve top ends to stripping dispatch riders' bikes to virtually nothing and turning barrels from bronze ships' propellers, the lads were away.
I have enclosed a picture of dad on his particular mount, which followed roughly the design of prewar speedway machines.
Competition was fast and furious, and it wasn't unknown to recruit professional riders like Split Waterman as 'ringers'. Of course all this machinery was left behind as the Allies moved onwards, but on a sentimental return journey to Brindisi in the late 1950s we located the shed where the bikes had been left, or at least the place where the shed should have been, but naturally both it and its contents were long gone and another dream was shattered!
Jon Dudley,
Email
Read more Letters, Opinion, News and Features in the March issue of OBM – out now!