The Gold Star Owners Club erected a memorial stone on Saturday, November 16 last year in Fingland, Cumbria, near the site where Wal Handley died on November 15, 1941.
The decision to erect the memorial was made by the Gold Star Owners Club a few years ago, but these things take time – finding a stonemason, deciding on the design, agreeing the most suitable site, working out costings, etc.
The local population of Fingland were extremely helpful and it could not have been done without them. Ron May (past chairman of the GSOC) gave the following short speech before the unveiling of the memorial: "Walter Leslie Handley was born on April 5, 1902 in Aston, Birmingham. After a hard childhood when his father died of cancer, he had to start work at the age of 12.
"He tried several jobs and then joined OK Motorcycles as a helper to the junior testers. OK gave him the first chance at the Isle of Man TT.
"On a wet and foggy first practice day he set off the wrong way along the course! He was flagged down at Governers Bridge and, to much ridicule from the press, was nick-named 'Comedy of Novice from Birmingham' later changed to 'Unlucky Handley' in respect of his many breakdowns on the TT course.
"He had various racing exploits with OK, Rex Acme, AJS and Moto Guzzi motorcycles as well as MG and Riley cars. On June 30, 1937 he won a race at the notorious banked circuit at Brooklands with a fastest lap of 107.57mph, earning himself a Brooklands Gold Star.
"The machine he was riding was a BSA Empire Star running on alcohol as fuel. This achievement spurred BSA on to produce the Gold Star model which went on to be a world leader at all forms of motorcycle competitions.
"Wal, as he was known, had many successes in racing; he was European Champion on three occasions and world record holder at Arpajon and Montlhery in 1930. At Brooklands in 1926, he broke records on his 350 Rex Acme against more powerful opposition.
"He contested 13 TT and won four between 1922 and 1934. Wal was the first to have two memorials dedicated to him in the Isle of Man– the first at 'Handleys' near the 12th milestone, after his only serious crash on the course.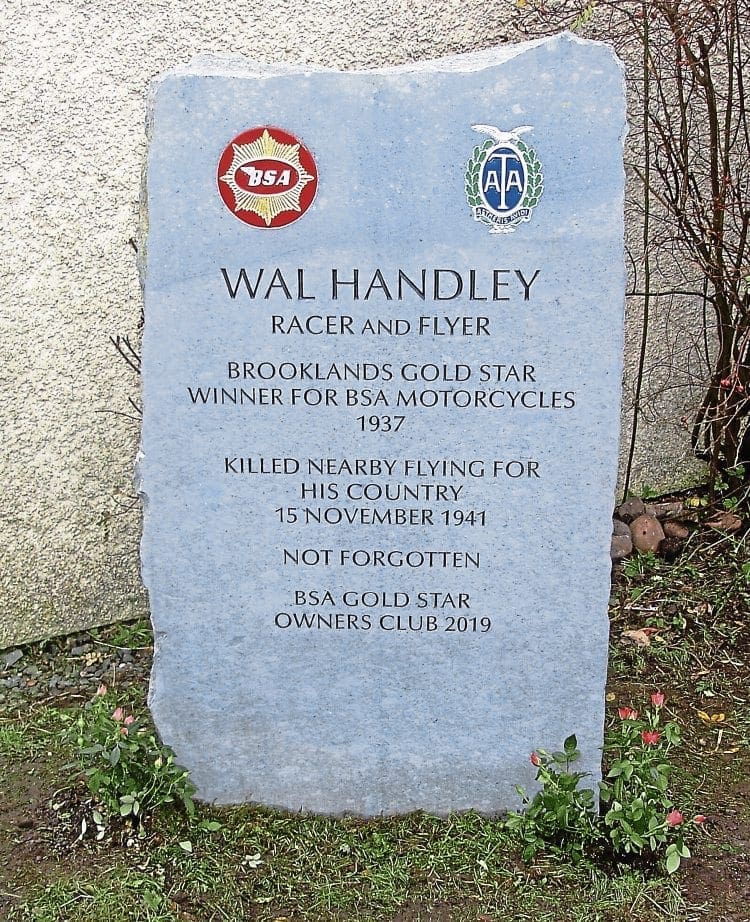 "The second is a memorial seat on Alexander Drive, Douglas, near Quarterbridge. The memorial stone that the Gold Star Owners Club is unveiling today is a tribute to him for his racing career and also for his work in the Air Transport Auxiliary (ATA). Captain Handley was the commanding officer of ATA Ferry Pool No. 3 at Hawarden near Chester.
"He was killed close to where we are standing today on a flight from Kirkbride airfield on November 15, 1941. Tributes were paid to him after his death – one said: 'We have had riders who were erratic and others who were clumsy, but Handley was always visibly superb.' Walter was one of our greatest aces – as it says on the seat in Douglas, Isle of Man – 'None ever passed this way more bravely'."
Capt WL Handley was killed on November 15, 1941, while serving with the Air Transport Auxiliary. The single-seat American fighter Bell Airacobra he was flying crashed shortly after take-off from Kirkbride airfield, Cumberland.
The accident was described by an eye-witness: "Walter took off from the aerodrome… and crashed into a ploughed field within five minutes of being airborne. When he took off the motor was 'moving' hard with an awful din and when he throttled down, it appeared to cut for a few seconds and then finally died out.
"Wal side-slipped towards a wood with, it seemed, the intention of putting his craft into the tree-tops. He missed the wood by feet.
"The starboard wing hit the ground first and the machine immediately exploded."
The crash site was two miles (3.2 km) east of RAF Kirkbride near Fingland. The ATA Accident Committee was unsure of the cause of the crash."
Just as the ceremony ended and everybody was milling about, a lone plane flew slowly overhead – a fitting flypast tribute to a great man.
It made me very proud to be standing there when the memorial was unveiled. It will still be there long after all of us and (probably) the Gold Star Owners Club have long been forgotten.
But in the meantime, the GSOC are planning an annual visit to Fingland to keep the memory alive. If you are interested and want to visit, go to Fingland, Cumbria and the memorial is on the T-junction signposted above.
Malcolm Clarke, Editor, Gold Star Owners Club
Read more News and Features in the April 2020 issue of Old Bike Mart – on sale now!