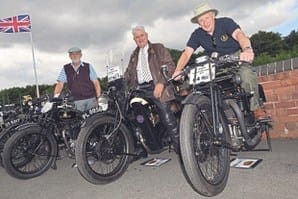 He was told he could sign in as a late entrant on the day.
When this had been done, he was greeted warmly by the volunteers and shown to his parking place, and soon his bike was surrounded by around 35 motorcycles, mostly Sunbeam and AJS.
Although he didn't make anything of the lack of Villiers-powered motorcycles on show, he certainly thought something was amiss when one of the entrants looked at his bike and exclaimed: "What's that doing here?"
Peter was flanked by Eric Branson, with his 1930 Sunbeam Model 9 and Martin Clarke, with his Sunbeam Model 90 TT replica, and both shared anecdotes about their respective misfortunes on bikes they had ridden.
At 1.15pm, the motorcycle cavalcade wound its way around the museum village, giving visitors a great opportunity to photograph the passing machines and listen to the rip of a vintage AJS racer.
After a couple of circuits, Peter bade farewell to his new-found pensioner biker friends and said how much he was looking forward to meeting them again next year.
When he opened his gift bag containing information, guidance notes and map and an entry form for next year's Festival of Black Country Vehicles on Sunday, July 26, though, he was surprised to read: "For the purpose of this event, Black Country-made vehicles are defined as those mentioned in the book, Powered Vehicles made in the Black Country by the late Jim Bolton. All entries will be vetted. Club entries of non-Black Country-made vehicles will be accepted by special arrangement and at the discretion of the organiser. These vehicles must be registered before 1940. Neither will entries be accepted for non-Black Country-made which are powered by Villiers engines."
Peter wrote to the museum to express his amazement at the Villiers block, pointing out that throughout the period when Wolverhampton was at the centre of vehicle production, the firm produced more than a million engines and exported them all over the world. He also wondered why a Villiers-engined 1959 DKR (obviously post 1940) was on display whereas his 84-year-old F-B might not be welcomed next year.
The logical conclusion is, of course, that whereas the DKR was entirely built in the Black Country, Peter's lovely Francis-Barnett, despite its Wolverhampton-made engine, was built in Coventry, and therefore outside the recognised Black Country area. F-B moved into the former Excelsior works in Lower Ford Street, Coventry, when that firm moved to Birmingham, and built motorcycles from 1920 until 1966.
While perfectly understandable, this ruling could be confusing and possibly upsetting to many would-be entrants, and considering the importance of Villiers to the Black Country, couldn't more of a 'broad church' approach be considered?
Would the number of entrants really be swelled beyond manageable numbers if all Villiers-powered machines, whether built in Kent, Essex, Gloucester or wherever, were allowed to join in the celebrations at this wonderful museum, with its reconstructed old-time streets and historical industrial activities, and bring a little more variety to an obviously enjoyable transport event?
OBM welcomes all readers' views on the subject. Email: [email protected]