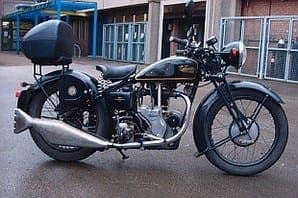 The first real motorbike I owned was a 1955 Velocette MAC. It was barely two years old and cost £125. I used it for daily commuting and weekend pleasure, as did most of the fraternity in those days.
Among the best rides was to Glasgow for a three month work secondment, and a similar trip to Zurich – we crossed the Channel in a Bristol Freighter from Southend to Le Touquet. The last trip was a camping tour with my wife to Switzerland and Austria in 1964.
Then came home DIY and family, and the Velo was laid up in the garage until 1971 when it was sold for the price of a hi-fi. (XPF 846 where are you now?)
As the family grew up, my interest in bikes returned and in 1988 I purchased a 1953 MAC with just 2000 miles since rebuild by a fellow VMCC member. I was like a cat with two tails and put on about 1500 miles per year mainly on club events. In 1992 I joined a charity ride for The Samaritans which took in all 43 English cathedrals in seven days. All went well until after 1500 or so miles on day six the bike failed due to oil starvation to the rockers.
On return the bike underwent remedial work, no expense was spared; a new oil pump, rockers sleeved and bushed, gearbox rebuilt to eliminate whine. The cost was half of what I had paid for the bike in the first place. It then took up residence in the back of the garage, with barely another 2000 miles ridden to date. During this time I have bought and sold numerous others, including a Venom, Norton Mercury, Moto Guzzi, and Buell.
The point of this tale… Although the Velo has hardly been used, it has been MoT'd and taxed for all but two years, and I have not stopped pouring money into it. It's been an ongoing project of modification and improvement. Firstly when new Amal carburettors became available, I bought a Mk.2 concentric. I then bought a refurbished BTH magneto, after being told they were preferable to the original Lucas type. I managed to buy a new/old stock rocker assembly.
I was offered a new centrestand by Grove Classics when it had a batch made, the original was deformed from too much kick-starting! Then Alton introduced an electric start kit, so one of those was purchased, the excuse being that, as my knee was getting weak, I would be able to use the bike more. Having converted to 12v for the starter, it seemed logical to change to coil ignition with the Boyer system to eliminate problems from the now worn auto advance.
Finally, last year I bought a redesigned oil tank filter tube assembly from Grove Classics to reduce wet sumping – using the bike more often would have been a cheaper and better solution! By the way, I have kept all the replaced items as I have been told that the bike would be worth more in original trim!
The moral of this tale… Don't get emotionally attached with what is after all simply a piece of machinery. Or is it! Can it be that if we are not careful, a motorbike can too easily become part of ourselves and thus too much to part with?