In response to Jim Avery's letter regarding the photo on the front cover of OBM (September), I can confirm that it was not taken on the forecourt of the Chatham Motor Company in Chatham.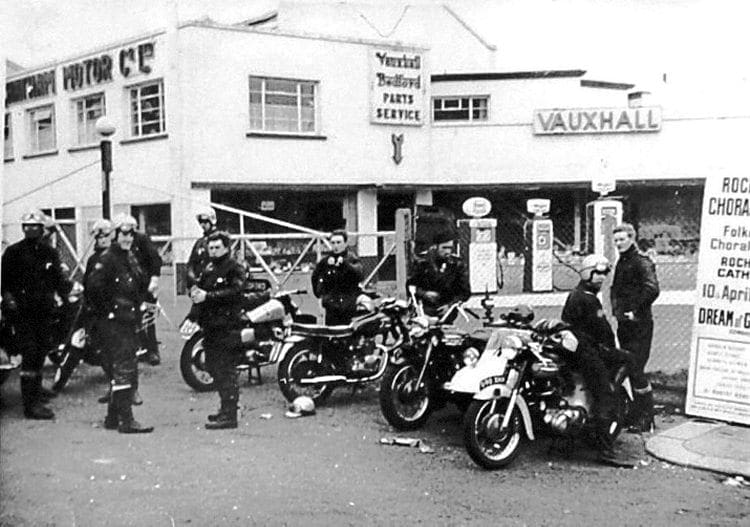 Jim refers to the archway partly obscured by the pump as being the rear entrance to Frank Bannister's motorcycle shop. Jim might recollect that this access was the seventh archway (from Railway Street). The first two were used by the fire brigade and the next four were (and remain) bricked up.
The 10 arches in New Cut form the Chatham Viaduct, and New Road (the A2) runs above them. There were never any houses or an ironmonger's in these arches.
I have supplied a photo taken in April 1965, showing the Medway branch of the Triumph Owners' Club who'd assembled in front of the Chatham Motor Co before travelling to the club's AGM at the Triumph factory at Meriden. You will see that the showroom windows are of a different style to those shown in the OBM photo.
This area was always a meeting place for motorcyclists from the Medway towns of Chatham, Rochester and Gillingham because in the evenings there was a lovely pie stall where hot food and drinks were available. This was popular not only with us rockers returning from an evening's ride out, but also the old boys who had to leave the local pubs at 11pm.
Before retiring to Sussex 12 years ago, I lived, worked and rode a variety of motorcycles around the Medway towns for over 60 years, much to the annoyance of some residents, and to keep the old skills of my engineering apprenticeship, I'm rebuilding my Triumph/Norton café racer as closely as possible to the one I built over 50 years ago.
I can recollect the names of only four of the lads in the photo – John Masters, Roy Ridden, Mick Beer and Mick Sears – and I wonder if anyone else in the photo remembers that TOMCC ride to Coventry, and if any of them are still involved in motorcycling.
Guy Parkes,
Storrington, W Sussex
Read more letters, opinion, news and views in November's issue of OBM