BKX 197 came to my family in 1959, when my grandmother paid £10 for it so that my brother could come home on weekend passes from RAF Yatesbury in Wiltshire to Littlehampton, Sussex.
On fine summer nights he would sleep rough at Stonehenge, when access was free and unhindered.
There was never any intention to restore the bike but it needed tidying up and various missing parts replacing – the chaincase, rear chain guard, lights, rear wheel stand, toolbox, damper knob, rear numberplate and other parts were either obtained from the many motorcycle breakers in Portsmouth or made by Nick or by me.
Why Nick chose the colour scheme, I will never know, but years later, one of the East Yorkshire VMCC members called it a "period custom paint job". The engine and gearbox have not been out of the frame since those early years.
Rideability was the criterion, not originality. Previous mileage was not recorded when the speedo was overhauled and returned to zero. In December 1980, it showed 1527; 1998 topped 10,000; and it's currently at 21,044 miles.
When my pal asked if I would like to accompany him to the Beamish Trophy Trial in 1982, I had no idea what I would be letting myself in for. The following memories are assisted by my having kept a motorcycling diary since 1978.
Up early to meet Dave Ferraby outside North Bar, Beverley. Lash the 1935 Triumph 2/1 alongside Dave's 1924 flat-tank Sunbeam.
Dave said, "You're driving," and promptly dozed off in the passenger seat.
Near Beamish it was like driving through low cloud and evident that the Sunbeam's minimal lights and rim brakes would be unsafe in such conditions.
However, Dave's decision not to ride resulted in him taking the one photograph I have of my ride. Near the end of the afternoon session, Dave "snapped" me fording a stream.
The mist and overhanging trees made it a gloomy crossing but the old 2/1's lights never failed and even the back one can be seen to be working. My ancient boots leaked not one drop, but that was all miles in the future.
We rode for miles on tracks and minor roads, until I made out a large building to the left where riders were being directed to pull over. "At last," I thought, "the lunch stop". But no, it was the point at which we would each be waved across the road to attack the wet slate of Hagg Quarry.
In its 20 years (now 60 years), in my family, the 2/1 had only to contend with the gentle hills of the South Downs and then the Yorkshire Wolds. Now this steep, rugged, tortuous ascent!
On the signal, I charged across the road and managed to climb a reasonable distance before grinding to a halt, although without stalling the engine.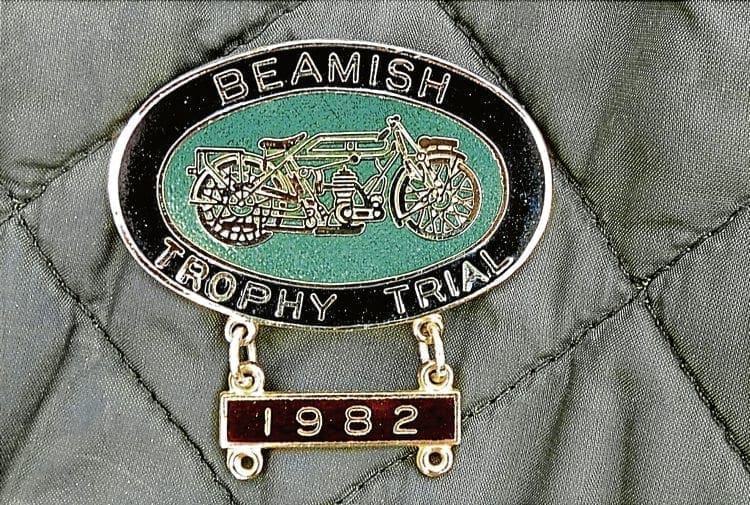 Willing hands gave me a shove as I revved the engine and slipped the clutch, until I heard a voice say, "Forget you've got a clutch." I let it out fully and clonked my way to the top.
After another stretch along a track, others easily passing me – standing up on their footrests – we came to the greasy grass. This was uphill along the edge of a field of long, wet grass; everything was wet that day. I slid off two or three times but made it to the top where we were given time "to make minor adjustments".
For me, this meant replacing a 5/16 of an inch BSF handlebar clamp bolt which had sheared as I had wrestled with the bars during the climb – or when I came off.
Little did I know that in the afternoon we would be driving back down that very slope and I would slide off a few more times, the Avon Safety Mileage front tyre unable to grip.
The "offs" were at slow speed and I was soon back aboard, laughing deliriously – or hysterically – as the old 2/1 kept me going.
At intervals during the ride we were stopped and asked questions relating to our chosen method of transport and I got some of them right.
When a petrol tank badge was described, the make beginning with D and ending with T, I could only think of DOT. 'Dunelt' was a bit before my time and was the correct answer.
I believe that there was an alternative route avoiding what must have been the Beamish Burn ford, but in the spirit of the day, I just kept straight on, bum on saddle, water up to the wheel spindles and amazed that none entered my boots.
And that was nearly the end of the 124 miles of the trial, except for the controls tests.
Before brakes had time to dry out, we had to accelerate from one mark and stop at a line some 25 yards distant – against the stopwatch.
My 1934 250cc Triumph is not the quietest of motorcycles when used in anger but what made heads turn was the squeal of the front brake, like the sound of copper rivets against the brake drum, as I anchored, smack on the line.
Another test: how slowly could you ride – feet up – a similar distance. Once more the stand-up-on-the-frontrests experts showed me how it should be done, yet I was pleased with my own effort.
A few weeks later I received my bronze finisher's award, coming 60-something out of more than 100 starters.
Dave had driven us home, as I was exhausted… and the next day, I ached.
Chris Moore, East Yorkshire
Read more Letters, Opinion, News and Features at www.oldbikemart.co.uk and in the May 2020 issue of Old Bike Mart – on sale now!