After what seems like an eternity under lockdown, doors are opening, fields are being laid out and autojumbles are back on the agenda!
Already we've seen 'jumbles taking place – as Ian Kerr's report here on Ardingly shows – with several more due to take place over the weekend after this very issue has gone to press, and our editor will be having a look at his local 'jumble in Stickney, Lincolnshire on the Sunday.
And, of course, the likes of the Rufforth autojumble just outside York have remained in operation, with the first Saturday in each month giving eager 'jumblers in the north the chance to get their fix on a regular basis.
It does truly seem as though the start of the journey back to normality has begun, and given that so many of us have had a bit of extra time to not only work on our projects, and undertake some maintenance work that may have been held over to a later time, it has also meant that many of us have realised that there are a lot of 'important parts' laying idle in our sheds and garages, and maybe this could just be the ideal time to have a clear-out of those unwanted parts and support your local autojumble at the same time.
After all, the bits that are in your garage waiting their turn – the "it'll come in handy one day" phrase very rarely comes to reality – could just be the very parts that are needed to get somebody else's bike back on the road, and you'll make a bit of very convenient cash in the process!
Many of us have resorted to online shopping for our classic bike parts, and in particular the sort of workshop consumables that can't be found in the local shop or supermarket.
But maybe now is the time to step away from the likes of eBay and return to how we used to source the items we need, by supporting our nearest autojumble?
Have a look at the events listings on page 54, although please remember that some events could still be postponed or cancelled if their organisers aren't confident that they can be operated under safe and efficient conditions, so it would be wise to check in advance.
Get back out there, get 'jumbling, and stay safe!
Summer Classic
Bike Jumble
As the saying goes 'Fortune favours the brave' and that is what happened to Julie Diplock and her team at Elk Promotions on the second week in July with the running of a Classic Bike Jumble at Ardingly in Sussex.
Originally scheduled as a one-day jumble and show with guest speakers, Julie wisely turned it into a two-day event, to make it safer for all and to fall in line with current government guidelines.
Obviously with lockdown and the Covid restrictions, classic bike fans, like their modern counterparts, have been starved of motorcycle events, so it was no surprise that more than 100 stalls were pre-booked after it was announced it would go ahead, albeit minus the show element which would have complicated things. All it needed was some sun and buyers, and both turned out on both days.
It goes without saying that in the 'new norm' there were likely to be changes to make the event as safe as possible for all concerned. The South of England Showground is an almost ideal location, with its wide roads and open spacious buildings to keep everyone safely apart and mainly in the open air, which is allegedly safer than enclosed spaces according to the experts.
But, as one would expect from a conscientious and experienced organiser, other measures were taken including changes to the site plans to deal with one-way traffic and social distancing.
Signage and one-way systems were in place in the halls, and hand-sanitising and hand-washing facilities were available around the showground.
To make people feel safer, PPE was available to purchase at the gate, with masks and gloves and a special visitor offer of alcohol-free hand sanitiser at £1 for a pocket-sized bottle.
A lot of stall holders had sanitiser on their tables, as well as notices asking people not to pick up multiple parts unless seriously buying and then use the liquid for everyone's safety.
While a few took advantage of the show PPE offer, or had brought their own mask and gloves, they seemed to be in the minority, with most people happy to rely on social distancing while inspecting the stands.
Apart from the distancing of the stands, it was very much business as usual including the usual array of catering wagons including a hog roast, baker's stall, toasty sandwiches and real coffee (which seems to be a recent term – is it to differentiate from imaginary coffee? – Ed) in addition to standard burgers and bacon baps, with lots of well-spaced seats to sit, eat and enjoy them in the sun.
Talking to several stall holders, they were doing reasonable business after coming to terms with it being spread over two days as opposed to the usual three-hour flurry when the gates open at a 'normal' one-day event prior to lockdown.
Some reported better business on one day or another, but in the main they were happy to be customer facing again and trading. Apparently Saturday saw the most business, with a much younger visitor profile, with those more used to a Sunday event sticking with it.
The weather obviously helped the attendance and there were more motorcycles, old and new, parked up than one would normally expect with fewer four-wheeled vehicles in the car park, so most visitors were obviously hoping to find the smaller parts needed rather than looking to purchase bikes or larger items.
Having said that there was a Free BikeMart display-to-sell area for private vendors looking to sell bikes. Most people I spoke to, both stall holders and visitors, were more than happy to see that something akin to normal life can be countenanced once again and people are happy to support those who make the effort to organise events and are appreciative.
Here are just two emails Julie received after the event. The first is from a stall holder, the second from a visitor.
"Thoroughly enjoyed my weekend – it can't have been easy to organise – so well done to Julie and her team. I bought and sold there – I left very happy. Look forward to the next event.
"Thanks Julie, great job done."
The visitor emailed to say: "Brilliantly organised, easy to maintain social distancing, lots of stalls, hand sanitiser everywhere, and everyone acting in a safe manner. I was impressed, picked up some bits I needed, and thoroughly enjoyed the day.
"Of course it was different from past events, but for my money it was marvellous that such hard work had been put in to give us something. Better than I expected it to be. Well done to all involved."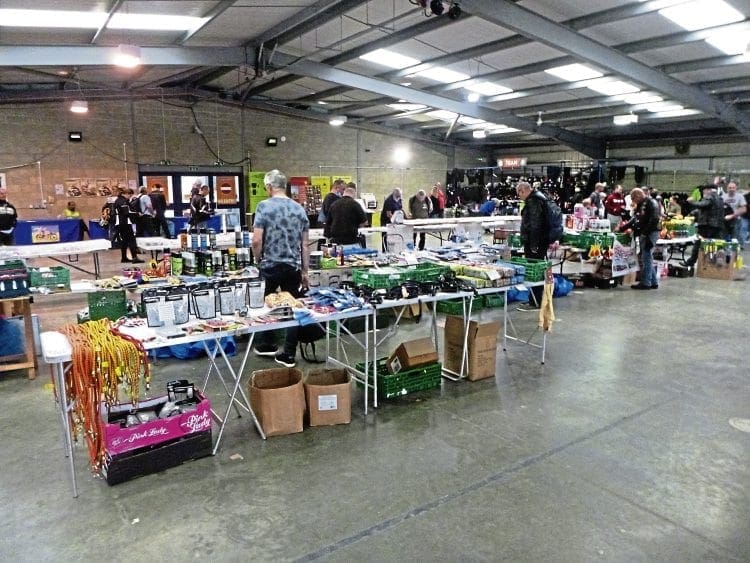 The event certainly showed that with a little bit of thought and pre-planning at the right venue, autojumbles can be back on the agenda and run safely for everyone's benefit while complying with current government guidelines.
Hopefully many more organisers will follow suit in the coming months!
Read more News and Features at www.oldbikemart.co.uk and in the August 2020 issue of Old Bike Mart – on sale now!