Welcome, dirt bike fans, to the Classic Dirt Bike Show 2020 sponsored by Hagon Shocks.
It's that time of year again folks, to shake your off-road thing and mingle with your fellow mud warriors!
Whether it's to find the last piece to complete your latest project, or just to blow away winter cobwebs with a beer (or three) over the weekend with your friends, fellow competitors or off-road heroes, everyone's welcome to enjoy the event.
Special guests Bernie Schreiber and Bryan Goss will both bring a great insight into their respective race careers and championships, with some tales to share with us all at the gala dinner on the Saturday evening.
Another milestone was reached by Hagon Shocks in 2019 in the form of Sam Hagon (Alf's grandson) successfully becoming the British Youth 250cc Speedway Champion – making him the third generation of the Hagon family to become a British champion! Racing is certainly in the blood…
Enough of the babbling! We hope you all enjoy the show and wish everybody a safe 2020 season in whatever discipline you ride.
From behind the handlebars at Hagon Shocks
Meet our guests of honour
The star guests for the Classic Dirt Bike Show sponsored by Hagon Shocks have been confirmed as American World Trials champion of 1979, Bernie Schreiber, and 1970 British 500cc motocross champion, Bryan Goss.
Once again, two of the off-road circus's biggest and most flamboyant names will grace the stage at the Telford International Centre as the two-day show fires up on February 15 and 16, 2020.
Californian-born Schreiber influenced the development of a new riding style by perfecting floating pivot turns and 'bunny hops' to the traditional sport of trials in the late 1970s.
Born in January 1959 in Los Angeles, Bernie was ranked seventh in the world by 1977 and gained a direct contract with the Bultaco factory.
A year later he finished third, winning four world rounds, and in 1979 took the title from three-time winner Yrjo Vesterinen, becoming the youngest ever champion in the process.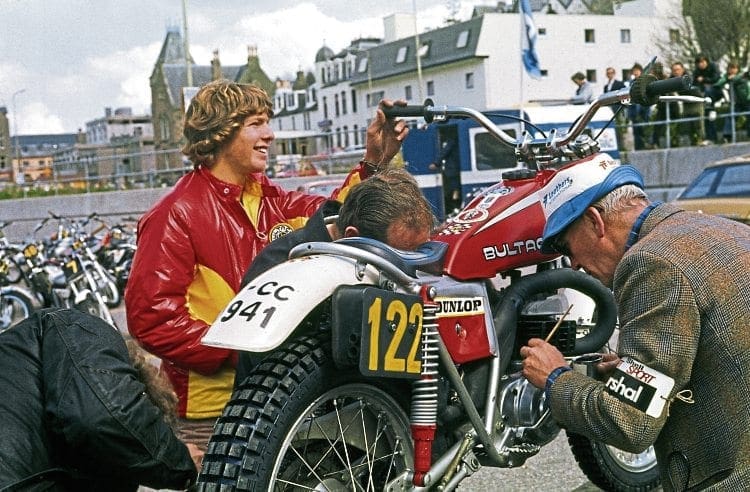 In 1982 Bernie fulfilled a lifetime's ambition by being the first – and still the only – non-European to win the Scottish Six Days Trial while riding for the Italian SWM factory.
As well as being contracted to the SWM factory and to the aforementioned Bultaco, Bernie also had factory contracts with Italjet, Garelli, Yamaha and Fantic.
Show consultant Alan Wright is arranging to have a full display of all such bikes and would welcome a call on 01789 751422 from anyone who could bring a tidy 305 Fantic to Telford to complete the full set.
Since retirement in 1987, Bernie has mainly lived in Switzerland, climbing to the top of the corporate ladder with Omega and Tissot, though he did spend three years in West Palm Beach as US sports marketing director for Omega.
As you would expect, Bernie is a master at communication. The stage rapport with show compere Jack Burnicle should simply not be missed.
Bryan Goss is equally fascinating. Throughout his long career he was known as 'Badger', though the characteristics he possessed were more akin to those of a pedigree terrier.
His tenacious, doggedly determined style saw him fight all the way to the flag. A Dorset-based two-stroke man throughout his career, Badger was fortunate to live close to grass track legend Lew Coffin, who became his mentor in the early days. E
arly success came with Cottons in 1961 but a move to Greeves for the following year saw him become near invincible in the south of England.
A firm favourite with Greeves' head honcho, Derry Preston Cobb, Badger sat just a single point behind the great Dave Bickers as they journeyed to the last round of the British 250cc scrambles championship at Boltby in October 1963.
A first lap puncture curtailed Badger's challenge but he still finished runner-up to the Coddenham flyer.
Having struggled to find form in 1964, Badger took control of his own destiny by buying a Husqvarna. The new combination soon became a winning one, though Bickers still beat him to the British 1965 crown.
The following year was the start of a real purple patch that concluded at the Trophée des Nations that year, held at Brands Hatch. On his 26th birthday he beat the cream of the world's 250 racers in the opening leg and then repeated the feat in the second leg!
Ironically, after so many seasons in the top three as a 250cc rider, Badger's only British crown came on a 500 in 1970, his last year on Huskies.
He simply dominated the series, racking up double the points of series runner-up Vic Allan and clinching the title with one round to spare.
But, for 1971, in a surprise move, he switched to Maico power and was shortly afterwards able to gain the importership rights for the West German marque.
His business boomed as a result of the bikes' success, selling more than 1000 bikes per year for three years in succession.
He retired in 1974, having been one of the lucky band of riders who competed in scrambling in its heyday.
A real character, the sport of motocross was all the richer for the contribution of Bryan 'Badger' Goss.
Jack Burnicle will be interviewing Bernie and Bryan on stage throughout the weekend, so be sure to check the timetable elsewhere in this pull-out guide to ensure that you don't miss the tales from these off-road legends!
About the show:
The annual off-road show will once again draw in the biggest names in the off-road scene, with Bernie Schreiber and Bryan Goss being confirmed as the guests of honour for this year's show at Telford International Centre.
Get ready for the off-road season ahead and dig out some new riding gear, a piece of machinery you've been searching high and low for, or a bargain in the vast autojumble opening at 9am.
Clubs and private owners will be showcasing their pristine off-road machines at the show. Join thousands of like-minded enthusiasts at the premier off-road event and see some of the best off-road machinery around.
2020 Timetable
Saturday stage schedule
10.45am Kia twinshock 2019 awards with Jack Burnicle and
Bernie Schreiber
11.15am Northern Bike trials awards presentation 2019 with
Sammy Miller
12pm Bernie Schreiber with Jack Burnicle followed by
"An audience with Bernie"
1pm A Tribute to Rob Edwards –Jack Burnicle with
Dave Thorpe and Sid Lampkin
2pm Bryan 'Badger' Goss with Jack Burnicle
Followed by "An audience with Bernie"
3.30pm The British scrambles championship Classic Dirt Bike 2019
awards presentations with Dave Gittins and 'Badger' Goss
5pm Show closes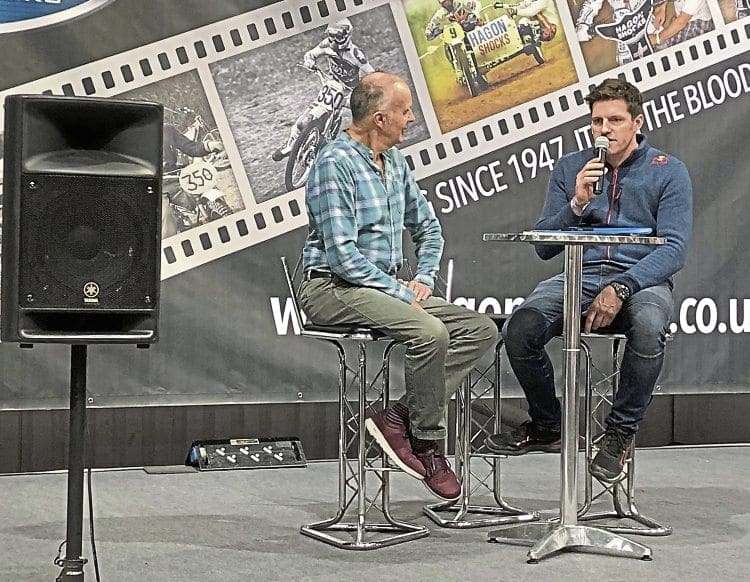 Sunday stage schedule
12pm Bernie Schreiber talks to
Jack Burnicle
1.15pm A Tribute to Rob Edwards –
Jack Burnicle with
Sammy Miller and
Nigel Birkett
2pm 'Badger' Goss talks to
Jack Burnicle
3pm Awards Presentation
with Bernie Schreiber
and 'Badger' Goss
4pm Show closes
Read more News and Features in the February 2020 issue of Old Bike Mart – on sale now!
---
Advert

Enjoy more Old Bike Mart reading in the monthly paper. Click here to subscribe.
---