Was Suzuki's big TM the final frontier? Steve Cooper goes where no man has gone before to reveal the truth.
In late 1969 or early 1970 someone at Suzuki's Hamamatsu HQ came up with the bright idea of creating a big-bore scrambler that could beat the likes of Yamaha and Kawasaki on the dirt.
Moto-X was rapidly becoming a big-time sport Stateside and Suzuki wanted their slice of the action.
It was agreed that the chosen machine would sport a single cylinder, two-stroke engine with a target horsepower somewhere north of 35bhp. Suzuki's R&D teams, being rather skilled in the art of stinkwheels at this point, managed to deliver a ripsnorter of a motor that laid down an impressive 40 horses at 6500rpm.
The chassis was par-for the-course steel tubing but, with an eye on competition successes, the ferrous stuff was light gauge and of relatively small diameter. The resultant TM400 tipped the scales at just over 100 kilos ready to race.
The bike was unveiled with typical Hollywood glitz at Warner Brothers' Studios by none other than Star Trek's William Shatner and the then-obligatory leggy lovelies.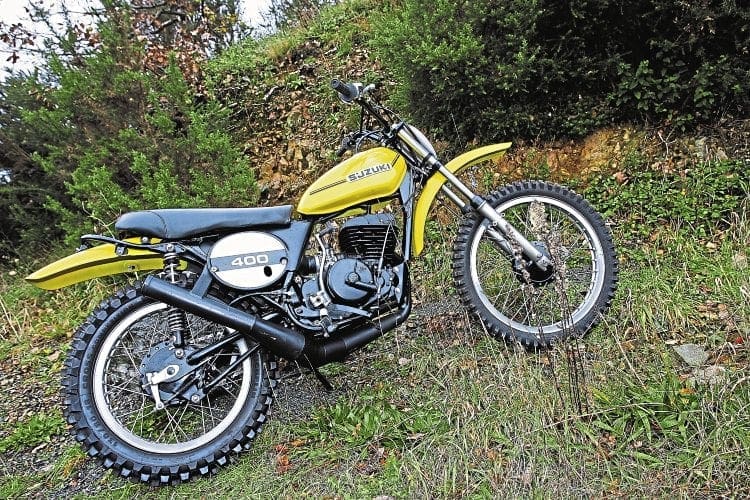 The good captain, reading from Suzuki PR, assured all and sundry that the new bright orange and black machine was as close to the factory bikes as possible.
With the engine and serpentine exhaust painted satin black, the TM400 was unquestionably drop-dead gorgeous.
Allegedly drawing heavily upon competition success, the bike was said to embrace leading-edge technology that would allow amateur mudpluggers to emulate the factory riders – Roger DeCoster and Joel Robert.
The big TM might not actually be a works RH but the insinuations were there with a big, 34mm, Mikuni carb, some 33ft-lb of torque at 6000rpm, Suzuki's much-vaunted PEI (aka Pointless Electronic Ignition), 2.5-gallon fuel tank, factory-fitted high density/flexible polyethylene mudguards and a Posi-Force-cum-CCI oil injection system.
Read more and view more images in the September 2019 issue of OBM – on sale now!