With a long-term obsession with the wall of death, Alan Mercer found himself immersed neck-deep in the dangerous world of the rider!
After four years researching the wall of death and meeting, with two exceptions, everyone who had ridden or was a wall rider in the UK, I started to research further afield.
Having heard about the Sala Motordrome in Sweden, I was able to trace every rider who had ridden the Sala Motordrome since it was built in 1934. Every single one!
The owner, and rider, at that time was Dutchman Jan Laurens and he offered me the opportunity to learn to ride the wall during the preparation of an event called Flaeijelfeest in Nieuwehorne, Holland, which is a glorious country show.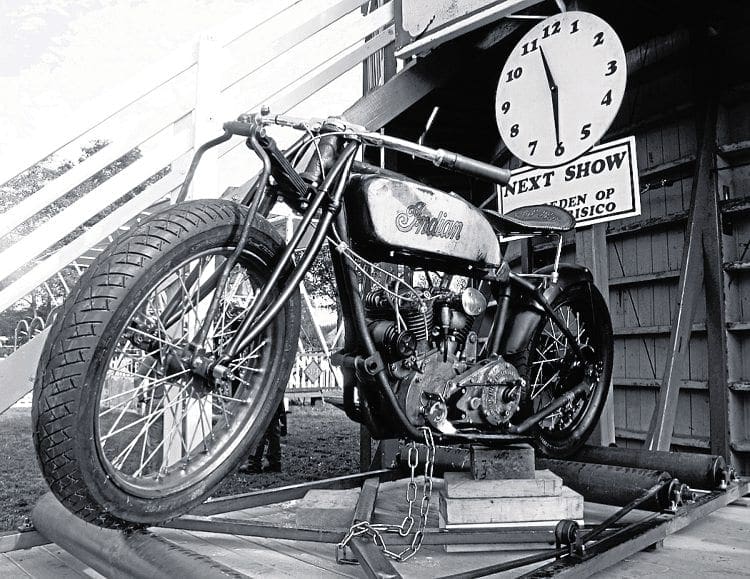 Starting with a moped I was later to get the chance to ride a Honda 250 single and, with Messham's in the UK, a little Suzuki that was used in the 1986 film Eat the Peach, which rider Charles Winter had used in the film's production.
For those of you who haven't seen the film, it focuses on a group of Irishmen who, after their dismissal from their jobs at a computer factory, decide to build their own wall of death after seeing the Elvis Presley film, Roustabout, which itself showed a cyclist on the wall of death!
A chance conversation with wall rider, Allan Ford, led me to join the Indian Riders Motorcycle Club and Mike de Bidaph gave me a call when an Indian that had turned up in Germany (via Sweden) became available to purchase.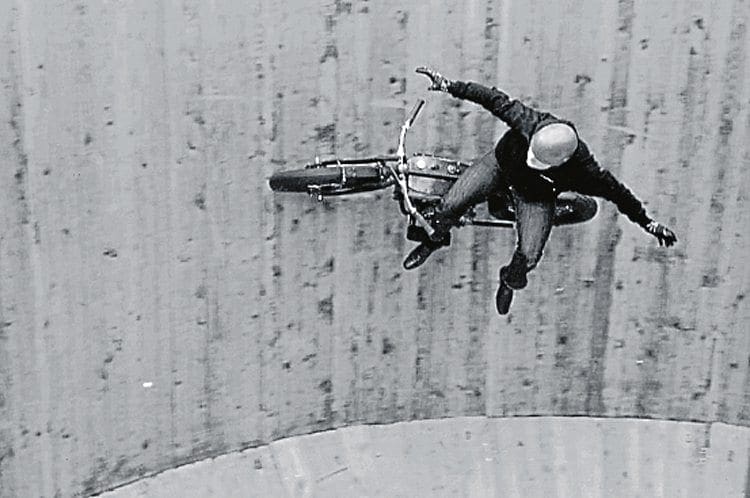 When money changed hands I then became the owner of a rolling 90% intact 1927 Indian Scout with a 600cc V-twin loosely fitted in the frame. When I got home my wife was a little surprised as she thought I was coming home with an Indian Chief. The wonder that is the internet turned up a parts book, and another on carbs of the period, and then the worldwide trawl began.
Global parts hunt
I found a Schlebler carburettor in Finland and an intake cover on a shelf in California. In Australia I sourced pistons made in Birmingham, England and a couple of parts for my magneto.
On a visit to Mike and Sybil from the Indian Riders I had the chance to ask loads of questions and to get some help with sourcing and fitting a couple of bearings.
I had a pipe missing that links the oil pump to the crankcase and, fortuitously, the wall rider Duke Seymour from the Demon Drome was having some instruction on engine building and the piece of pipe I needed hopped off his engine to mine. Duke is the son of Dave Seymour, owner of the wall, and the Demon Drome wall was previously run by Cripseys and, prior to that, by Elias Harris who had a car powered by an Indian Four engine, which had a special platform for his lioness, Rita! Harris's father-in-law had imported the wall from the States, where it had been built in 1927 – the same year that my Scout was built.
Read more and view more images in the November 2018 issue of OBM – on sale now!
Enjoy more Old Bike Mart reading in the monthly paper.
Click here
to subscribe.
Comments
comments