Wainfleet, Lincolnshire, October 25-27, 2019.
The self-inflicted ordeal of leaving the comfort of one's home and family to get astride a motorcycle and head for distant climes, this with the mount already having seen some 30 years of use and abuse, seems to retain a surprising following, as Nigel Stennett-Cox knows only too well.
That's not all; said bike will probably be of less than 250cc and develop a power output low enough to leave anyone wondering how it could possibly carry full camping and cooking gear for anything up to about 400 miles (round trip) in a weekend.
Interestingly, the practice has been going on for a long time as anyone who is involved in attending the Dragon Rally, held in North Wales in mid-winter every year, could testify.
Another such masochistic practice would be the Elephant Rally in Germany, massively popular back in the Sixties when we seemed to get more frost and snow, and which catered primarily to sidecar outfit riders.
Nowadays, the real enthusiasts for, and active participants in, all-weather events seem to be riders of such bikes as any of the old Eastern Bloc makes, eg. MZ, Jawa/CZ, Ural and Dnieper.
The "working" types of British, European and Japanese bikes also appear and all are accepted without the slightest demur. Anything would be welcomed, but who could blame the owner of a pristine original or restored bike which could be easily spoiled by, say, falling over in a muddy field, for not turning up?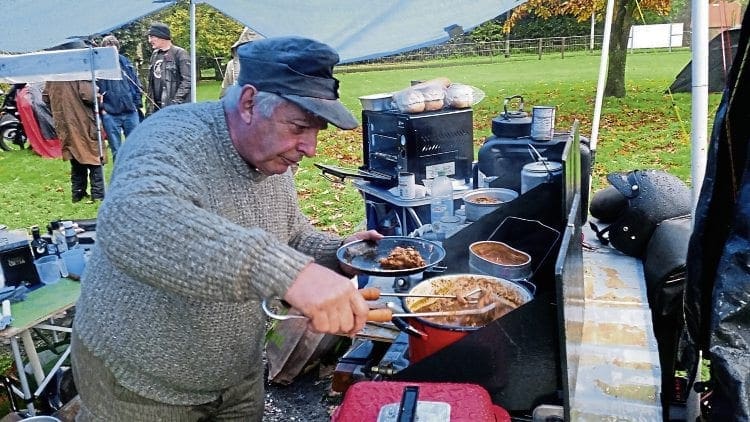 For at least the last two of the "Roadkill" events held in the field adjacent to the famous Wainfleet brewery of Bateman's, it has rained biblically. In this most recent case, the hard rain started about 20 miles in of the 110 it took to get there, and didn't stop or let up for more than 30 hours.
By the way, the "Roadkill" title is the brainchild of the organiser and chief [sole] chef, one Charles Hancock of Owersby, North Lincolnshire.
Breakfast and lunch are all cooked and provided by Charles, with the entire kitchen and cooking apparatus – including the food for the varied menu – being stuffed into the box sidecar of his Ural.
The outfit also doubles up as a worktop, and support for one end of the dining area which successfully contrives to seat about two people less than the number requiring to be seated.
All should be clear from the pictures. At night-time, Charles occupied a brown tent so small and ovoid in shape that, given two small ears and a couple of buck teeth in the appropriate location, it would have passed for a huge brown rat guarding the set-up against all comers, clever, eh?
After traversing the sponge-like field on arrival, a traditional start was made on testing the facilities of Bateman's Brewery's eating, drinking and entertainment facilities.
It's worth mentioning that the staff and management of this facility, plus the fascinating buildings themselves, built integrally in and around a genuine old windmill, are all superb.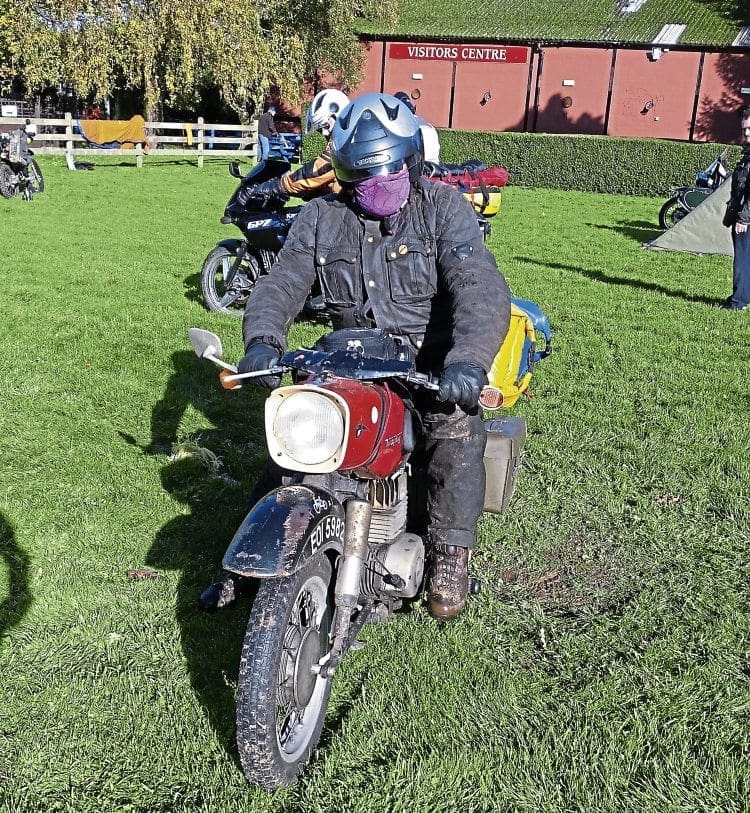 Through a handgate and across a small garden was all of the ambulation we had to muster from the tents, and every kind of beer with simple food was available at almost all times.
Additionally, said beer was produced on the premises! Charles had arranged a film show dependent upon the brewery supplying a compatible DVD player, and when this didn't work out, the immediate compensatory offer of supplying all or any of us with a free beer took its place!
The brewery had a band on one evening anyway. Not a word of complaint issued from anyone. When your writer was overcharged for beer and soup by some £1, obviously accidentally, complimentary further beers which seemingly weren't even being counted ensued!
This may have arisen from the almost palpable goodwill displayed by the staff towards the bunch of amiable wierdos with their equally scruffy and unprepossessing bikes.
The feeling was certainly reciprocated and a well-deserved whip-round for the brilliant staff changed hands at the end.
It only remained to heave-to and help push Charles's overladen Ural-powered field kitchen, rear tyre flinging chunks of good Lincolnshire loam, off the site to immediately start to look forward to the next one!
View more images and read more News and Features in the January 2020 issue of Old Bike Mart – on sale now!