As we mentioned in the news pages a few months ago, 'Gypsy' John Newson, of Oxney Motorcycles in Kent, was due to take a trip around the UK – hitting the most easterly, northerly, westerly and southerly points on the mainland, all on his Vincent Rapide – the focus being to raise money for the RNLI. This is his story…
Day 1 – Tuesday, June 25
Departed RNLI Rye Harbour at 9.45am. Escorted out of East Sussex across the border into Kent by five outriders. Arrived at Ness Point, Lowestoft, at 2pm with clutch drag and sooty plugs. Arrived March, Cambridgeshire, at 5.45pm after 293 miles. Bike running well. Weather dry and hot. Uninteresting roads until Lowestoft to March.
Day 2 – Wednesday, June 26
Departed 8.45am from antiques/curiosities dealer John Candy's in March, Cambridgeshire heading north. Avoiding the A1 and motorways, got to Mike and Ronnie's in Alnwick, Northumberland at 6pm using alternative A roads.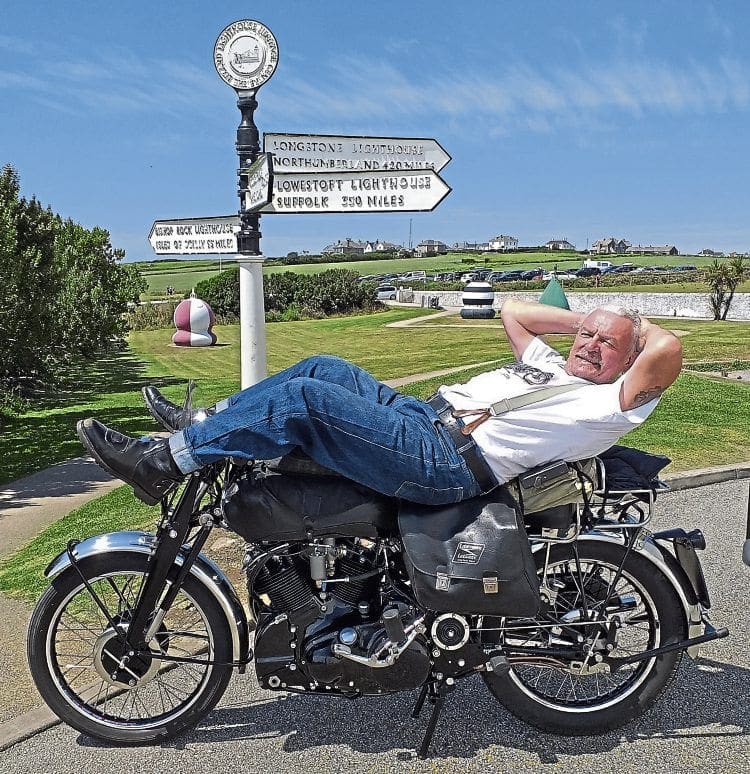 These dudes are top lindy hoppers and Mike has several classic bikes so his workshop was very useful (a note to readers, aside from being Oxney Motorcycles' main man, John is also a renowned 'lindy hop' dancer and teacher! Ed). Rapide clutch now fine after adjusting actuating arm. Plugs still a tad sooty so air screws 1/8th turn out.
Adjusted final drive chain, Araldited rear view mirror in fixed position. Covered 307 miles but eight miles before Alnwick, ran out of fuel! Mike to my rescue. Spare gallon on board tomorrow…
Day 3 – Thursday, June 27
Departed Alnwick at 9.15am and arrived at Comrie, Perthshire 3.30pm. Beautiful sunny day, no wind. Avoided the A1 by using fabulous alternative A roads into Scotland, over the Forth Road Bridge then a quiet M90 to Perth.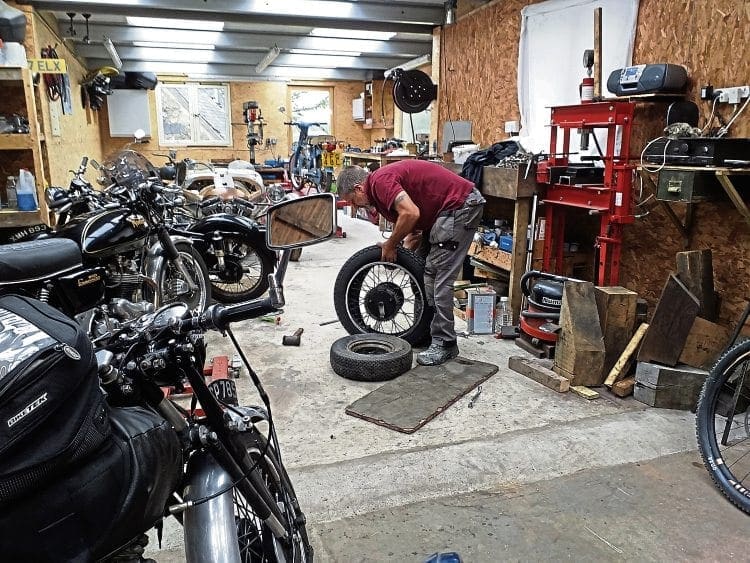 Into the wild mountains to my old Kentish mate Panther Pete, who lives a solitary idyllic life in his old converted school house with splendid workshop, 185 hassle-free miles. Last big push to the top tomorrow then it's free wheelin', all downhill to the South West!
Read more and view more images in the October 2019 issue of OBM – on sale now!