Back in the '60s Tony Dunnell's pride and joy was a BSA Shooting Star but unfortunately he crashed it.
The front end was pretty well wrecked but Tony acquired a complete front end from a Gold Star plus other Goldie goodies. These were duly transferred to the Shooting Star by Tony himself – nothing unusual so far, but then things progress.
Tony, in his own words, was rubbish at electrics and wiring so an appointment was made for the bike to be wired up at, you guessed it, Taylor Dows of Banbury.
While there the bike was apparently photographed, whether by Eddie Dow or someone from the BSA factory is not known. At the time Tony did not know of his bike being photographed. He duly collected his bike and enjoyed riding it in what he called its cafe racer style.
Some time later (Tony is pretty sure it was 1962) he decided to ride the bike to the Motorcycle Show, normally held at Earls Court in those days.
On the way a car pulled alongside at some traffic lights on the A11 close to Longstaffs Motorcycle Shop and the passenger asked Tony to pull in as they wanted a chat with him.
Thinking they were plain clothes cops Tony did as requested. Four smartly dressed gentlemen got out the car and introduced themselves as executives from the BSA factory, also on their way to the Earls Court Motorcycle Show.
One of the four then informed Tony that they had recognised his bike as the very one that they been given photos of, taken at Taylor Dows shop in Banbury. Not only that, but it was the bike they had based the Rocket Gold Star upon.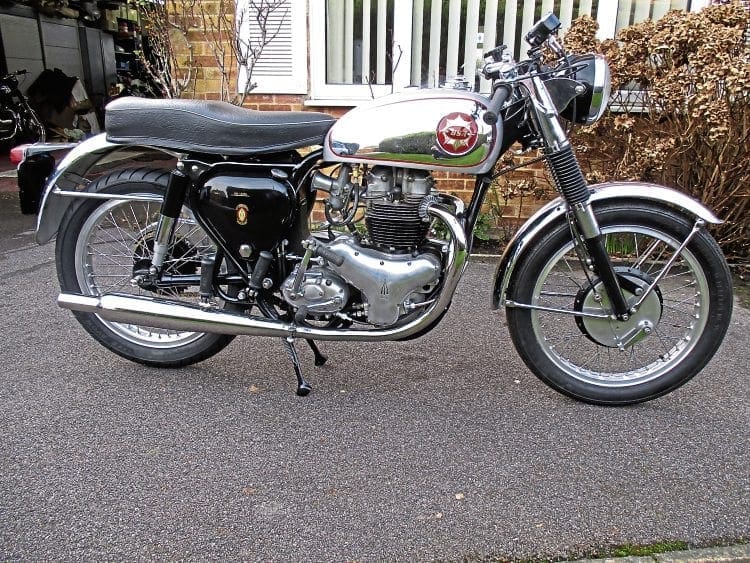 The four BSA executives said their goodbyes and all departed off to the show, but not before one of them presented Tony with a BSA lapel clip which he hung on to for years, long after the bike itself was sold, eventually losing it and some photos of the bike when his partner had a house clear out.
The Rocket Gold Star became available for sale in 1962, and I know for a fact that the road test was published on November 22, 1962 but was an RGS on show at Earls Court that year? It would be nice to think it was, someone out there must remember…
All the above is a true account related to me by Tony himself, while he was admiring a Rocket Gold Star Replica I had on sale at a Kempton Park Autojumble in January 2020.
Len Haggis
Read more Letters, Opinion, News and Features at www.oldbikemart.co.uk and in the May 2020 issue of Old Bike Mart – on sale now!