Opening this month's edition of OBM (November), two pages in, I was in for a sad treble shock.
First was the sad closure of The London Motorcycle Museum, which I had enjoyed visiting on numerous occasions over the years.
Being of strong Triumph sympathies, it was a joy to behold the eclectic collection of machines that Bill Cosby had amassed. Secondly, within this article was the sad news that Les Williams had left us; I turned the page and was hit equally hard by the news of Harry Woolridge's passing. Both of them real gentlemen and a sad loss to the world of classic motorcycling.
My links to these two greats began 35 years ago when in Classic Bike there was a review of a Les Williams "Legend". What a bike!
I had to have one and within a week my order went off specifically in their version of British Racing Green.
Such was the demand, it was four years later when Les rang me to collect my machine. My late father drove me up to Kenilworth and there it was in the flesh.
Wow, what a looker and what a great design package with a small plaque 'No. 25 made for Chris McIlroy' stamped on the bike.
With Les's instructions not to exceed 4000 revs, I rode it the 130 miles back to Essex and was not disappointed, what a machine!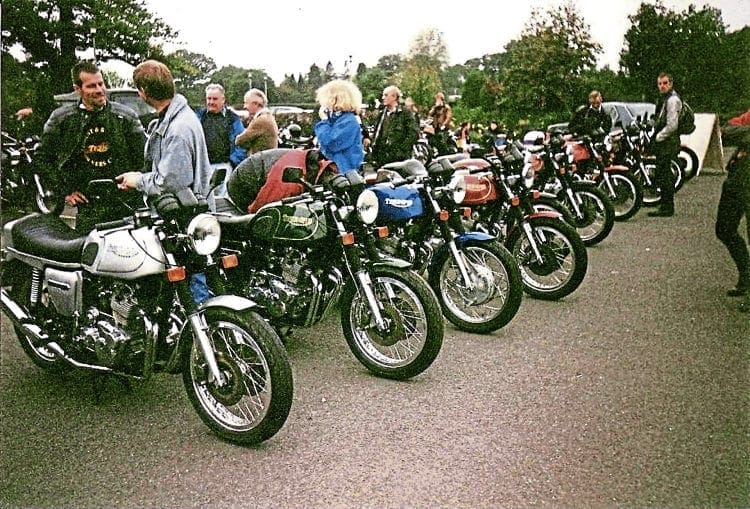 Over the next few months I put the miles on, then back to Les for servicing and a few teething problems which were sorted at no extra cost.
It was a joy to go up to Kenilworth and deal with Les and Harry Woolridge, who was working for Les, and also Arthur Jackman, all of them really nice people.
My wife and I had been travelling to the Isle of Man TT for a few years so, the following year (1989), I had to take the Legend but not two up for that distance, so my wife flew over.
Riding round over there, the bike caused a stir everywhere we went, and at the Triumph Owners' Club Rally at Ramsey an even bigger stir; there were two Legends there – the other one being black, not quite as nice as the green but I was biased! In those days the Rally at Ramsey was a pretty big event during TT week so I just had to enter the Legend in the concourse.
Guess what, it WON. I was so chuffed but there was probably an element of new kid on the block I suppose, but it was really down to Les Williams' design flair and expertise in putting together a great bike.
The ride home from Heysham did expose the reason that Slippery Sam got its name, and my bike was no different. I docked in the late evening then it was off down the M6, over the M62 to the A1 then southbound.
The Legend was capable of very high speed cruising for long distances and seemed unburstable, but I wasn't, so a food stop and rest was called for near Newark.
The back of the bike, all over the panniers and my left leg, was covered in oil, the 200-mile speed dash had turned what had been a minor problem into a bigger one.
Oil was working its way up the clutch cable from the primary case, up through the adjuster and over anything in its way. I always carried a few pints of oil on long-distance trips so they came to the rescue.
Les later sorted the oiling problem by brazing an extended metal tube on to the cable adjuster to cover the cable inside the case, the same problem they had with the racing Triples.
At this time I was still running a pre-unit Trophy and had bought a 1954 rigid Speed Twin in dire need of restoration – no paperwork, no cylinder head, seized pistons, no carburettor, distributor, coil etc., etc., but all the tinware was there with just surface rust.
I had been collecting all the missing parts, mainly down at Jock Hitchcock's store in Folkestone, who as a Triumph dealer from pre-war days had amassed a vast stock of NOS parts.
Les Williams told me he remembered Jock going up to Meriden in his van and filling it up with odds and sods, rejected parts and tinware for next to nothing on a regular basis.
I had the bike and most of the parts, and all I needed was a man who would do a top-notch restoration so I asked Harry, who I knew was a twin man rather than triples.
He said he did restorations from time to time and would take it on with no time limit or pressure. I agreed straight away.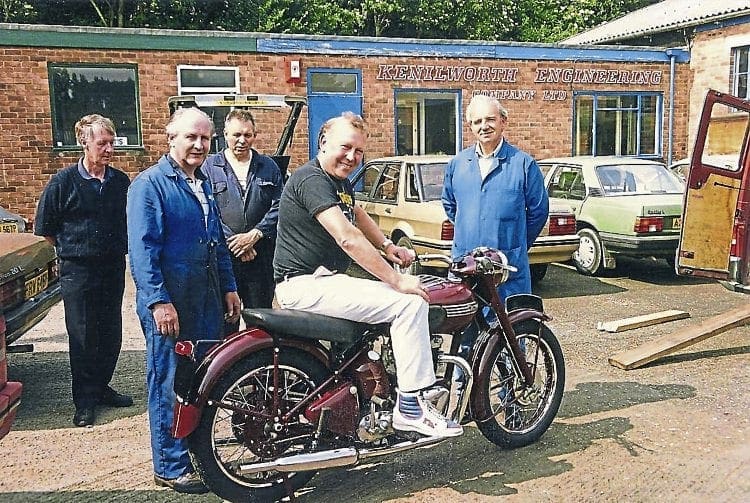 I think it took about 15 months to complete but halfway through that time I had a contract to do the brickwork on a football stand in Bedworth with digs in Nuneaton during the weekdays, so one evening I popped up to Harry's house in Weddington.
He took me into his garage to see the bike on the assembly stand. What a lovely sight, a rolling chassis, an engine half assembled, gleaming Amaranth Red paintwork, bright chrome and polished cases – I couldn't believe it was the same bike!
When the time came to pick the bike up, Harry had it taken to Les's in Kenilworth.
We drove into the works yard and there was the bike – what a wonderful job Harry had made of it, perfect in every way.
I couldn't thank him enough and took a few pictures with the bike of me, Harry, Les, Arthur and a friend of theirs, Jamie, a cherished record.
I have travelled extensively on this Speed Twin over nearly 30 years, Matchless Club Rallies in Denmark and North Wales (I am also an AMC man), and, as a member of three clubs, many club runs and events.
The bike is still immaculate with a well-used patina and draws admiration everywhere, winning awards at shows and events still.
Apart from normal maintenance and changing the ignition switch, the bike hasn't been touched and hasn't missed a beat in all that time.
A wonderful testament to the skill and care that Harry put into restoring this machine for me.
Harry hasn't gone, he is still here every time I look at and ride the Speed Twin. I am glad I managed to visit Harry earlier this year at home after a visit to the Triumph factory.
Chris McIlroy, Norfolk
View more images and read more Letters, Opinion, News and Features in the January 2020 issue of Old Bike Mart – on sale now!