…but sometimes it is the owner who has a lot to answer for, writes Tim Britton as he continues his Triumph Tiger 90 technical feature.
Sometimes an unfortunate set of circumstances can lead to a disaster where engines are concerned, but on other occasions you may be left wondering how anyone could be so stupid as to let things go so far that a crankshaft breaks.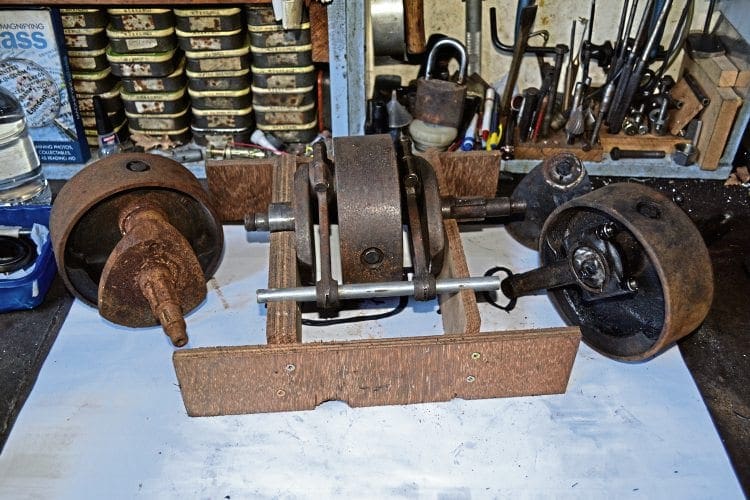 The parts on show in this issue of Old Bike Mart don't all come from the engine we're rebuilding, and I can't recall exactly where
the broken Tiger 90 crank came from as it's been under the bench for so long. However, the damage and blocked sludge tube are a perfect illustration of why Triumph manuals state regular oil changes are essential to the well-being of the engine.
One of the issues here is how an engine
with this level of blockage in the crank might well still be able to pass clean oil. It sounds almost beyond belief, but it can happen, and on our engine the internal oilways seemed fine when pumping Morris 20/50 through them with an oil can. Yet the amount of muck that came out after a soak in the parts washer raised even my eyebrows.
Anyway, back to the scrap crank – and looking at the poor thing, I doubt if the engine it had been in had ever had an oil change in its life! In one of those rash moments, I decided to strip out the muck and pile it on the bench to show how much was in there, and in the end the crud had to be eased out with an old twist drill as prodding with a scriber didn't do much at all. First of all I used the drill in my hand, but so packed in was the muck that I then had to use a small wheel brace.
Read more in February's issue of OBM – out now!
---
Advert

Enjoy more Old Bike Mart reading in the monthly paper. Click here to subscribe.
---