Your tribute to Ken Hallworth on page three of last month's OBM was of great interest to me.
I'm not exactly sure when it was that I first met Ken, but it was very early in my interest in classic bikes. I'd bought a Tiger Cub basket case (a frame, engine, two wheels and a big box of bits) for £75 in May 1981, so it must have been just after that time.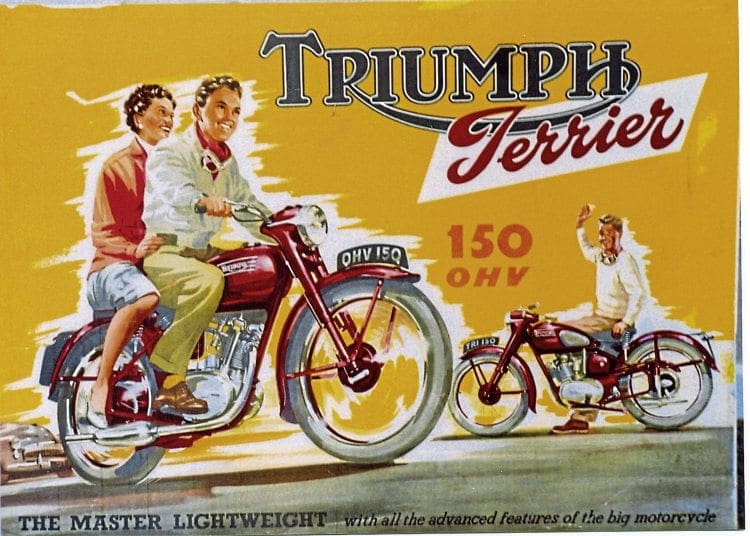 Shortly afterwards I kept bumping into this chap at shows, autojumbles and such events, and over the course of a couple of years or so, he always showed much interest in whatever bike I was playing around with.
I went to a classic bike show at Belle Vue, Manchester, around 1983, and by that time I'd formed the habit of always calling in at Ken and Irene's stand in the jumble hall. On that occasion he called me over, saying: "Hi, Mike. I've got something for you." He reached under the worktop and produced a plastic bag with some rolled-up paper inside.
It turned out to be a publicity colour poster, dating from around the back end of 1952, showing the then-new 149cc Triumph Terrier. Apparently he'd found the poster, measuring about 39in x 29in, folded up beneath a workbench, and thought that, being a Tiger Cub man , I might be interested.
Was I? Oh, yes! I'd never seen another like it and didn't know that such a thing had ever existed. Some weeks later I took it into a picture-framing shop in Tamworth which offered to clean it, mount it and 'art-in' the missing parts of the image. Then they said they'd frame it under glass so that it could hang on my office wall – where it has remained ever since – and all for the princely sum of £30!
It was just a small example of the kindness and thoughtfulness that was so characteristic of the young Ken Hallworth. I never heard him speak ill of any man, and he was a constant source of knowledge and encouragement to beginners, such as myself, in the classic field.
His widow, Irene, probably won't remember me, but I will always remember them both. Ken is one man I shall never forget – and I have the poster to prove it!
Mike Estall,
Email
Read more Letters, Opinion, News and Features in the March issue of OBM – out now!