I'm enclosing a little poem I wrote about a project I've recently completed.
I've been restoring Triumphs for quite a number of years now and I have to admit, believe me, this was some project.
I am the owner of seven classic Triumphs and never had one in such a bad state.
But it's been a challenge and now, to see it back in showroom condition has made it all worthwhile.
I don't ride any more and I'm pushing 84 years young and it's such a long way from my workshop.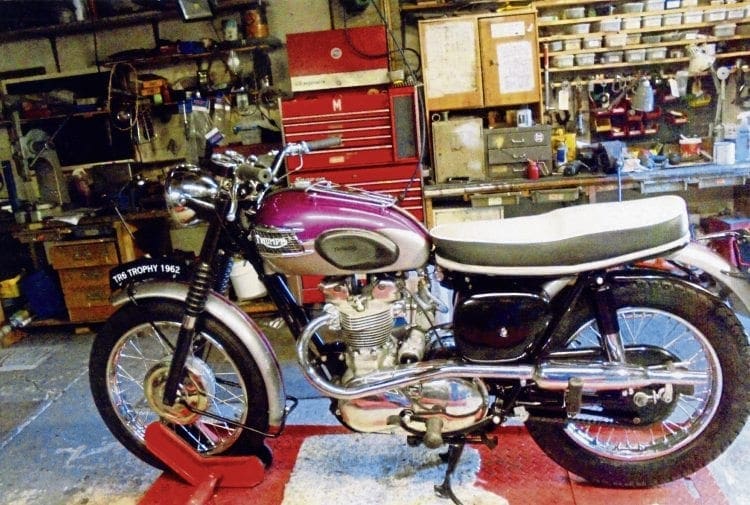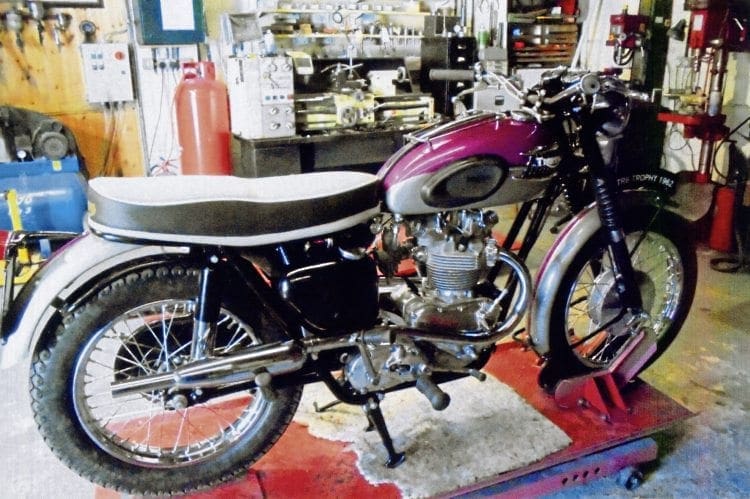 Just to mention the people mentioned in the poem – firstly my soul mate, Shirley, who is always so understanding; secondly my nephew, Jeff, who is in his sixties and such a good mechanic; thirdly my two friends at Stanwood Engineers, Bawtry who have done all my heads, rebores etc. for quite a number of years. I've enclosed some photos of the bike in question, although they don't do it justice.
W (Bill) Matthews
I bought this bike from the USA
It's in a mess I have to say.
Oh what a silly fool I've been
To buy a bike with sights unseen.
The forks are shot, the wheels are too
I don't know really what to do!
I lie awake, night after night
I'll not give up without a fight.
The valves and guides all need attention
With other parts I've yet to mention.
Its little ports are full of coke
And all the piston rings are broke.
The more I look, the more I despair
There's lots of stuff that shouldn't be there.
There's dirt and needles, broken teeth
The mainshaft's sound, oh what a relief!
The chaincase parts are past their best
Just worn out, like all the rest.
The K2F has spark once more
It lost it back in Baltimore!
I need some help, I need it now
Then a brilliant thought just crossed my brow.
Ring Jeff, my nephew, he 's quite good
He'll lend a hand, I'm sure he would.
The head and barrel need attention
There's still two guys I have to mention.
They work at Stanwood Engineers
And done this work for years and years.
Richard, he can do the head
And put my dilemma straight to bed.
Jonathan can do the bore
He's done it lots of times before.
Day after day we soldier on
We won't give in till the battle's won.
Shirley, my wife, has brought the tea
With biscuits too, for Jeff and me.
The tyre's on, the wheel in place
Another job less I have to face.
I look around, what do I see
A rim tape staring right at me!
Oh my, oh my, I do declare
It's enough to make a vicar swear!
Three months on,
The paintwork's done.
Engine, gearbox, at a finish
Workload now will soon diminish.
Wheels are in, electrics too
It stands there looking just like new.
The light doth shine at the end of the tunnel
Petrol needed, where's the funnel?
I can't believe it, second kick
The old girl's running, tick tick tick.
Consider this, a job well done
I send my thanks to everyone.
Read more Letters, Opinion, News and Features in the June 2019 issue of OBM – on sale now!