Each month I look forward to your A Bit On The Side articles and my normal regime is to scour the classifieds first, casually scan the other pages then focus on my real interest of A Bit On The Side (read into that whatever amuses you) prior to reading the remainder.
Now the reason for me mailing you again is the page 16 article in OBM issue 412 October 2019 and this is a follow-up to comments I made back in May 2019 on your rear tyre article.
Hopefully this time it will encourage some useful printable response from other readers. (So come on people, verbal advice is never lacking at biking venues so give OBM something for them to use as printable content).
Mick Payne is of course absolutely correct in his observations in the use and advantages of leading link forks, although I'm a little surprised he omitted mentioning the front wheel braking response of the Hedingham Unit fork design. 
Having owned a 2005 Bonneville with a Monza attached that had been originally built up by Hedingham, and coupled up by a very substantial subframe (my compliments to the designer/fabricator of that subframe) then fitted with Hedingham leading links plus sensibly uprated rear suspension, my personal preference remains with the conventional fork design. 
I should mention I've experienced a few other well set-up leading link fitted rigs and although one in particular appealed – Wasp forks on a 1200 Bandit outfit – the compromise on looks leaves me preferring a well set-up telescopic fork suspended outfit with uprated front springs and improved rear suspension rates.
Having built up several outfits over the last 20 years (around 12), a couple of years ago I decided to build the first of my two GL Goldwing rigs as I knew that a solo with a long(ish) wheel base and generous trail spec goes a long way to making a pleasant and stable outfit.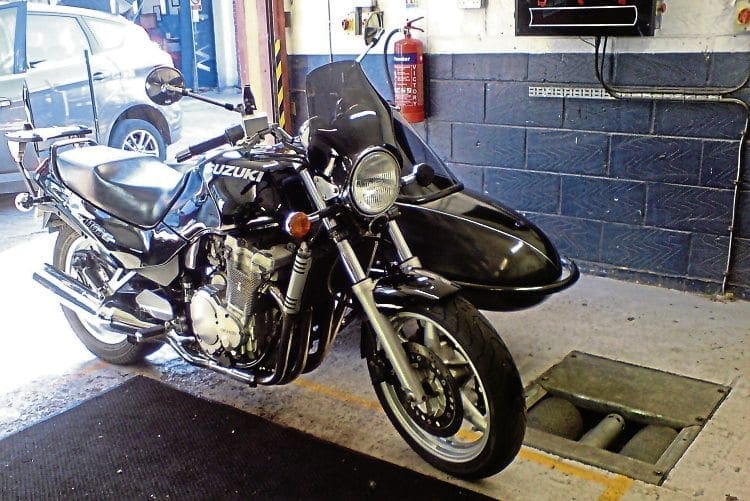 That outfit eventually went to an acquaintance and the second GL Wing was built incorporating adjustments and better clamp positioning learnt from building the first and, as good as it was, that experience put me on the long search for a lowish mileage, good condition, suitably priced Suzuki GSX1100G as it's an old school air/oil cooled '90s muscle bike with a 62-inch-plus wheel base, shaft driven, kicked out 41mm front forks and a full cradle-style frame.
It was a model I'd owned back in the mid '90s and my memories of that big, comfortable, heavy, slow-steering bike with ample low-down torque now told me it would make a great modern day "tug" and it has. 
My second choice would have been either a CB900 or CB1100 Custom if one could be found, as they also have a tubular frame, are either shaft drive or chain (my preference is shaft) although I believe the GSX1100G would likely prove to be the sturdier, stronger, better designed frame that it feels to be.
Well, I can now state that for me personally my memory gave me good advice and my GSX1100G has just been MoT'd as an outfit for the second time and that second Goldwing was sold to finance the GSX build project.
It's a conventional old style four strut and clamp build with no steering damper and the way it's set up for my personal preference it is easy to ride, stable and requiring very little effort to steer! 
For example, my last 140-plus mile trip home from this year's three-night camp-out at the annual FED rally was completed at high speed with no stops and produced absolutely no aches or pains for this well-worn 70-year-old body, although I must admit I was really looking forward to a nice cuppa when I got home after unloading the rig and putting everything away in the shed. 
So, I'm not suggesting for one minute that leading links are not necessary and I'm also aware that leading links are a superior suspension fork design for an outfit, I'm just expressing my personal view (which is also influenced by being cost conscious) but more importantly the text of this is with the intent in adding to the content of A Bit On The Side and to hopefully encourage other readers to do the same. 
I just think it would be great to see A Bit On The Side able to consistently expand to at least a full page or, as I remember, a double-page exposure given the variation in style and build of the many outfits still being ridden.
Perhaps OBM publicising a planned attendance at the Ace Cafe on Sidecar Sunday or even the early-in-the-year Silver Ball meet for collecting content would encourage a greater attendance at those meets or maybe even attending FED or LSC events as I suspect that the next fad, as the cafe racer one loses its momentum, could be a resurgence in outfits and their very often sometimes eccentric pilots and talented engineers seemingly attracted and that could supply a never-ending source of printable and amusing "warts and all" content. I wonder if those younger guys know of OBM?
Mike Woodley
Read more Letters, Opinion, News and Features in the November 2019 issue of Old Bike Mart – on sale now!