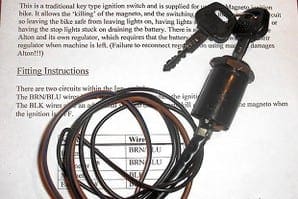 Get switched on with this magneto ignition key. In some respects this is a contradiction but AO Services can now offer an ignition key for magneto machines that will kill the mag and at the same time disconnect the battery, so any left on lights or stuck on stop lights do not end up flattening the battery.
The ignition switch fits into a 20mm hole and has two normal type ignition keys. We're told there are four wires to connect, break the battery circuit and kill the magneto. AO Services can offer a bespoke service which means they'll fit to the unit whatever length of wires – and a connector or two – needed to mount the switch on your motorcycle.
Cost is £25 including postage and you can get it from AO Services on 01953 884681 or visit AO services website www.aoservices.co.uk
• Getting cranky
Lightning Spares has a stock of new big end bolts and nuts, to suit BSA A10 and A65 models that use the part numbers 67-1536 and 67-1537. Brian at Lightning Spares advises us that they're made by Automotive Racing Products – ARP – in the USA.
As befits big-end bolts they are high tensile with a tensile strength of 96.2KSI and yield strength of 81.8KSI. They've also been heat treated and are made with a rolled on thread rather than a cut thread which means they are to racing spec. ARP is the world leader in racing fastener technology. Additionally a specification and instruction sheet are supplied with each set.
The company has them for sale at £48 per set of four including VAT and you can get more information from www.lightning-spares.co.uk
• Gauntlets
A superb pair of despatch rider type gauntlets and are just the thing for the serious classic rider. They look smart and given their spec by the manufacturers, will be tough enough to do the job. If they look familiar it is because they are an exact remanufacture of the Gold Top Gauntlet and to that superb glove's specification. Designated the K1VT Gauntlet we're told they are made from 1.2mm aniline leather. Aniline is a leather dye process that enhances the hide's natural appearance rather than covering it up. As per the originals, the gauntlets are fur lined for warmth, especially good for year round riders and have the original English button used on the strap adjuster.
The gauntlets are available in either black or brown and the manufacturer tells us it invites trade enquiries.
Either colour will set you back £35 plus postage.
They're available from Gold Top Gloves email goldtopgloves@hotmail.co.uk or call 07774 724869 or alternatively see the manufacturer at any of our shows – Bristol is next – and buy direct.

Enjoy more Old Bike Mart reading in the monthly paper.
Click here
to subscribe.