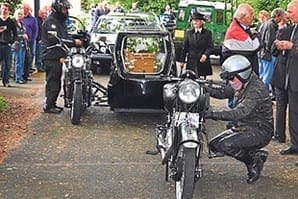 A date has been set for Bonhams' latest sale of rare and collectible motorcycles over the pond in sunny California.
The auction will be held at the Petersen Automotive Museum in Wilshire Boulevard, Los Angeles, on Saturday, November 10.
For more information on the event visit www.bonhams.com/petersen or phone +001 415 391 4000.
• Thanks for Kempton honesty
Geoffrey Orman would like to thank the person who found and handed in his wallet to the Administration Kiosk at Kempton Park on Saturday, September 22.
Geoffrey had the misfortune to lose his wallet when attending the EGP Enterprises Auto Jumble at Kempton Park that day, on the off chance enquired at the kiosk on my way out if it had been handed in. He says his faith in human nature was restored when it was returned intact. It is nice to know that we do have honest people in among those interested in the motorcycle world. He added: "I really cannot express my thanks enough to the person who did this."
• George Shorter
It is a sad fact that life comes to an end at some point and increasingly, as age advances, we go to more and more funerals. Just such an occasion occurred in Cramlington, Northumberland on September 5 when North East trials rider/enthusiast George Shorter was laid to rest.
Rather than a sombre affair, George's family wanted the occasion to be a celebration of his life, of which motorcycling was a great part and there were lots of motorcycles in the churchyard.
Leaving the church the cortege, including the motorcycle hearse, was preceded by George's 500cc Vincent Comet and followed by a number of other motorcycles as requested by the family. The thoughts of all at Old Bike Mart go out to his daughter Lesley-Ann and her family.
• NEMRC bash
To bring the NEMRC Jubilee year to a close the committee is holding an end of season bash on Saturday, November 3 at the Tynemouth & District Motor Club clubhouse, Billy Mill Lane, North Shields NE29 8LP from 7.30pm.
Former members, riders mechanics etc. – together with current members – will all be made very welcome.
More information from Dave Mallon at [email protected] 01670 515720