After editing Old Bike Mart for the past four-and-a-half years, Pete Kelly looks into the heart and soul of the title that was evident from the beginning when its late-lamented founder editor Ken Hallworth put together that very first issue during the summer of 1985.
Some of the best things in life come completely out of the blue – and when I received an email from Sadie Parsons saying: "I was recently clearing out my late father-in-law's house and came across a first edition of Old Bike Mart. If you would like it, I would be happy to post it to you…"
When it arrived, it appeared that only the front and back covers and their corresponding inside pages were present, but upon closer examination I could see from the tiny dots of a printing colour code and the staple holes that must have secured it to a much later issue of OBM that it was a facsimile – but in no way did that detract from the sheer interest in reading the late Ken Hallworth's brave first issue of July 1985, long before the astronomical auction bids of some of today's vintage and classic machines had become reality.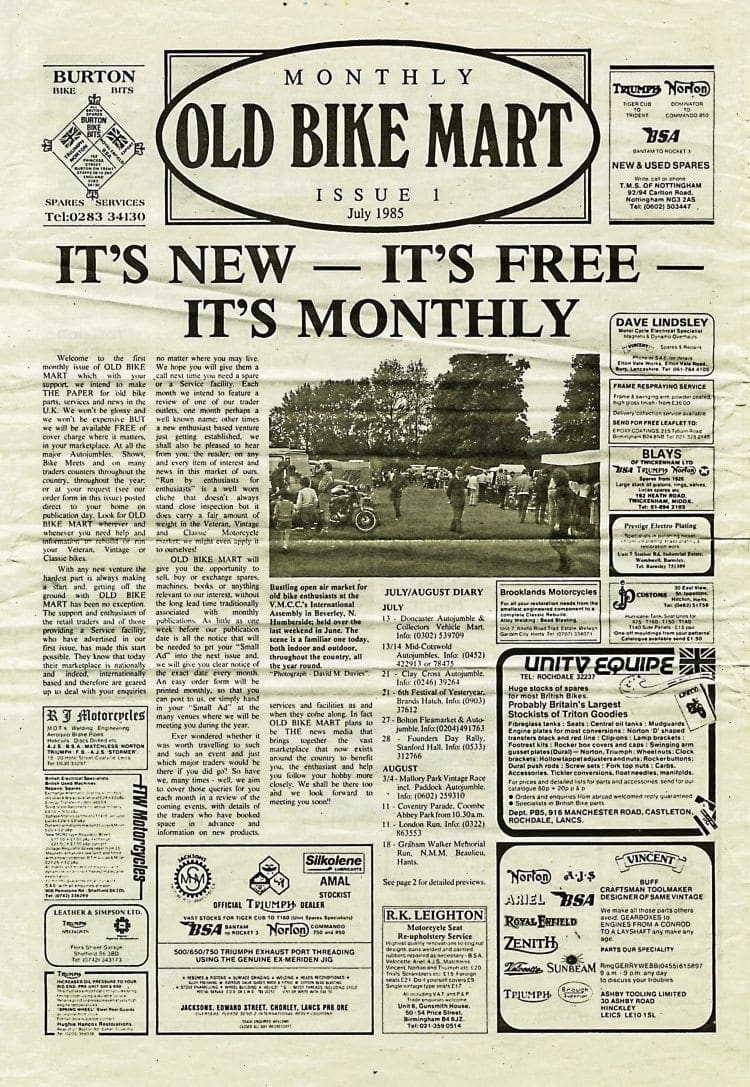 At a time of growing interest in buying old British bikes and perhaps restoring them, Ken's gamble, based largely on his experience at bike jumbles and the like, was that the advertising revenue would pay for the printing and distribution of the publication – but when it came to initial distribution, the personal effort he took in getting the product to market, driving many miles with bundles of OBM in the back of his vehicle, was the stuff that legends are made of.
So let's have another look at that very first issue, when the front page was full of editorial, not advertising, and any notion of colour printing would have been sheer luxury.
The headline said it all – 'IT'S NEW, IT'S FREE – IT'S MONTHLY'.
"Welcome to the first issue of OLD BIKE MART, which with your support we intend to make THE PAPER for old bike parts, services and news in the UK. We won't be glossy, and we won't be expensive, BUT we will be available FREE of cover charge where it matters, in your marketplace," wrote Ken.
Article continues below...
Advert
Read more and view more images in the September 2018 issue of OBM – on sale now!
---
Advert

Enjoy more Old Bike Mart reading in the monthly paper. Click here to subscribe.
---