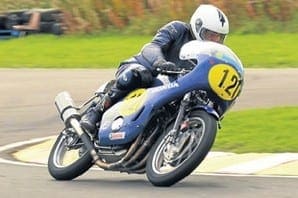 • Dutch rider takes North East Club's 500cc Classic Championship
Frank Lemstra, a motorcycle dealer from Amsterdam, became the North East Motorcycle Racing Club's 2013 500cc Classic Champion at East Fortune Raceway in The Borders Region by beating close rival and 2011 champion Colin Stockdale from Whitby.
He won the title in a close fought and final race of the championship year. Frank who has been crossing the North Sea from Holland to compete at the NEMCRC meetings at Croft for the past five years was delighted to have clinched the championship in the final race from his friend and close rival by just 12 points with Dave Martin in third place.
Frank commented: "You get two practice sessions and five class races over the weekend here. This is good. The club is friendly and it is very enjoyable experience. I will be back next year to defend the title and hope to bring back some of my fellow Dutch Classic Riders.
• Make a date with the Moidart Run
Details of next year's Moidart Run in the Scottish Highlands have been revealed.
John McCrink says it'll take place the day before the Pre 65 Scottish, making the date Thursday, May 1. As usual it is open to any pre 1979 motorcycle and starts at Viaduct Car Park, Kinlochleven.
It will follow the usual route, taking in the Devil's Staircase. The emphasis on old bikes, scenery and camaraderie but is limited to 80 entries on a first come, first served basis. Entries close on February 28, 2014, or when it's full – whichever comes first.
For an entry form and more details send a large SAE to John McCrink, Braeside Cottage, Grange Road, North Berwick EH39 4QT.
John said he wanted to thank Amal Carburetter Company, Davida Helmets, Mortons Media, Mike Ellis Classic Motorcycles and photographer Nick Nicholls for helping to make the event special.
In addition, he thanked the following for their support: the good people of Kinlochleven, Jennifer Frazer Glencoe Police Station, Alan McCowan and Donald Dixon at Corran Ferry, Moira Hartley of Kinlochleven Community Trust, everyone at Cafe Sunart Strontian, Betty Pearson, Dave Field and Rod Mycock.
• Japs and Brits at Classic Bike Show
The Vintage Japanese Motorcycle Club, Northern Counties branch is organising a Classic Bike Show & Autojumble in the Seven Towers Leisure Centre, Ballymena BT43 7BL.
The show, on Friday, November 8, 5pm-9.30pm and Saturday, November 9, 10am-4pm, is not to be missed, all the best Japanese and British marques will be there.
Organisers are putting on a special display of racing 250s – the bikes that gave us that fabulous fast and close racing. Special guests will be in attendance.
The great Ballymena autojumble will be incorporated within the show, with all the leading autojumblers entered.
A special invitation is extended to all motorcycle enthusiasts to support this great classic bike show and autojumble. Admission £5.
Details and entries: Billy Bamber, tel 07710931111