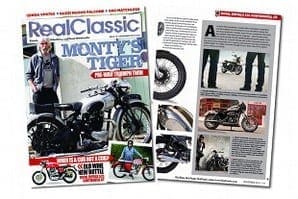 We motorcyclists are a gregarious lot, gaining maximum enjoyment from each other's company when we ride out together – and, with a whole new season in front of us, this is surely the best time of the year as we plan trips to places and events that we'll be talking about for years to come.
There is such a great rapport between those who seek pleasure on two wheels. We can approach fellow riders whom we've never met before, and within minutes we'll be swapping yarns and comparing notes about our bikes as if we've known each other for years.
Kindred spirits can be found among the memberships of the countless motorbike clubs to be found all over the UK – one-make, vintage, racing, moped, sidecar, Japanese, Italian… you name it, the list is endless.
During the spring and summer, there are bike nights in small towns all over the country; we make impromptu weekend visits to places where fellow riders always gather, such as Braemar, Matlock Bath, Llangollen, Newcastle (Co Down) and the Ace Cafe; we undertake regular pilgrimages to the TT and Manx Grand Prix, the North West 200, the Ulster Grand Prix, fabulous bike shows and other events.
Since my very first experiences of motorcycling in 1960 (riding dad's NSU Quickly moped around the back garden, followed by a totally illegal go on a mate's bright red GPO telegraph delivery BSA Bantam) I've been hooked, and it has brought a lifetime of happy memories.
Although it's a great privilege to be putting Old Bike Mart together, before signing off I must wish my good friend Tim Britton the very best of luck, after a job very well done on OBM, in turning Classic Dirtbike magazine into an even greater success.
My plan is to continue the good work started over 20 years ago by maintaining this title as the forum for fellow motorcyclists who want to buy or sell old bikes, source spares and services and tell us about their bikes and activities, with the best reading we can find between the advertisement pages. Pete Kelly