With quality, performance and excellent design apparent in every detail, the 350cc Morini V-twins bore comparison with any Japanese motorcycle – but when the Italian firm upped the capacity to 500cc, it never quite managed to produce the right machine, writes Steve Cooper
Sometimes you jump on a bike, ride it all day and then get off to think to yourself: "That was truly amazing, but it would have been even better if it had a bit more power and a tad more torque".
Such mental musings are fine, but often, when such thoughts are transferred into metal, the truth is that the end product is somehow at odds with the expectations.
650 twins are substantially more vibratory than their half-litre cousins, and when taken to a full 750cc, the sweet nature of the original bike is totally lost.
The Japanese often got closest to the premise of "just a little more power with minimal extra mass" with their 250 to 350 analogues, but there's one other company that also came pretty damn close – and it isn't even Japanese.
Moto Morini motorcycles were always high-end products that featured pretty much the best of everything – design, engineering, metallurgy and the like.
Company founder Alfonso Morini was repairing bikes at 16 then designing and building them, and by 1927 his machines had taken six world records at Monza under the MM brand.
After the Second World War, Morini's machines figured large in the nascent careers of Umberto Masetti, Giacomo Agostini and Tarquinio Provini, but it was during the early 1970s that the company attained worldwide commercial fame with its radical 350s.
Choosing an unusual 72-degree configuration, a belt drive to a high-set camshaft operating short push rods, and flat-topped Heron heads working parallel valves over combustion chambers in the tops of the pistons, the engine was unlike anything that had gone before it.
Designed by Franco Lambertini, and created by Franco and Gino Marchesini, the power unit was compact, torquey and revelled in hard work.
The short stroke and push rods meant that high revs were no issue whatsoever. The unique and robust motor warranted a high-end chassis and it got one, with quality suspension, Grimeca brakes and near peerless handling.
Morini's racing heritage was available for anyone who wanted it, but unfortunately at a price that was normally around that of a good 750. Morinis weren't cheap, but then again, class never is.
If there was one thing buyers clamoured for it was more of the same only in larger portions. Morini listened and, in due course, produced a full half-litre version.
The new 500 twin was physically larger than the 350 because Morini's interpretation of customer and dealer feedback suggested that potential clients wanted a machine that could easily accommodate two people.
The 350 Sport was always a single-seat machine, and the slightly more civilised Strada was really only viable for close friends on the very best of terms!
By enlarging the frame and extending the wheelbase, Morini produced a motorcycle that was more of an everyman machine, and not so focused on being a full-on rider's bike.
And by increasing the engine's capacity by 150ccs or just over 40% Morini had created a subtly different animal and one with more in common with middleweights than 350s.
The new power unit's delivery was less sporty and more in line with traditional V twins; almost like a half-litre version of Ducati's sublime 750 GT.
The 500cc Morini proved to be deceptively fast with an easy-going, loping nature. The potential buyers who'd wanted a bigger 350 were factionalised, some loving what was on offer while others felt the new bike to be physically just a little too large.
Morini had done what had been asked of them in general terms, and the bike found a ready market of owners willing to spend significantly extra on a bike that was unquestionably a class act.
As the bikes were almost hand-built by a small, dedicated and loyal workforce turning out less than 20 bikes a week, sales were never going to be meteoric, but keeping the customer happy was paramount.
Thus the original 500 – designed, marketed and sold as a general, high-end, do-anything tourer received a substantial rework in a bid to expand its sales potential.
The reality was that despite being told by dealers that a 500 was needed, what the public actually wanted, or at least believed they wanted, was a sports 500 and not a general-purpose machine.
Moto Morini had always offered the 350 in both Sport and Strada guises, and even if the latter was the more practical machine, it was always the Sport model that received the plaudits.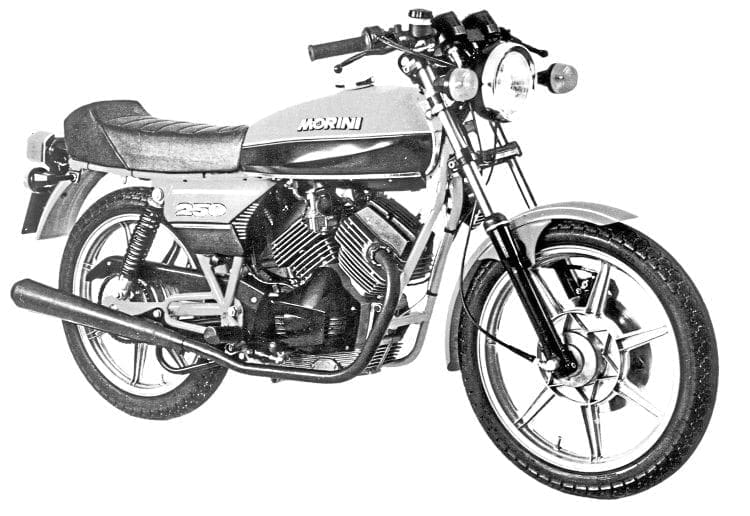 The bike was revised to offer a more modern-looking sports machine in 1981 with less plated metal and more painted components along with a six-speed transmission. All of Morini's V-twins were gradually morphing away from the original classic look that had won them so many converts.
There were now two 500s mirroring the older 350 Sport and Strada models with the cooking version badged as the Sei-V and the sports option sold as the Maestro. Cast alloy wheels completed the metamorphosis.
By the early 1980s Morini was struggling for funding, and in what some saw as a desperate bid to attract a wider audience the 500 was overbored from 478 to 507ccs but named as the 501.
Two additional models were devised – a truly odd factory custom named the Excalibur, and rather tidy trail bike sold as the Camel.
The former received a frosty reception whilst the latter, and against the odds, made for a reasonable if unusual off-roader, although a little heavy when compared to its 350 sibling called the Kanguro.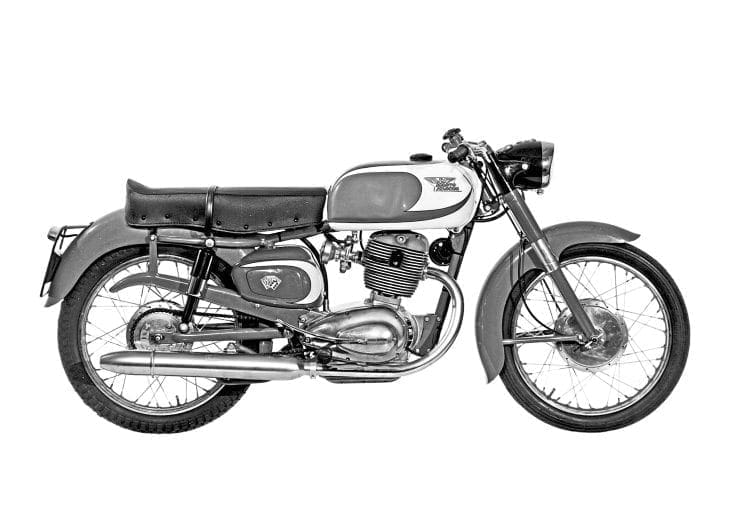 Ultimately it was all too little too late, and the brand rapidly folded in on itself in relatively short order.
Today, 350 Morinis far outweigh 500s, and a few enterprising souls have managed to shoehorn the 500 motor into the 350 chassis, which makes for a very potent machine.
Some have gone even further by fitting the half-litre engine into the chassis of the diminutive 250 V-twin. Those privileged few who have experienced the latter reckon it's the machine Morini should have always made but never did!
Read more News and Features at www.oldbikemart.co.uk and in the latest issue of Old Bike Mart – on sale now!