I'm sure that every reader and subscriber to Old Bike Mart knows that the National Motorcycle Museum is a vital asset to the work of classic, vintage and veteran motorcycling.
However, maybe not everyone is aware that the museum receives no external funding whatsoever.
What this means is that the museum exists on funding generated by visitors and from the venue's conference business and two sister hotels, both of which have been seriously impacted by the closure of the hospitality industry during the last few months.
And, right now, it seems that there is little likelihood of the museum being able to reopen until the hotels are back open and operating profitably.
The museum itself requires a surplus (i.e. not just turnover) of £500,000 from the other businesses just so it can break even.
So, to avoid the nightmare scenario of having to sell bikes to keep the museum open, the NMM has launched an appeal that can help to raise the required half a million pounds in two different ways.
Firstly you can visit the museum's website – at www.nmm.co.uk – and directly donate to the appeal, the funds from which will enable the museum to continue in as normal a fashion as possible up until normal trading resumes.
Secondly, and following on from the museum's traditional winter and summer raffles, there is an additional raffle with some truly astounding prizes that will be drawn on Thursday, December 21.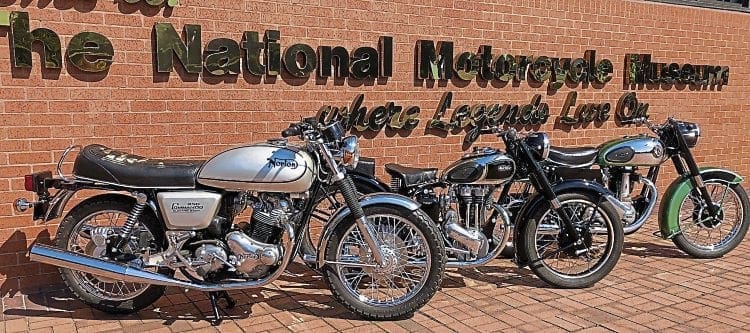 Indeed, you will find some raffle tickets within this very copy of OBM that you can purchase. But what could you win?
The museum's staff have managed to find yet another brand new, old stock classic bike in the form of an 850cc Norton Commando, which is a 1977 model, previously unused or owned.
Essentially a brand new Commando as the first prize! Second prize is a 1948 Ariel NG, restored by the museum, while third prize is another 350, being a 1959 BSA B31, again restored by the museum's own expert staff.
With the tickets being just £6 each, not only is this an excellent way to ensure that Britain's biggest motorcycle museum will be there for us all in the future, but could also see you winning a stunning classic bike to add to your collection (or, for that matter, to start your collection!).
You can use the tickets within this issue, or buy additional ones from the aforementioned website at www.nmm.co.uk
Read more News and Features at www.oldbikemart.co.uk and in the August 2020 issue of Old Bike Mart – on sale now!