Hunting through my study in the search for an item I never found, I came across this photograph (right).
In the 1980s I was a founder member of the motorcycle section of Bedfordshire Police Sports & Social Club and ran this until my retirement in 2004.
We undertook many activities, too numerous to list herein, (though I will mention the 1988 National Rally Services Team Award that we won; photograph attached!), and I invited quite a few well-known speakers along to our HQ (including Mick Grant and Raymond Baxter).
One of the speakers was editor of The Classic MotorCycle, Bob Currie, and you will recall that Phil Heath was a contributor to TCM at that time under the heading, On the Heath.
Phil attended on another occasion along with John Cragg, complete with beret, and we had a most enjoyable evening.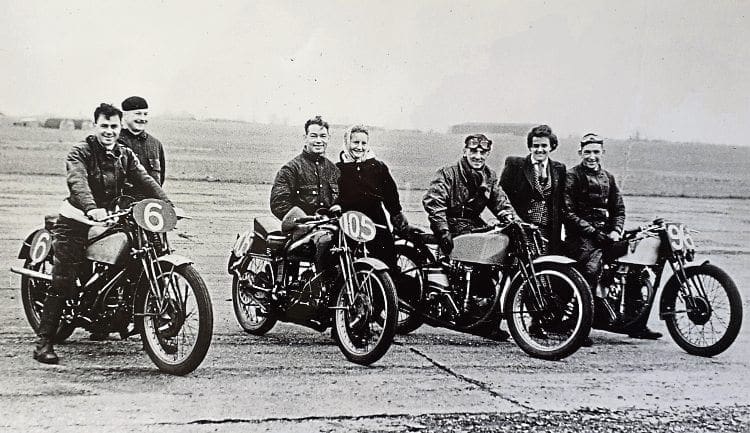 I kept in touch with Phil for some time after that and he sent me a photograph that I attach copies of.
This was as the result of his chat about the 'Continental Circus' after the Second World War and the Cann Brothers.
We always made a presentation to our speakers of an S & S club shield that seemed to be appreciated, even by those with huge trophy cabinets!
There was a humility, common decency and warmth from these people that seems lacking in a lot of current walks of life.
Re-reading Phil's obituary from January 11, 1999 I see that Phil served in Egypt during the Second World War in the Royal Artillery, buying an old AJS in Cairo.
My dad served in the same theatre in the Military Police and, although he said very little about his experiences, he did mention his duties included certain 'policing issues' in Cairo. I wonder if their paths ever crossed?
That obituary also included mention of Phil's work as a sales representative for Excelsior Motorcycles and for advertising space with MCN, matters he spoke about during his visit, and his work within the VMCC.
Bearing in mind his immense success and experience over the long period of time that he was involved with motorcycles, I felt really humbled that he should take the time he did to liaise with me and honoured that he should have sent me the photograph, personally autographed as it is, and titled by Phil, 'Cantata on the Cann Quartet'.
There is another 'connect' here too as I read that Bruntingthorpe test facilities, so favoured by motoring journalists and others and the location of Phil's photograph, may soon close. The end of another era it would seem.
Roy Warren
Bruntingthorpe is currently not only the residence for an aeroplane scrap yard but, primarily, the holding area for thousands of unsold new cars as well as being the home of the Royal Enfield technical development offices, who also use the old airfield's perimeter track for their development riding – it was where the testing of the current range of 650cc twins took place – Ed.
Read more Letters, Opinion, News and Features at www.oldbikemart.co.uk and in the August 2020 issue of Old Bike Mart – on sale now!
---
Advert

Enjoy more Old Bike Mart reading in the monthly paper. Click here to subscribe.
---